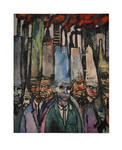 You know CliveBarker as the master of horror fiction and young adult fantasy. But did you know he is also an acclaimed fine artist with paintings hanging in several galleries and art institutions?
For Halloween this year, Clive is going to take a break from writing stories for you—and read your original stories based on some of the artwork he's created.
As inspiration for your tale of horror or mystery or special wonder, Clive is providing the prompts of his own paintings that are to be your starting points.
What's the story behind the painting?
Clive himself will judge the submitted imaginings and decide which work of prose best captures the untold story of the surreal image he created.
"Men of the City" is the first Barker work needing creative explication. These men don't seem to "wear" their city well. The buildings seem to oppress their minds, crushing down on their heads, or is it simply that men and concrete have become combined unhuman organisms. Is the man in shades blind? Is he their leader? Their seer? Their victim? Their sacrifice? One of you out there knows, just perhaps not yet.
Meditate on the "Men of the City" and soon your mind will connect with Clive's and then we'll all get to know the "true" story…
Only DeviantArt can make events like this one a reality. Here is a rare opportunity for the aspiring writer or painter to have his or her art critiqued by a true master of both art forms. Best of luck to those of you who will now try to write a Halloween tale to scare Clive Barker, a tale based on images he's artistically downloaded from his own head.
You can make the story as short or as long as you would like as long as it does not exceed 2,000 words.
Submit Your Deviations in the Comments Below