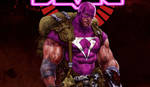 A Madefire motion book by Christina McCormack & Liam Sharp
Without going into all the wonderful enhancements (not only frame motion and dramatic juxtapositions, but also musical scoring and sound and flash effects) possible with the Madefire motion books process, it should be emphasized lest one get lost in all the bells and whistles that the actual story narrative of Captain Stone is Missing is stand–alone worthy of feature film treatment (and every other possible iteration). This is the second "Madefire motion book" produced by Wolstonholme and Sharp to receive this highest assessment, the first being Mono. Both titles represent achievements a cut above standard comic book fare. In each, the storytelling is genuinely literary rather than stalely clichéd, even before the addition of "motion book" technology is factored in. Liam Sharp's masterful artwork alone would be reason enough to celebrate "Stone," even if nothing "moved."
The first grand conceit of the "Stone" series is that there is no Marvel nor DC Universe.
Captain Stone is this world's sole "superhero," and he is a cartoonishly muscle–bound, classically–costumed force–for–good. He and his "Stone Corps" team debut in the aftermath of real world disasters like the Manila earthquake, distributing medicine and food and providing protection to the devastated population. Stone and his Corps render aid at other natural disasters. Then this hero turns vigilante, bringing international drug lords and other "untouchable" criminals to justice. He is admired by both liberals and conservatives for getting results. He becomes a pop hero with comics, novels, movies and an animated series on TV. But he doesn't thwart 9/11 or capture Bin Laden. He does capture Hussein as part of his support for the Iraq war. But the absence of WMD makes him look misguided and foolish. The moonlighting CIA agents who make up his Stone Corps leak that his immense wealth is running out. There are rumors of illicit means securing further funding of his operations. His image already tarnished, the bombshell revelation that he is "Flint Clayton," son of a despised and recently deceased media mogul billionaire, tanks what was left of his popularity. A disastrous appearance, unmasked, on a cable news interview show, effectively "ends" the hero Captain Stone. Reality TV shows, allegations of 'roid rage and a sex tape mark Stone's descent from Captain Stone to Fred Flint–Stone. Stone's secret North Carolina Appalachian mountain HQ blows up. It is not known whether he is dead or alive. Captain Stone is missing. So ends the wild witty preamble that is "Book One."
The constant interpolation of current pop memes that suffuses the narrative sets up a brilliantly "knowing" rise, fall and redemption tale well–resonating with today's Internet readership. No comic (non–underground) has ever dared to be quite this hip and political before.
Charlotte "Charlie" Chance (aka "The Pet") is the other half of the Stone story.
She is the daughter of Lord Charles Chance, delightfully 60s–style millionaire playboy and international Robin Hoodish jewel thief. From age 6 to 12, Charlie accompanies him on heists. Then, during a robbery, the Craven Panther is forced to kill a guard dog about to attack her. She is psychologically traumatized, quitting the "family business," and becoming a vegetarian and a PETA activist. In her work with PETA she uncovers the plot of a group of meat suppliers to introduce a hormone into the population through their product that will addict them to red meat. The evildoers go to prison. But Charlie is paid back with an ambush injection in the leg. She suspects she has been given the AIDS virus. Instead, the injected bug, courtesy of the meat–men, turns her into a sort of vampire, ravenous for human blood. It gets worse for her. Clayton's widow calls up to reveal that Charlie and Captain Stone are half–brother and half–sister. Even as cable news helicopters circle the smoking remains of Stone's mountain HQ, covering the big news story "du jour" on Charlie's TV screen, she learns that Stone is the "love child" of a one night stand between mogul Clayton's trophy wife (and now widow) and Charlie's Craven Panther jewel thief father (retired).
Despite the impediment of her bloodlust addiction, Charlie decides she needs to join the search for her missing half–brother, Captain Stone, regardless of whether he's dead or alive. So begins "Book Two."
It's amazing that a digital comic, presented as a prototype showing off the possibilities of a revolutionary new system like Madefire motion books, and having what one would assume to be profitability as a part of its business plan, would go so far out of its way to have fun with and, to a great extent, subvert the current popular mainstream of superhero characters in comics, on TV and in the movie theaters. But Captain Stone does not offend pop superhero fans' sensibilities. Instead, the storytelling, being so elevated and engaging above the common bar, makes it representative of the next level of its genre's future, rather than being perceived as a mocking wrecking–ball. This is quite a feat, given the rabid loyalties of comics fans, especially of the superhero genre.
Captain Stone is indicative of a new creative positive growth in comic storytelling, pushing back against the naysaying trolls harping on a supposed creeping atrophy.
---
---
Your Thoughts
Do you prefer a wholly–imagined different world — the better to help you escape in some measure the actual horror of 9/11, etc?

Do you think certain superhero clichés need to be satirized, so long as the mockery is not too disrespectful of our beloved childhood heroes?