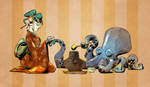 It is with great pleasure we welcome BrianKesinger as a guest writer to the Today Page Editorial Team. Considering his authentic citizenship within the deviantART community, his thoughts and insights will be of great value to all aspiring artists, illustrators, writers and others involved in any creative endeavor. For over 18 years, Brian has worked for Walt Disney Studios on films like Big Hero 6, Winnie the Pooh, Tarzan, Tangled, Wreck It Ralph and Bolt. Brian is author and illustrator of his own octovictorian creation, the wildly popular Walking Your Octopus, featuring Otto and Victoria, about a young turn-of-the-century London lady of distinction and her pet octopus.
Take a moment and think about your favorite movie. Now imagine that movie without the main character, as you know them, in it. I think it is important to make a distinction between the plot of a story and the arc of your main character.
The plot is a series of events that result in a character going through an emotional arc. You can briefly define a character arc as how a character feels and acts at the beginning of the story versus how the feel and act in the end. In Charles Dicken's Christmas Carol (1843), Ebenezer Scrooge hates Christmas and at the end he loves it. That is an oversimplification of his arc. The plot is there in order to provide obstacles and choices to show the the audience who they are and what their attitude toward their situation is. A good plot keeps you interested in the story but a good character will make you want to rewatch the movie over and over again. I am personally a fan of movies that have very simple plots as those films leave much more room for character development.
One way to look at a story is a series of choices made in creating the main character. As a storyteller, the more time you put into your character, the easier it will be for you to make those choices for your character be truthful.
Truthfulness is talked about a lot when discussing character creation. Fictional characters are, of course, not real. They do not exist in the real world. They are made up. You must give them reality with relatable traits. Let's say your main character is a farm hand. How does he feel about that? Does he enjoy the hard labor, or is he bored out of his mind? Let's choose the latter. Note that we are not talking about plot, just discussing character. Does this farm-boy get along with his parents? Let's add mystery by making him an orphan. So we now have the highly relatable story of a bored young man with a decision to make. Should he continue his duties on the farm or answer an inner calling to explore the rest of his world? We know this character. Some of us are this character. So when Luke Skywalker makes his choice, it rings true, because his character has already been established as someone we understand, someone who wants more out of life. We can all relate to his situation. His story will be a bit more exciting than most tales of fugitive farm-boys, but even Star Wars might have bored us had we not been pre-invested in such a relatable character by skilled storytellers.
As an illustrator, my job is to create believable characters. At Disney it is not uncommon for us to start drawing before a writer has even been hired to write a script. Animation and art are a visual media. A picture is worth a thousand words. Drawing your character is one of the best ways to kick off the generation of those words. It is all in the details. How your character dresses, what sort of hair they have, are they big or scrawny? All these questions can be answered and explored through the drawing process. When we work on our films it is common for the character designers and story artists to work at the same time because one department constantly informs the other.
I love this part of the process, as you draw your character and you explore all aspects of them and the ideas start to gel. You put one image next to another and suddenly a story starts to develop, to talk to you. It is very exciting. We had an interesting challenge in creating the character of Baymax for the up coming film Big Hero 6.
I asked Joe Mateo, head of story on the film to talk a little about the difficulties that arose when creating a character without traditional features.

"


We knew that Baymax was going to be a challenge given his limited amount of facial features to express an emotional range. It's amazing though, what you can achieve with those charming dot eyes combined with a subtle head tilt, a well timed blink, and body gestures. These things plus line delivery can be very effective in expressing different emotions. We're careful though how much emotions we want Baymax to show given that he is just a non sentient robot... or is he?"


— Joe Mateo, Head of story on Big Hero 6

On the film Frozen we were tasked with taking a fairy tale "princess movie" and putting a fresh spin on it. One way that we did that was by exploring the characters of Anna & Elsa and creating a believable relationship between the two of them. Paul Briggs, head of story on Frozen speaks more about that here.

"


One of the great things we had working for us was the tropes of princess films we had done in the past. Audiences already had an expectation we would deliver the familiar romantic love story... a romantic kiss from a prince/knight in shining armor would save the the day. Jennifer Lee and Chris Buck knew they wanted to deliver something fresh and different and took the idea from the original Snow Queen story that "an act of true love will thaw a frozen heart" and coupled that with a story about two sisters. The movie really started to focus more about family love than romantic love. The challenge was crafting two siblings that couldn't have that love between one another. We had Elsa, who was hiding a power that she thinks will hurt or kill her sister. So she lives in fear and is afraid to share her love towards her sister. We developed Anna as being fearless but she lives in a world where we she wants to give her love but it is never reciprocated by her sister. She holds onto that true love for her sister though and it's ultimately the thing that saves the day and protects and saves her sister. Anna makes the biggest choice in the movie which is she sacrifices her life to save her sister—an act of true love."


— Paul Briggs, Head of story on Frozen

Questions for Brian Kesinger



Brian has volunteered to answer any questions you might have in a series of video updates we will post soon, so keep your eyes and ears peeled for a shout-out from him.




Leave your questions for Brian in the comments below.