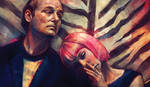 Sometimes a painter's vision expresses and inspires what the zen philosopher's words can only define and describe.
When remarkable lives defined by success and abundance are reviewed from their beginnings, it is remarkable that the narrowest of paths, sometimes a precarious balancing between life and death itself, led to the decision to fight on when failure seemed certain. So it was for our beloved friend Bill Murray, having once entertained the thought of ending it all before his career had a chance of getting started.
Just imagine how much pure unadulterated joy the world would have been denied had Bill taken that one fatal misstep in his journey on a cold day at the water's edge…
Nixon's world imploded…
…With his resignation as President of the United States in the summer of 1974 and a more hopeful America arose in its place. A part of this new world was a fresh anarchistic current of comedy that satirized all the stale conventions of the society that gave us Nixon, 'Nam and "TV Dinners." In '75 a funny guy named John Belushi brought Bill Murray into the "National Lampoon Radio Hour" (a sort of post–grad project of "Harvard Lampoon" alumni). In '77 Murray was drafted into the then–revolutionary Saturday Night Live during its second season to replace it's first "star" departure, Chevy Chase. Hip America fell in love with Bill's "unmade bed" everyman persona over the next three SNL seasons.
Bill then transitioned well into the movies with Meatballs, Caddyshack and Stripes.
In 1984 he agreed to step into a part vacated by the death of his friend, John Belushi, who was perhaps the single most significant champion and promoter of his early career. He took the part to help finance his remake of The Razor's Edge, from the Maugham novel about a man's search for spiritual meaning in a violent and randomly cruel world—issues obviously on Bill's mind in the wake of John's death. Ghostbusters went on to become one of the box office blockbusters of all time. Razor's Edge is gone and all but forgotten.
Bill starred in audience favorite Goundhog Day, but most of his film work has tilted into more experimental and eccentric moviemaking, like Wes Anderson's Royal Tenenbaums, Life Aquatic with Steve Zissou, Fantastic Mr. Fox and "Moonrise Kingdom." In 2003 he starred in what he has claimed is his favorite role, as the American movie star Lost in Translation in Japan, having flown in to pick up a big check for doing a TV commercial. The Sofia Coppola–directed film afforded Bill the space to examine a life of fame, opportunities, generous remuneration for one's talents—and yet still nagged by the core loneliness afflicting all humans. That we'll never know what it is (perhaps some zen wisdom from Razor's Edge) that he whispers to fellow traveler and lost soul Scarlett Johansson is the moment that elevates this movie into humanist masterpiece, the small detail that defines our lives on Earth. Pure movie nirvana.
Bill may be our slacker Buddha who continues to define in his every brilliant comedic choice the finer ironic points of modern living, but there was a time when darkness nearly swallowed his developing mind after a comedy club audience gave a thumbs–down to his stage debut. Bill was the disgraced newbie with the Second City crew in Chicago and in fit of depression decided to drive to Lake Michigan. Lucky for us, he had to pass the Chicago Art Institute on his way to the murky shore.
Lucky for us
He decided to stop and take a moment before entering oblivion to put some beauty in his head. Lucky for us, that Jules Breton painted The Song of the Lark in 1884. The painting is of a stoically beautiful peasant woman at dawn, readying herself for another day's hard labor in the fields. Her eyes are raised heavenward, as she apparently hears a lark, a small bird living hidden on the ground, but a singer of beautiful songs when having raised itself up into full flight. Lucky for us, that this painting was there to save Bill Murray's life and renew his spirits, as he recently revealed, obviously resonating with the comic capable of transcendent humor but who had, nonetheless, crashed and burned on his first attempted public "flight." Lucky for us that an appreciation for art was a large enough part of his life to inspire him to soar again.
Have you ever had the experience of being lifted out of a seriously dangerous depression or sadness by losing yourself in a work of art? Was the artwork on deviantART and would you share by posting it here in the Comments section?

Is there a particular artist whose works you look at to be uplifted or that invariably just make you feel happy?