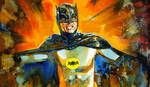 ---
---
Your Thoughts
Do you prefer the campy, more light-hearted TV Batman as portrayed by Adam West? Or the Dark Knight version of Batman by artist Frank Miller and portrayed by Christian Bale?

Do you think artists and writers should keep trying to endlessly evolve a successful comic hero to keep the narrative alive no matter what? Or should characters be allowed to "die" or go into retirement at a logical point in their story?

Do you regularly read comics? If you once did, when and why did you stop?

Do you buy comics as they come out or do you wait for the book collections? Would you prefer they just come out as graphic novels and skip the serialization?

Do you read your comics in print or in digital format?

Who in your family also reads comic books?