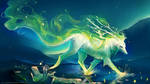 Child Psychologists will tell you that kids relate best to other kids and that's why they're drawn to puppies and kittens and other creatures of limited vocabularies but an abundance of physically affectionate expression. Fairy tales and comic books about animals or mythical creatures with human attributes continue this special relationship into childhood understandings about the complex world that's often overwhelming them. Teenage Mutant Ninja Turtles and Pokemon characters have the "magical" ability to impart life lessons in a way that adult authoritarian figures do not.
The flipside of this positive process is the still prevalent belief in "familiars"–malevolent spiritual helpers in animal or other guise (black cats in particular) who assist witches and necromancers in their dirty deeds. Some churches condemn fairy tales and "Harry Potter"–type popular fictions because they supposedly disarm children to the very real threat of demonic influences being transmitted through talking pets and other invitingly happy, magical creatures and semi-human beings.
As adults we don't necessarily give up our magical creatures. Some of us believe there couldn't possibly be so much smoke without there being at least a little fire somewhere when it comes to vampires, werewolves and zombies. Then there's our desire to believe rare eyewitness reports and grainy photo evidence (the Abominable Snowman, Sasquatch, Loch Ness Monster). The yearning for living fire–breathing dragons and unicorns to exist in our world are hard for many children to relinquish. The existence of a Faerie race is taken as a hard fact in certain parts of the world. It seems that no matter our age or circumstance we are beings always wishing for the special wisdom (or notoriety) of acquaintances with special powers.
What traits would determine your choice of a spiritual power animal to guide and protect your life?

Is it wiser to have a power animal which strengthens patience or cleverness or strength?