"When I left high school, I had all my plans to go to college, but I had no money. And I decided then, the best thing for me to do is not worry about getting money to go to college — I will educate myself. I walked down the street, I walked into a library, I would go to the library three days a week for ten years and I would educate myself. It's all FREE, that's the great thing about libraries! Most of you can afford to go to college, but if you wanna educate yourself completely, go to the library and educate yourself. When I was 28 years old, I graduated from Library."
— Ray Bradbury

So spoke the recently departed Ray Bradbury, a seminal (possibly the seminal) American fantasy & science fiction writer. Today, aspiring sci-fi and fantasy writers study his novels and short stories as their core education in that genre. I evoke Ray as an example of an everyman who made use of the free education medium (the Library) in a way that aspiring artists can now use the Internet and its vast arts training resources – resources like deviantART.
"Back to school" can conjure up a diverse array of feelings for many of us in the community revving up for another year of arts education both formal or self researched and generated. The new phase can mean a final step towards graduation or a long journey's first step toward a new and hopeful endeavor. Whether you are attending "school" virtually, in person, formal or informal, now is the time we all reapply our efforts and resolve to move to the next tier of our personal development.
We have here assembled a diverse panel of experts to provide insights and advice that only longtime personal experience in the arts can bring. There are a variety of theses and viewpoints relating to the artist's educational journey for you to consume and apply to your own decision-making as you embark on this year's arts training schedule.
Ray Bradbury had hundreds of stories to tell us, stories that still startle, shock and haunt us. But, like every artist, he at first lacked the tools to consummate his desire to write. Thankfully he disciplined himself to making maximum use of what resources were available to him. Remember Ray as you peruse deviantART. He had to ride his bicycle to the library to acquire his future literary tools. You only have to power-up your personal computer (or use a free one at the library). The whole world is still out there for those with the desire to make themselves the world's (and its peoples') champion. Join the effort.
---
Your decision to pursue becoming a custom toy artist didn't come until after your graduation from The Academy of Art. Was this arts education, though only tangentially related to the type of art you would eventually be doing, still worth the effort and expense? In what ways did it pay dividends later on?
My Experience with college was a double-edged sword. Half of me wants to say that college was a waste of money while the other half knows that I learned a lot and created some great work during that period of my life. The question is whether it was college that made this possible, or if I would have gained this same artistic experience if left to my own devices. With or without college, I would have continued to make films and produce art. But college did provide some very nice equipment to work with and time to focus on my work.
One positive thing my college film experience did teach me is that making something great takes tons of work. On top of that, you need to be able to roll with the punches and just keep working.
Why the drastic change in career?
After college, I realized that I wasn't going to find any steady film work in San Francisco. For that I had to move, start over, make all new contacts, find a new place to live, a new job. I'd have to start from the beginning again and I wasn't excited about it. On top of this, I realized that being a production designer on a film was fun, but film is a giant collaborative beast and although you may put your blood sweat and tears into a project in the end, only the producer and director get the credit. I found this to be disappointing. So, I decided to pick up something I could do myself, that was my own thing... My childhood passion: Making toys.
It seems as if you could go back, you would chose a different academic path. Is this true? How would you change it? And what can a young artist do to insure that they choose the right direction?
It's an entirely individual choice. If you're already a dedicated artist and you know what path you want to take your career, then, I would argue that you should save your money and spend it on creating an amazing portfolio or demo reel. Spend the time that you would be in class instead hunting down internship's and meeting people in your industry. If you choose college, do your research. Find a college that is prestigious in your craft and go after those.
What was your art education in High School like? Did the elective choices you made in high school influence the direction you took in art school?
High school was the best art education of my life. Freshman year my school was starting a video/computer graphics lab. I was interested in film so I signed up for as many elective classes as I could take. My teacher let me do whatever I wanted, as long as she could see I was working on something. Through these classes I got all the resources and experience I needed at that age. I got to experience the stress of a deadline and got to know what it was like to stay up until 3am editing a project. It got me excited about making movies of my own by any means necessary and it's what drove me into college right out of high school.
How does seeking internships with artists help fledgling artists with their early career choices? How does one approach an artist for an internship?
I would say that seeking internship's may be the single most important step a young artist can take. To find work, you need a good resume but you can't get a job without a resume and you can't build a resume without a job. So, volunteering your services to established artists for free is a great way to get those positive references.
Getting an internship is as easy as finding an artists email address and sending them an email explaining who you are and why you want to intern for them. Let them know that you want to learn anything they are willing to teach you. More often than not, some artists are happy to talk to you and give advice, while others may be looking for someone exactly like you. But be aware that putting yourself out there can come with a lot of rejection. Don't take it personally and don't let it discourage you. Just keep applying!
What is your bottom-line advice on arts school attendance to the aspiring artist?
First off, know if college is right for you. If it is, evaluate schools by what they can give you besides a degree.
Don't jump into a college just because it's the next step after high school without truly knowing what you want to do. The money that you would spend on school could be used to make amazing art. I would say that if you do decide to go to college, go in with very specific goals in mind. Go in with a film that you want to make or an art show that you want to produce. Then, use the school to make it happen. That way, when you leave you have an incredible portfolio and experience / connections.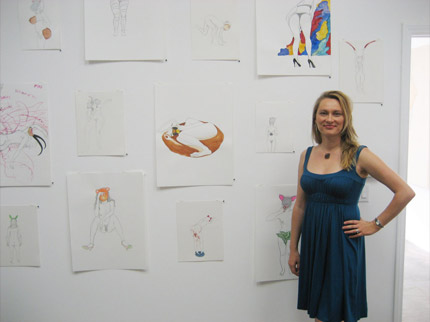 Your arts education is so multi-faceted and had remained ongoing as you've explored several diverse fields of art. Was it your intention to investigate as many genres of art as possible before choosing a specialty or a dissatisfaction with one field precipitating the move to the next?
I've always done both art and English; I double majored in undergrad, and have a Masters degree in each subject. I guess nobody told me I was supposed to specialize until it was too late. And with respect to media, I think of myself as someone who mainly does photography and drawing/painting, with occasional forays into music, sculpture, performance, etc. More than anything it's the people I've met in school that have influenced me - fellow students and professors. In my undergrad at UCSC I thought of myself as a painter.
But towards the very end of my time at UCSC I was part of an all-woman arts collective called IWAC (Interdisciplinary Women's Arts Collective). I was so inspired by all of these incredible women doing risky, interesting, thoughtful work in various media. Being part of that group exploded my horizons. When I was in a PhD program in English at the University of Chicago, that's when photography really clicked for me; it brought together the ability to work with both ideas and images. Eventually, I quit my PhD program in English got an MFA instead. I ended up making installation, sound, painting, drawing, and photos.
---
How important is it to remain loyal to the personal principles guiding your artistic self-expression, regardless of the changing nature of one's arts education?
I think the whole point of an arts education is to break you down so that you can build yourself back up again. The purpose of that exercise is so that you can figure out what you really believe in. It's a painful, destabilizing process. But it's a kind of baptism by fire; once you are out the other side you're stronger. Critiques are hard, but when you are embattled you figure out what is really important to you.
In addition to your career as an artist, you also work as a research and strategy consultant. In what ways has your education in the arts led to, and benefitted, this aspect of your life and career?
This is a good question. When I was enrolled in my PhD program I lucked into a contract position as an ethnographic researcher. That spiraled into a wonderful, interesting career in the business world. Four years later, though, I still had this horrible feeling of incompleteness whenever I thought about art. So, I finally went ahead and enrolled in an MFA program. But the ethnographic mindset is a hard one to shake. Eventually I gave in and let ethnography slip into my conceptual photographic practice. After a hiatus, I'm consulting again, and I love it. So my art practice led me back to consulting, and consulting feeds my art practice.
---
What is your bottom-line advice on arts school attendance to the aspiring artist?
I'm a big proponent of education in general. And an MFA is a fabulous experience; you learn so much about yourself, about art, about history. For me, particularly because of my eclectic background, there was a certain amount of professionalization that I couldn't have gotten without doing an MFA. I'm so happy that I finally got my MFA. My bottom line is: if you want to take yourself seriously as an artist, get an MFA. But cultivate another skill too, so that you can support your art practice!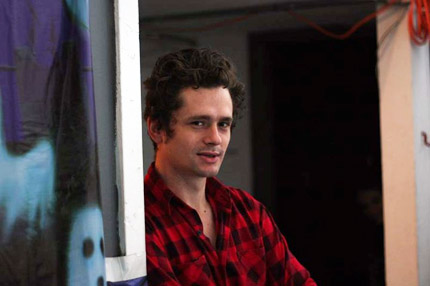 Your career has been a steady ascension through the professional fine arts world from your art school education at SFAI on through to presently curating the Gallery Heist. Have you always known, and kept a steady bead on, exactly where you were going and what you were wanting to achieve in the arts world, or was it simply making the best choice as opportunities arose?
I think for most young artists, who go into a graduate program for the their MFA, they have an intention to build a career as a working artist, or at least use their Masters experience as a catalyst for future creative endeavors, but I always saw it as a way to do a variety of things, apart from simply showing my work in a gallery setting. An MFA program offers you the freedom to explore a variety of avenues, in both research and studio practice, whereas a strict program in Curatorial studies or art history has a pretty basic or narrowly focused agenda.
The contemporary artist shouldn't be limited to merely showing his or her own work, and art shouldn't be defined purely by what's on the walls, it's the entire package, socially. The opportunity at Gallery Heist came at a time when the owner wanted to broaden the audience. It seemed only natural to try and bridge the gap between artist and curator, personally.
---
What is the value of the peripheral opportunities associated with a good arts school, i.e., the networking connections that can be such important career builders? Do you counsel young artists in the importance of networking, even if their interests are far from the "administrative" aspects of an arts career?
Networking is incredibly important whether you're an artist, curator, teacher, etc. The word "networking" gets a bad rap with young artists, because it sounds materialistic or like it cheapens the experience of making and sharing your art, but in today's world...networking is simply the measure of your communication with others that can relate to you, help you, and vice versa. This can start in and should be one of your primary motivations in going to art school; finding the right people to look up to and learn from. It's up to you to find your own voice and decide how to use it, but the big picture is often defined by who you connect with.
How has social networking online aided you in getting to where you are today? Is there any advice for young artists who primarily use online tools to reach people with their work?
Yeah, social networking is its own beast. It can be beautiful and it can be disgusting. It's how you use it; a perfect tool for exposure, and personal growth, or a waste of time. A lot of people look down on sites such as facebook or twitter, but the truth is that likely everyone you need to know is on one of those networking sites and there is often no better way to connect and communicate with them, than writing them RIGHT NOW. My advice is to use social networking to your advantage and make it your tool. Use it; don't let it use you.
What is your bottom-line advice on arts school attendance to the aspiring artist or anyone interested in an arts-related career?
A young artist might see academic degrees as being arbitrary, but in this world, you're better off biting the bullet and getting them as protection. You'll likely be limited without a degree. Even as a starting point that leads to your own journeys outside of academia, art school offers you greater job options, as well as a built-in networking system. The trick is to find the right school for you.
Of all the arts, photography would seem to be the one requiring the least formal arts education. What is the real value in taking photography classes?
I have had the pleasure of working with photographers who are classically trained and those who are self-taught or who have done internships. I do think that a continued concerted effort to stay abreast of technical developments is key as well as an understanding of the evolution of photography; in a fine art sense as well as a craftsman sense. There are a couple of points that I do feel are key though: understanding light and understanding and building a business structure around ones' practice.
Is there an overall arts aesthetic that the artist can only obtain in a structured arts education? Should even an artist with limited means try to obtain as much of a formal education as possible?
Taking classes is always worthwhile for the discipline and to hear another point of view if only to butt up against something and sharpen your view.
What were some of the practical mechanics of shooting better pictures that you learned in your arts classes?
I am not a photographer, but a producer. My arts classes had alot to do with art history and darkroom techniques that are quite archaic now. My best education came from learning on the job, saying yes to any opportunity and having the good fortune to assist, intern and hone my sensibilities on the job. I also came up in the photography industry at a time where agencies were more 'mom and pop' shops and we had to know how to handle all parts of a business, from international distribution which gave me reason to read foreign papers and keep my passport current to accounting, technique, marketing and sales. We had to trust our eye in editing and choosing imagery and assisting photographers in selling their work to a myriad of markets.
Working in an entrepreneurial atmosphere meant ample opportunities to venture into different areas also - shifting between still and motion for example. I began producing for an agency I worked with simply because there was no one else to do it and I liked the energy and immediacy of putting together a team and structure for a focused image/campaign/spread/film, etc. I still do and every project is different and demands that I am amenable to learning something new.
---
What are some of the ineffable or intangible yet important principles you learned from your arts education?
Again, with little arts education, I learned from mentors, often both brilliant and mad and from trial and error. Baron Wolman taught me a couple of principles that echo almost weekly, always say yes to adventure and more importantly, that if one is bored, one is boring. This permeates in work as well as in life. Rick Ridgeway, acclaimed mountaineer, writer and photographer, taught me to 'commit and then figure it out' or as his employees used to say with a grin, 'Commit and let your employees figure it out.' Once he took out an ad in a source book claiming that his agency was the premiere footage house specializing in adventure cinematography. He then left for several months to climb K2. The result was that I had to get up to speed quickly about a medium that I knew nothing about very quickly, but I did and another door opened.
What can you say about the positive effects from simply being around other artists and art instructors as a growth experience?
My work is collaborative and dependent on any number of specialists and conditions to be successful: an art director, a location scout, the photographer and their own vision, a stylist, the weather, budget and time constraints. To be successful and keep the work interesting and fulfilling, for me at least, is less about showing people what I know, but listening and learning to what is on offer and figuring out how to meld the best of what is available (often very quickly) to create an atmosphere to make the best picture possible. I also find it quite useful to look beyond the medium of photography to help my work. Creative and constructive inspiration can be found in music, literature, the culinary arts, architecture and so on.