The DeviantArt Holiday Card Project is back! Create a digital holiday card for a hospital patient and receive 300 fragments — equivalent to a one-month Core Membership!
Since 2004, the DeviantArt Holiday Card Project has led the DeviantArt community to use its artistic talents to design and create uplifting, physical greeting cards for hospital patients during the holiday season. To date, over 32,000 cards have been distributed to patients around the globe. For 2021, given the impact of COVID-19 and in the interest of public health, DeviantArt has opted to make the project digital!
Create a card and submit it to DeviantArt with the tag #DAHolidayCardProject2021 so it can be collected and distributed to hospitals. Digital cards can be shared with many patients, giving your kind gesture an even greater impact. In the spirit of spreading joy and kindness, every Project participant will also receive 300 fragments that can be used to grant badges to deviations or comments you love — meaning participants can give a one-month Core Membership to others!
Frequently Asked Questions

What is the Holiday Card Project?
The goal of the Holiday Card Project is to have deviants create holiday cards for people who are hospitalized, helping bring a smile to the faces of those who may need holiday cheer.

Who receives the cards? Cards will be distributed to our partner hospitals. Partners have committed to showcasing cards digitally to patients and visitors in a public setting — either through a media wall, an internal TV network, or via a similar medium.

What should my card look like? Look at some cards below for inspiration!
You can also use our official Holiday Card Project templates to submit your card!
Should you choose to make your own card, your card must be at least 1920 x 1080 pixels or have a 16:9 aspect ratio if you want it to be larger.
You can also design and decorate physical cards by drawing, coloring, or painting. Construction paper, cardboard, markers, crayons, colored pencils, ribbon, etc., are all great ways to help make your card as special as possible. If you can, make sure to scan the card using a scanner (as opposed to just taking a picture of it) so that the quality of your card is preserved.

What should I write on my card? Be as creative as you'd like! However, remember that the degree of illness for patients will vary from mild to terminal. It's important that what you write stays cheerful and positive. Some suggested greetings include, "Best wishes," "Thinking of you," or "Have a nice day."
Avoid phrases like "Get well soon" and "Hope you're feeling better," as it might not be appropriate for all patients. Include a message of "Happy Holidays," as the cards will be distributed during the holiday season, and please refrain from using any overt religious quotes or references.

Can I send more than one card? Yes. You can upload as many cards as you like. Having said that, quality is better than quantity. Uploading one quality card that you put time and effort into is better than uploading two cards that were hastily thrown together.

How do I share my cards on DeviantArt? That's part of the fun! When finished with your creation, upload a photo or scan of the card and submit it to DeviantArt using the #DAHolidayCardProject2021 tag. Sharing your artwork with others helps spread the word about the Holiday Card Project, which then leads to more cards being created and shared.

Can I send a physical card like in previous Holiday Card Projects? Due to the effects of the COVID-19 pandemic, deviants are kindly asked to not submit physical cards this year. We look forward to bringing back the traditional Holiday Card Project once it is safe again to do so.

Will patients know who made the cards? The only way a patient will know who made a card is if you sign your name, which you are welcome to do. If you wish to send a card anonymously, you may also do so.
Outside of including your name, please do not include an e-mail address or other personal information. This is to respect security concerns raised by hospitals.

What do I get from this? The idea behind the Holiday Card Project is to bring a little cheer to those undergoing a hospital stay. The patients and their families are deeply touched by the kindness and thoughtfulness from those who take time to create and submit cards.
Once the Holiday Card Project has been completed, all registered DeviantArt members that participated will receive 300 fragments, equivalent to one Core Membership. Fragments will be distributed no later than January 15, 2022.

When is the deadline for the Holiday Card Project? All cards should be uploaded no later than December 17, 2021.
Past Projects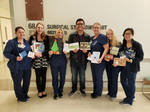 Rules and Terms Limit one grant of 300 fragments per account. DeviantArt reserves the right to deem any card contributed to the Project as unacceptable and therefore ineligible for a grant of fragments.

Spread the Word Share your #DAHolidayCardProject2021 involvement across the internet! Write a journal or status update, or post to Twitter, Facebook, Tumblr, or Instagram! Getting the word out helps this great cause reach more people — resulting in even more holiday cheer!

Additional Questions/Concerns Please note that many common concerns have been addressed in the FAQ section above. Take care when reading the Project's description because there's a good chance it contains an answer to your question. For any remaining issues, please leave a comment on this journal.