Hellou

Call me Teal if you wish to talk to me .
I'm a Traditional Artist,I sometimes to Digital Art and all taking this as a hobby.
If you want a request or art trade please ask me,but only if they are open
and gift's are only for friends.I'm pretty chill and understanding with thing,but
don't piss me off I'll flip some tables over.The thing's that are on my like list are friends and family,drawing,animals,doing arts and craft's,photography,sport's and athletic's,cats and other stuff.Last but not least Respect me and I'll respect you.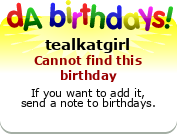 The stamps that relate to me:
:thumb264649785:


:thumb283570032:






:thumb153525182:






:thumb278735857:





:thumb291146687::thumb121008446:




:thumb131576657:







:thumb193389390:

My fav fandoms:
:thumb512398723:
My Badass favorites:







Favourite Movies
Jurassic World,Avatar
Favourite Bands / Musical Artists
Ke$ha,Ray Foxx,The Wanted,Justice Crew
Favourite Books
The girl from the sixth moon
Favourite Games
Skylanders,Splatoon,Fnaf
Favourite Gaming Platform
wii,nintendo,playstation
Other Interests
Over the top with Boom Jet