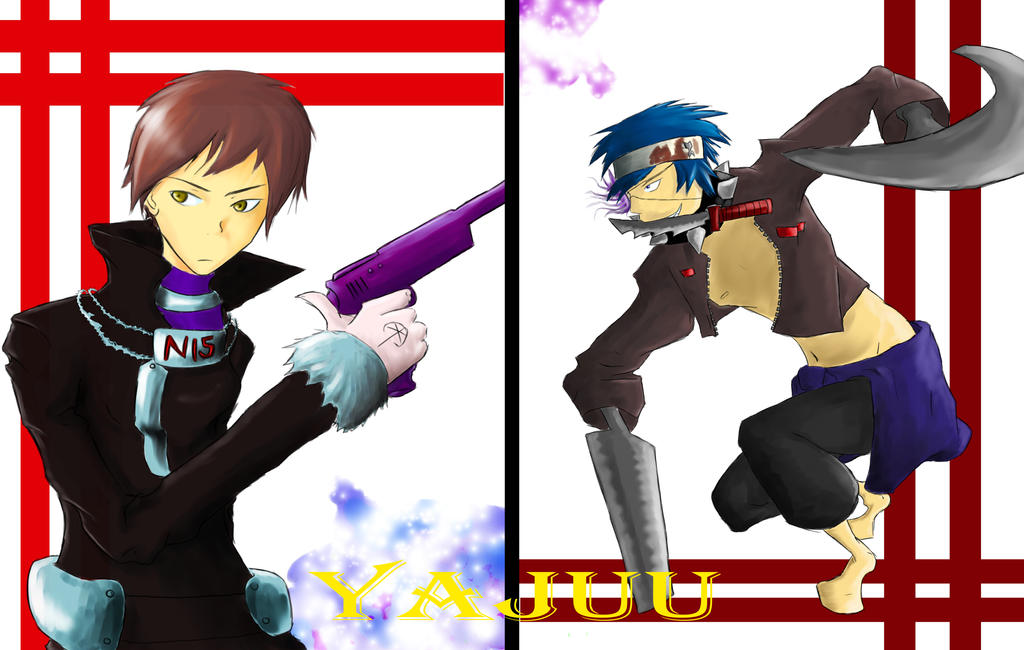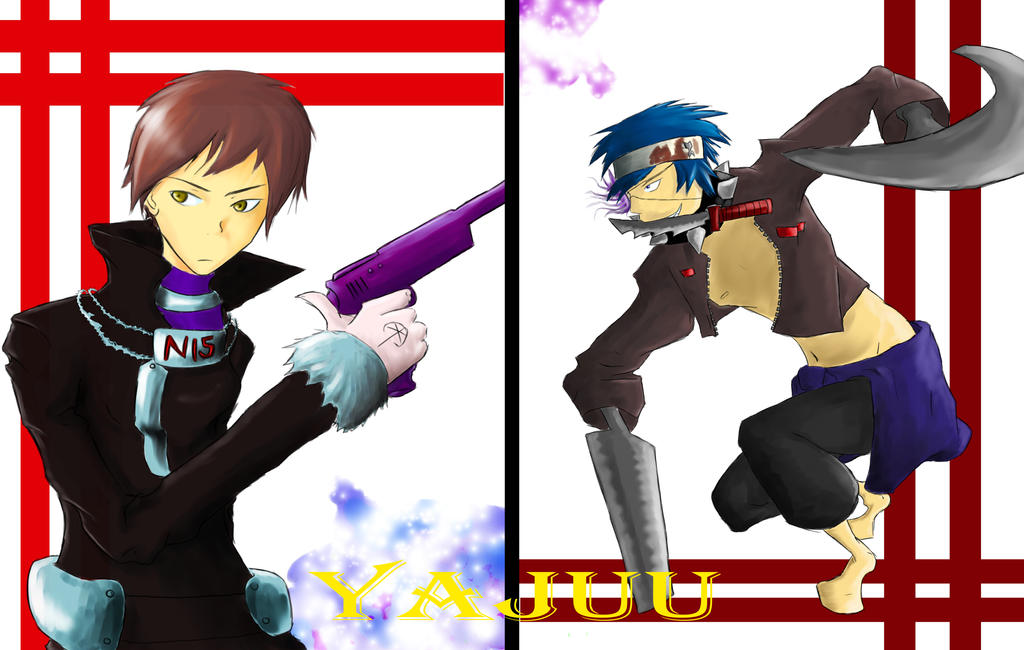 Watch
Okay, so.....I'm on "Vacation", and I only have my old crappy photoshop so I can't do Ayjiruo; so I was like "FINE I'LL DO YAJUU PICTURES."
I drew both of these separately; but decided to compile them.
It's Mog and Hei; evidently; in "Badass costume form". Hahhaha. I dunno; why shouldn't they have other costumes?! It was sort of meant to be like a cover type of thing. But not really. I DUNNO.
Stuff:
Mog: Thinks she is a cyborg. She's not but she likes to think she is. She has seriously accurate aim. HARDCORE.
N15 is my favourite number letter combination. Thus that. Mog is an unlicensed Yajuu trainer.
Hei: Once again; reminding you....has no toes nor ears. He can change colours at will, though, hence the slightly different hair colour. He prefers to be either normal skin-tone or plaid.
I think that's it for this one.
Yajuu (c)

Hei and Mog (c) ME DAMN IT
CRITIQUE PUH-LEEAASSEEEEEEE <3
Oh, except nothing on the lineart. I know everything that's wrong with it already. SHHH.
Edit: I just noticed you can see through Mog. I have no idea why this is. Please ignore it. <3
EDITEDIT: Decided to throw this Yajuu meme thingy in here. YAY.
EDITEDITEDIT: Needed to add more info to the meme. So. HERE WE GO TWICE IN A ROW!
Name: Mog (her real name is Ali, but hardly anybody knows that since she never calls herself/introduces herself as that)
Age: 16
Sex: FEMALE
Race: Human, mostly. No Yajuu in her though.
Height: ....I dunno, 163cm?
Weight: You're not supposed to ask that of a lady ♥
Favorites saying: "Quare Sedemus? Convenite, et ingrediamur civitatem munitam, et sileamus ibi: quia dominus deus noster silere nos fecit, et potum dedit nobis aquam fellis: peccavimus enim domino."
But for practical purposes, "Pithy."
What trainer type are you?: Doesn't really have a type. Specializes in guerilla tactics. A researcher/scrounger/whatever for money.
What type of Yajuu Monster does your trainer train?: ....Uhm.....Hei. However; she also uses "item" type yajuu -- as in, Yajuu that are dormant and single use. They don't die or get used up when being used; but typically once used they are impossible to recover.
Likes: People with fluffy hair; Hei, fishing, fish, aquatic yajuu, looking under rocks, doing ridiculous things, stuff like that.
Dislikes: Doing stupid things, not being able to forget doing said stupid things, stupid people, people who are ignorant and don't try to do anything about it, extremists, math.
Any mental Disorders?: Would talk to herself if Hei wasn't around. Has synesthesia. Frequently considered psychotic; and has a slightly skewed image of reality.
What do she/he wear?: Whatever was lying around. Usually some kind of coat-shirt-long pants-boots combo. Does not enjoy sandles; and only wears shorts when fishing. Has a fishing vest full of everything she could ever possibly need, usually wears this under her sweater/coat thing.
What does he/she look like?" Brown hair, hazel eyes. Oval shaped head, medium build.
Background: Came from a fairly wealthy family; was raised with few significant events in her life; but is well connected. Met Hei, her yajuu, at age five when he was being chased by SPORK. The two of them quickly became inseparable and strongly relied on one another for just about everything; and the two of them are almost always in the same room as each other, they're that inseparable. Both would be totally lost without the other. After graduating college with a degrees in biology, chemistry, literature and art; went on to not be able to maintain a job regardless of qualifications. Thus has turned to a life of whatever-ing, indexing yajuu she finds. Has the most comprehensive aquatic yajuu index ever. Mostly fishes and commits ocassional petty crimes with Hei; and whatever else happens.
Short Bio of the trainer: Uhm, that's kind what's up there, BUT....uhm...Mog didn't have a great number of friends as a child; but the ones she had are extremely resourceful. She knows a person who knows a person kinda thing. Mog has connections just about everywhere; though she herself isn't very famous since they're discreet connections.
Top three monsters your trainer owns: AH ONLY REALLY HAVE ONE.
Monster name: Hei -- Hekatos
Sex: N/A
Class: Rare and Dangerous
Type: Amorph
Weapon(s): Whole body, can morph, camofluage, and consume just about anything.
Moves: Uh...Whatever comes to mind, really. Mainly physical attacks.
Special Moves: Curse, Cursed Bullets (combination attack with Mog).
He's really just a blob. He does blobby things. His special attacks the involve the "Curse" usually create some kind of purple-blue-red and black miasma type thing that affects different things differently depending on their power level. If you need and expo please ask Dx