Erotic Earth Star Trek, Part 3 (The Next Generation)
Copic marker and colored pencil on paper
2020
Continuing the just-for-fun redesign/expansion of my classic Erotic Earth Star Trek design from 2007, this one depicts the women of Starfleet during the Next Generation era. This one is pretty self-explanatory. The male version would largely be the same design, with a full-breasted tunic that is shorted than the ones from the real show (about the same length as the ladies here, ending just above the navel). The "short tunic" variant could technically be worn by men or women, but like the skirt variant from season 1 of TNG, it would be rare to see them do, as it would be considered a more feminine look (there's a reason we never saw men in the skirt past that one dude in the background of the first episode... Because, wow). This variant came about as my original idea for the standard duty uniform, but after reviewing my old pic, I decided that the full "boob window" tunic really captured the feel better. I still liked the design, though, so I made it a variant, one that might work better for small-breasted women. I considered putting once of these in the 1st season version, but decided against it since that version is kind of ugly and was only around for one season. Plus, it was a one-piece jumpsuit, as opposed to the pants and tunic of later seasons, so it would be harder to design. The tunic just worked better all around.
And for those wondering why none of the Star Trek girls I've done so far are clean-shaven as is the more popular approach today, that's because I'm designing these keeping the time-period of the original in mind. TNG came out in 1987 and in 1987, a shaven crotch was considered a really weird kink. You'll see some smooth once we get to the more modern Trek shows like ENTERPRISE, DISCOVERY, and PICARD.
Next up will be a combination of DS9 (s.1-4)/Voyager and First Contact/DS9 (s.5-7).
Previous entries for this series: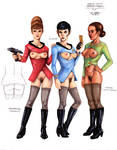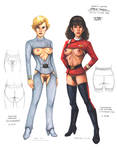 Image size
1486x1224px 348.78 KB
IMAGE DETAILS
Software
Adobe Photoshop 21.1 (Macintosh)