Erotic Earth Star Trek, Part 1 (The Original Series, v2)
Copic marker and colored pencil on paper
2019
I decided to redo my 2007 EE Star Trek piece, not because I was dissatisfied with the original, but mostly because I wanted to. My plan is to do a different piece for each series and the movies... We'll see if that happens. This one features the standard female Starfleet duty uniform in Engineering/Security red and Sciences blue, as well as the green Captain's wraparound variant. The male version of the EE uniform isn't anywhere near as interesting, being pretty much the same as in real-life, but with tighter pants with the crotch and butt exposed.
Next: Star Trek The Motion Picture Era!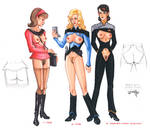 The original Star Trek EE design.
Image size
962x1224px 341.33 KB
IMAGE DETAILS
Software
Adobe Photoshop CC 2019 (Macintosh)