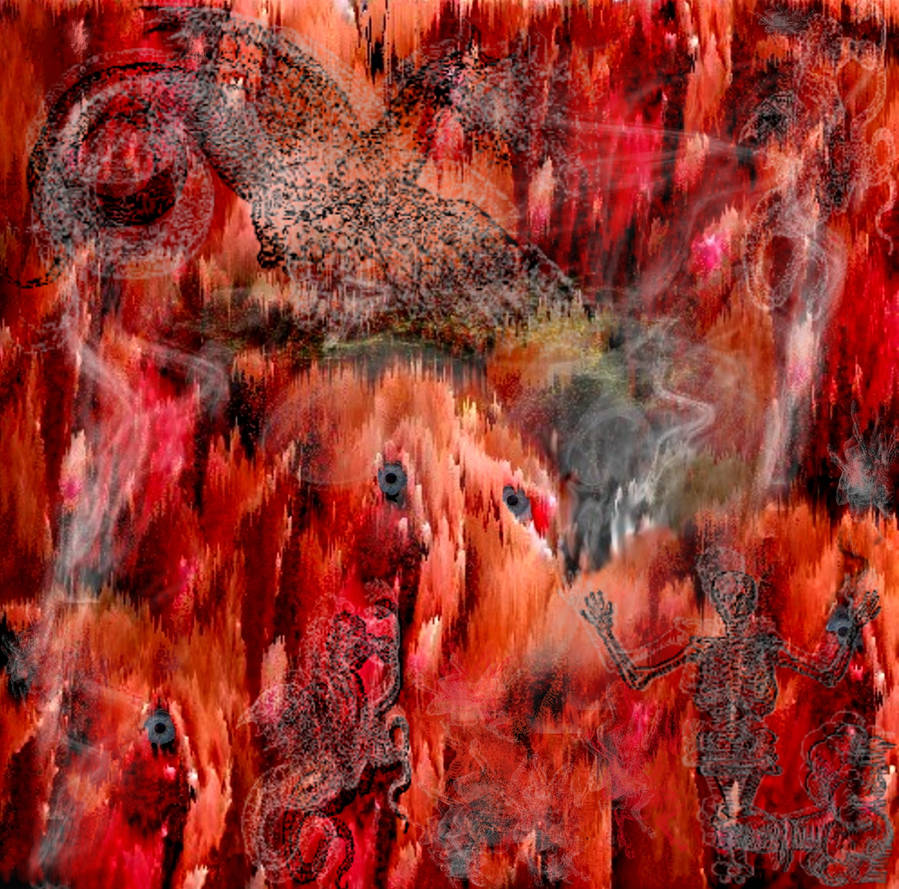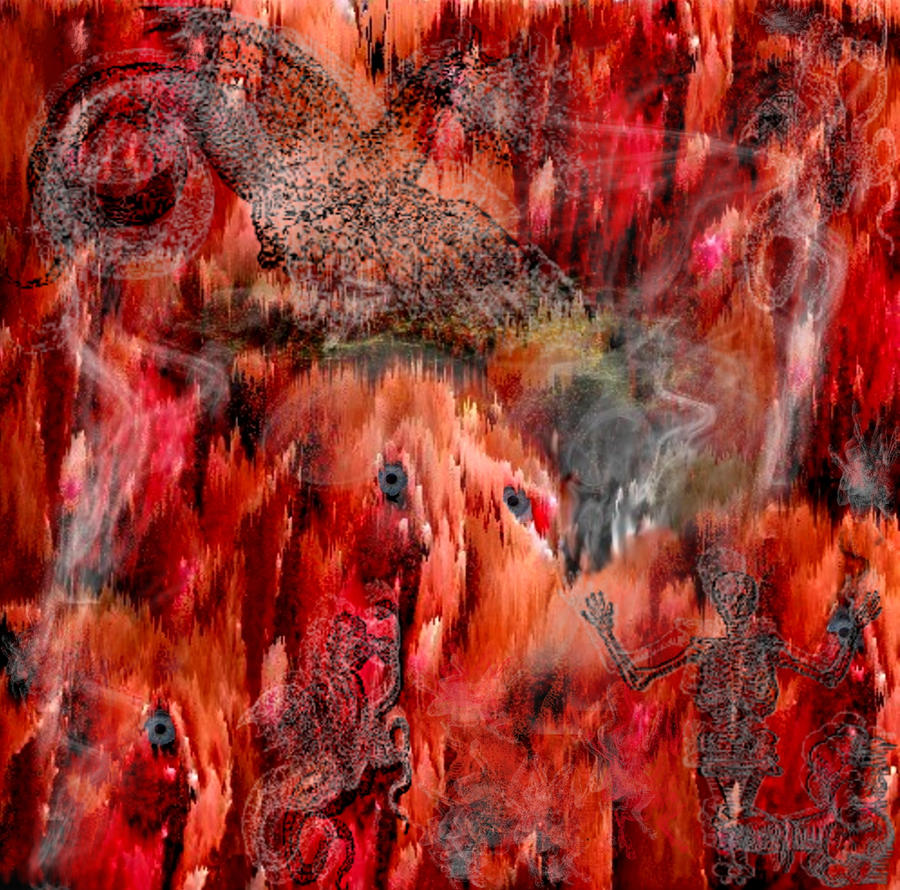 "Half a man as a shadow of his former self..
It ain't very pretty what a little less liberty can do to you self esteem
Take out the spirit, give it forty lashes, a cuppa cold java and a stale cracker
Slap it's wrist with a hammer, slam it back inna slammer
Sometimes/alla time/everywhere I look/ a coupla dozen places I don't IS THE THRONE OF AGONY
'cos it's me that's doin' the looking and it's nagging me
And it sure as hell gets me down
So you alter your consciousness
Try and altar your conscience
I pick myself up offa da floor
Throw another bottle on the fire, Throttle up the mire, this LIAR's for hire
Tear out your heart
And remind yourself
THE TWO MOST DESTRUCTIVE HUMAN EMOTIONS ARE FEAR AND GUILT

~CLINT RUIN "NAIL"
"Bizarre" brushes by
[link]
Smoke brushes by
[link]

I might be having a flashback, but this looks really 3D to me right now....!
Reply

...and those sweet little blue eyes, looking out from it all...
Reply

The eyes are the window on his demented little soul!

Reply

ha!
hey - does that eye belong to the guy in
"A Clockwork Orange?" (Can he Viddy us??)
Reply

Nah, Mssr. DeLarge and his Droogs wouldn't pose for me, my milk must've been sour.
Here's the weird thing about that eye - the stock photog got banned PERMANENTLY (for what I don't know) from DA.
Reply

Nah, those chellavecks were poogly of you!
Banned? That veck musta fillied with something merzky or else the millicents were just tryin' to vred him.
Reply

Nay, 'twas a devotchka! Too baddiwad, her glaz was dobby!

Verily, thine Nadsat is fluid and zammechat. Oomny yahzick indeed!
Reply

Ye must admit your glaz and warbles are also quite dobby. I'm getting pyahnitsa from your sammy raskazz! It's much like a mozg mounch - I hope it privodeets...
Reply


I concur
Reply

cool it's like a melting monster movie!

Reply

Thanks!

And it comes right from your ethos
you'd never believe what I started with to get the fingers

Reply

Very nice, stirs the soul with a fiery fury! WEll DONE!
Reply

Thanks! appreciate the fave
This one felt almost like really painting, wanted to scrub my hands with solvent after LOL
Reply

the smoke works so well with this color scheme...
Reply

Thank you friend, much appreciated!
The "finger faces" I had been playing with for a while. until I found these particular smoke brushes that just fit the bill.
Thanks for faving it!
Reply