---
INFORMATION
---
HP:10 | ATK:00 | SPD:00 | STH:00 | DEF:00 | EXP:00 | LVL:00Theme:

Shell Collector

Species/subtype

Bavom | GladiatorBeano Mutation/Status:

None | Buffed
Masterlist Entry: Bavom #159 - Shell CollectorAge:

Young Adult

Height:

Taller than most Bagbeans (Rat-Head roughly the size of a Bagbean's forearm)

Gender:

Female

Occupation:

Ship Stowaway/Explorer/Collector

City of origin:

Unknown location in Capria, but now explores the world.

Mutations:

Coloured Eyes, Different Tail, Thin Arms.

Forms:

Bavom form, no others yet!

Personality:

Cherry Splash is an explorer and collector at heart - she travels the ocean by sneaking onto ships, leaping away to different shores and discovering more about the lands she encounters, be it the great continents of Griffia or tiny deserted islands. Due to some stranding in the past, she's had to learn swim, but is still not very good at building her own boats. For this reason her passion is very risky to partake in.
Aside from exploring, Cherry loves to collect things - especially shells! Since she has no solid home, there's nowhere to store them normally, so she hides them in places of wilderness before leaving for the next island, a trail of buried treasure left in her wake. The one shell she never leaves behind is her prized black-scallop, which she wears as a cap!
In personality, Cherry is quite a trouble-maker amongst other Bavoms, taking advantage of their penchant for sea-exploration to move to different places for free! However, she is surprisingly friendly towards non-Bavom inhabitants/residents of the different lands she visits, believing kindness to be the best way to get around and learn the fastest about these new and different cultures. However, she does not make for a good long term friend as she's always moving, and if you meet her once you might never encounter her again...

---
OFFICIAL FORMS
---
---
INVENTORY
---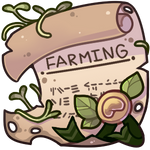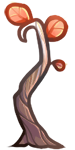 This will contain anything this griffian owns (especially griffian bound items like tools/Weapons/charms/uber items etc)
---
RELATIONSHIPS
---
Soulmate:
None!
Allies:
None!
Companions:
None!
Sidekicks:
None!
Pets:
None!

Ect:
Strangely enough, her body often acts as a different person to her head! For this reason, you may see her arguing with herself over which direction to go, what to do, instead of co-ordinating perfectly with it. The two may be considered closer to conjoined twins than the same person! (Though, I somewhat headcanon this to be the same with a lot of Bavoms, haha!)
---
ARPG
---
TRIALS
beania/capria/fluffia trials
Beania Registration Trial (Complete):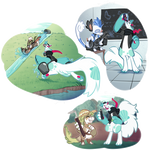 Farming Trial (Complete):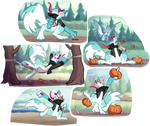 UNIVERSITY OF GRIFFIA
courses, classes, studies, training
LOG
LVL UP
TIME ACTIVITIES
GAMES
REGISTRATIONS
POINT/STATUS FARMING
TOTAL PEA COUNT = 51ART BY ME Total count = 51
ART BY OTHERS Total count = 0
LITERATURE Total count = 0

MAGIC TRAINING Mana = 0
WEAPON TRAINING Progress 0/0
ELEMENTAL TRAINING Path = ? Progress 0/0
COMPANION TRAINING Progress 0/0