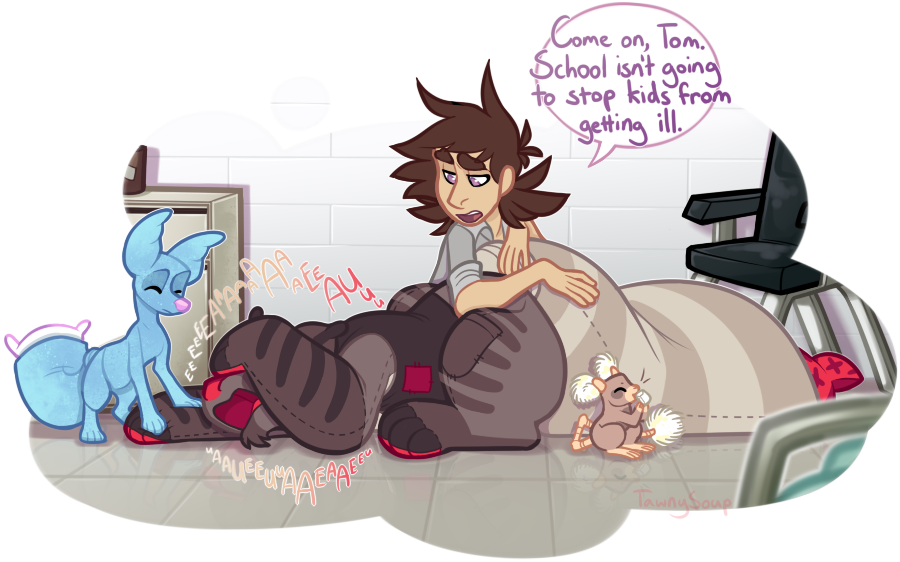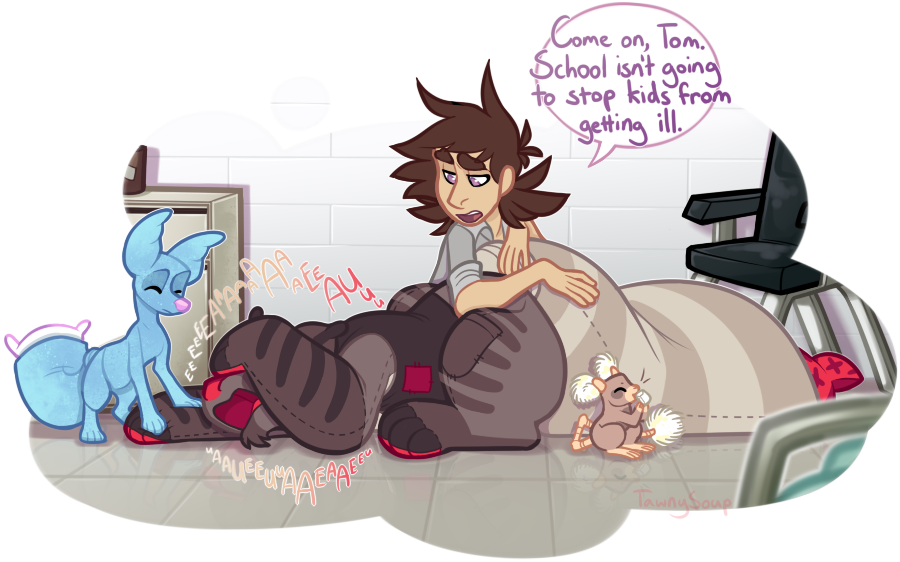 "
School is starting up again. Is your pillowing feeling lonesome without their owner around? Or are they using all that alone time to their advantage?"
Pillowing-Pile
Prompts have reset for the new month!!! 8w8 I wanted to take part ASAP! And, haha.... I'm a little uncomfortably proud of how this one came out. It's just so CLEAN!!! Pleased as HECC with that BG.
Tom loves comforting younger patients the most, and now that school has started again they're all starting to disappear, visits are becoming less frequent, and it's starting to take a toll. Altair thinks he's overreacting.
I ought to take this opportunity to mention, me and Beefbirb made an AU where Tom's Pillowing ver can take part! We're calling it the Hospillow AU >w< Most of our babs are still humans, but I do want to work on getting MYOs to turn Opal and Gino in Pillowings and Lucy into a Lintling (they would be rly cute and fit right in!). Altair, in canon, works as a medic in training, so naturally she'll still work in the hospital in this AU too! We've also given a few other babs roles; Calcite's also a training medic, Citrine is a florist much like in the other gem->human au (whom Calcite always drags over to the hospital with flower orders and promise of smooches), Myrtle works fixing hospital equipment between getting ill, Tanek and Riley come to the hospital for regular checkups (we've yet to figure out what's wrong with Riley but y'kno xD they're too young to work there), Jeann is.... Okay, we haven't quite figured out her role yet, but we'll get her in there. I think that's everyone? (not including spoiler characters...) And Gino and Opal are Pillowings, while Lucy is a Lintling! Gonna work hard on earning that sweet CC so I can make those last three real!
Anyway, sorry for that paragraph dump xD I don't often get an excuse to fully colour any bab-related artwork to upload (usually when I do, it's either spoiler content or I guilt trip myself into working on Timezone panels instead) so I'm all buzzing about this AU 88w88 <3
I also squissed in Missy and Acorn for some extra CC! That should come out to 260
in total, I believe?
Tom's masterlist entry can be found here:
---
Art/Tom (character) belong to me.
Altair (character) belongs to
BeefBirb
Pillowings (species)/Missy+Acorn (characters) belong to
CloverCoin
Made with Paint Tool SAI.
Please don't trace/repost/distribute/etc.