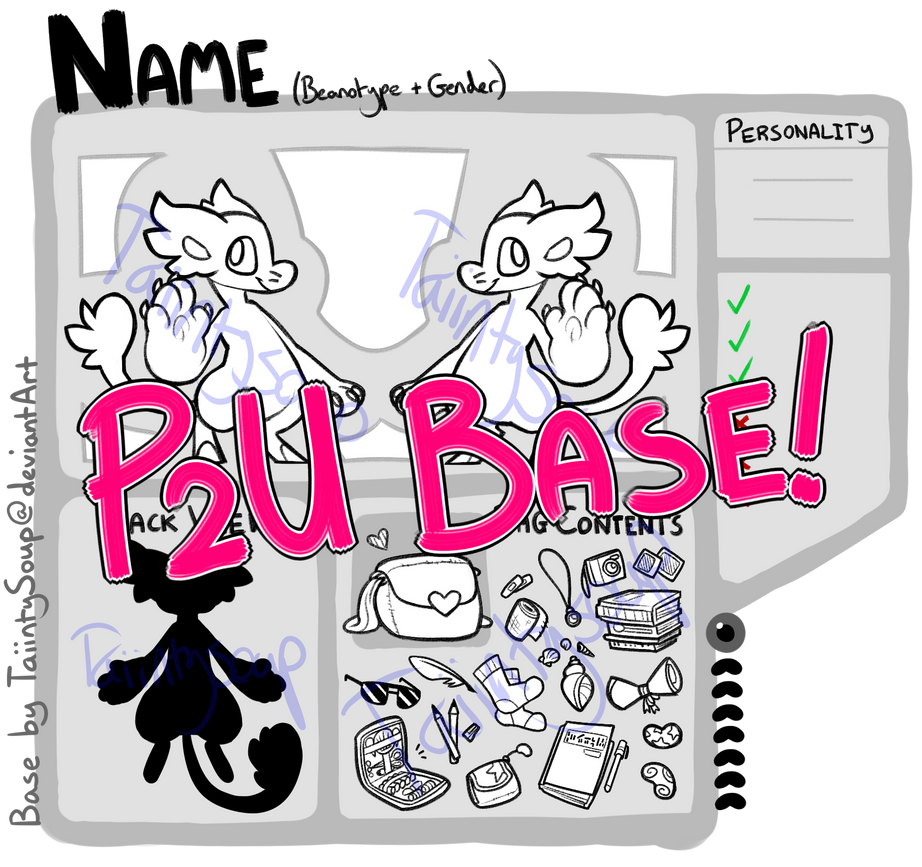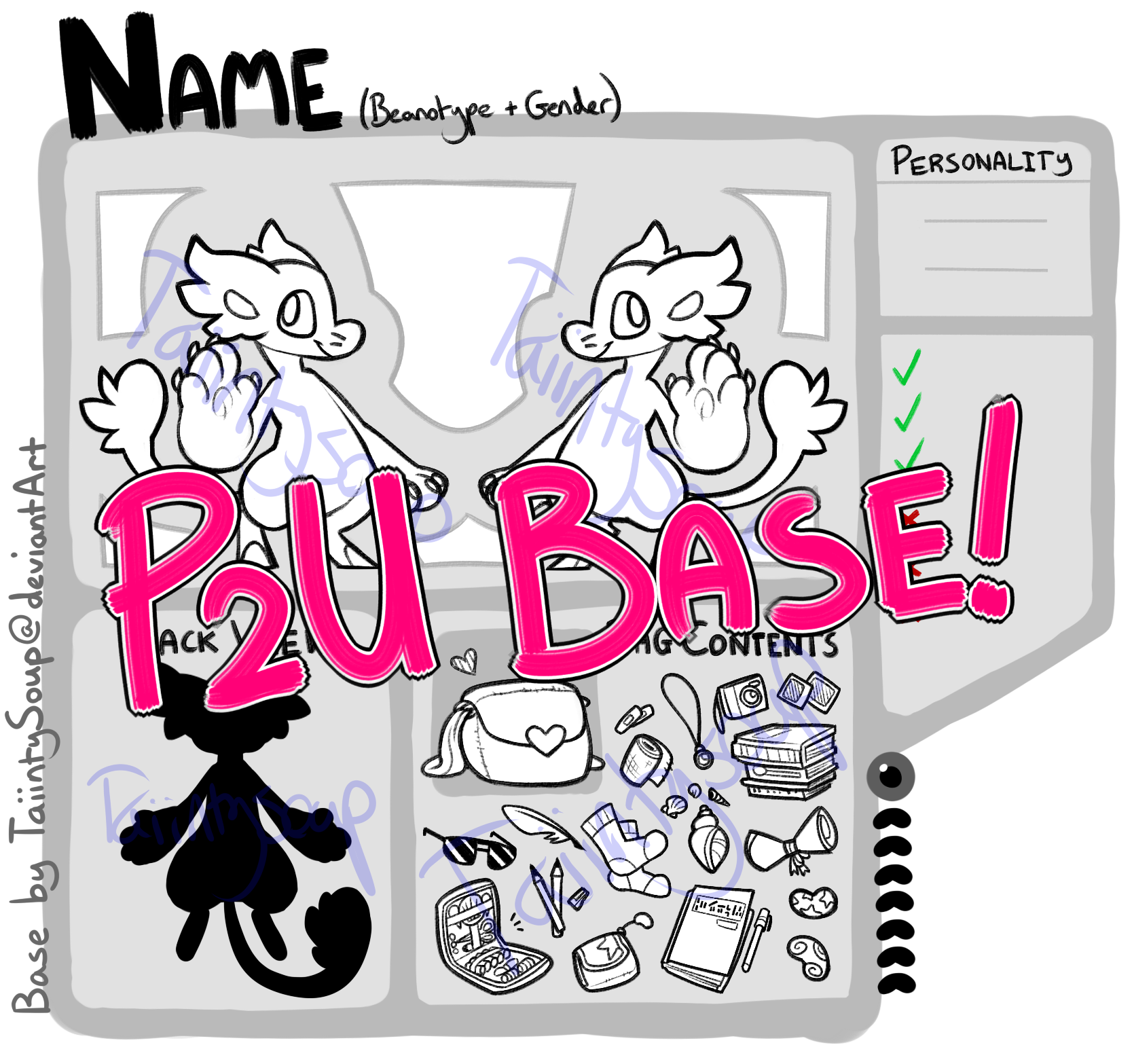 Watch
Hey guys!!! After finishing the ref for my Bagbean Tobias, and making refs for a few other of my characters, I got the idea to make a Bagbean ref base!!! This base can be used by any Bagbean owner (even if you just need a ref for your version of Maze). I've worked on this for a solid day and a half to cram in as much as possible, even including little tutorial notes for those not so sure what they're doing with the file. All I ask for is the small price of $7/700pts and you can use this base for as many Bagbean characters as you want!
THIS BASE INCLUDES:
Left and Right Bagbean views (one for leaving 'naked', one for including accessories and extras)
Bagbean Back Silhouette (for showing markings on your Bagbean's back)
4 different eye expressions.
4 different mouth expressions.
Ears and Tails for every type of Beanotype (14 total ears and 13 total tails)
All Starbean Mutations (21 total including different wing and horn types (no double head mutation though))
All Hollowbean Mutations (8 total, including total areas of coverage e.g. all possible bone limbs)
All Foolbean Mutations (8 total)
All Beanotypes for the Back View Silhouette (14 total)
A Basic Bag image with 2 Sets of Bag Contents to pick from (or add your own!)
Editable Ref Background, Palette and Info Boxes!
My SAI Brush Settings so you can flawlessly edit the lineart!
The ZIP file contains a PSD file and a SAI file!!!
It can be edited in progams such as Photoshop, Paint Tool SAI, Krita, Gimp and FireAlpaca.
Unfortunately the base is NOT COMPATIBLE with MS Paint and there is no Pixelated/Binary version. Please take note of this before buying as I cannot offer refunds!!!
Here is an example I filled of Maze!
Please read the rules before purchasing!!!
---
RULES:
-PLEASE DO NOT REMOVE MY SIGNATURE!!!
Though it would be nice to leave the signature on, the username on the base no longer matches up to my current username, TawnySoup, so if you want to edit it out that is fine (so long as credit is provided in the description). If you'd prefer to update it to my current username for me, that would be lovely of you ;v;
-You must NOT create new Bagbean characters on this Base. Bagbeans are a CLOSED species and new designs can ONLY be created by
griffsnuff
. Please do not make adopts using this base either. This is only to be used as a reference sheet for your own Bagbean, or for people who commission you to fill it with their Bagbean.
-Please do not redistrubute, repost, resell or etc! Please don't share it with your friends or free, either. You are not allowed to advertise filling this base as a YCH, however if people commission you personally to do so then you may do so.
-I unfortunately cannot provide refunds.
-You are allowed to edit this base in any way you like, change the lineart, edit what boxes are there or the layout, so long as my signature is still visible.
-You cannot earn any peas/peanuts by using this base.
-You are allowed to use this base off-site, such as on toyhou.se or etc.
-Please credit me!!
Want to purchase the base with paypal instead of points? Please buy it at my gumroad, here! -
gum.co/ntCjC
---
Art/Ref Base belongs to me!
Bagbeans Species belongs to
griffsnuff
. And yes, I got permission from her to make this base a P2U! ;v;
Ref Base layout was inspired by the Adopt Bases made by @/quardie !! Go check out their stuff, it's all good! I've bought one of their bases too, they're rly good!
Made with Paint Tool SAI.
Please do not trace/repost/etc. You may only use this base after purchasing.