badge:

----
Sketch profile page:

Keeping my TTM page as my main art page!
-------------------------------------------------
Want to buy me a coffee? <3
ko-fi.com/nerdyquietartist
If you do thank you very much ;; I do appreciate anything anyone ever does for me, bless!

----------------------------------------------------
Welcome to my art page! Please read below before asking any questions!





╔═╦╗╔╦╦╦╦╦╦═╦═╗Put This On
║═╣║║║╔╣╔╣║═╣╚╣Your Deviant ID
║╔╣╚╝║║║║║║═╬╗║If You Are
╚╝╚══╩╝╚╝╚╩═╩═╝A Furry!














I am a Christian. :thumb245375083:



My name: TatterTotMinion (aka: Cynthia offline) BUT i am also known as TTM or Erin! and YES, I have a SCORPION TAIL, SO?
Name preference: TTM, Dok or Erin please!

Gender: female
Age: 28
Hair color: black with blond hightlights
Eye color: Dark brown
height: 5ft, 4in tall
Note: I find Briareos *off Appleseed Exmachina* and Doktor Frogg *Off LOSE* SEXY!

!
<3 <3 My twin sisters i swear in spirit even if not blood who i love so much!!! <3 <3


My DA sisters:









DONT YOU TOUCH THEM!!!
DA bros:




TOUCH THEM AND DIE!
My sweetie and more:

(I am her eternal art slave forever~)
Da Sons and daughters:


TOUCH THEM AND I GO NUTZO ON YOU!!!

Other wonderful members of my DA family!


(if you want to be added to this list, please let me know!

A special slot to show off my angel DFM's and i's buddy icons:


Notes about myself: *update later*
I support MANY pairings! One of my faves though is
Doktor FroggX AkitaBlueEyes, ProntoXAkita, and ProntoXPulse
MY RP ACCOUNTS:


My PLZ accounts:


my DEAD accounts:

,

,

(soon enough this account will be on the list)

ways to contact me: HERE/Facebook/Twitter/email/Youtube
Facebook: Cynthia Tatter-TotMinion
Twitter: TatterTotMinion
Email: *not sharing in public*
youtube: tattertotminion
Tumblr: Yes i haz one! Infact two, one for a main, and a second for Rping!
furaffinity.net: DoktorTTM *Warning: MATURE ARTS BE IN THERE~*
Current Residence: My Lair
Favourite genre of music: TO MANY TO NAME!
Wallpaper of choice: Doktor Frogg! <3
Skin of choice: Um, Mine i guess!
Favourite cartoon character: Doktor Frogg!
Favorite Voice actor: Lee Tockar!

favorite beverage: Sweet tea/ or snapple peach tea
Thing people should know: Piss me off, and i WILL BLOCK YOU. THANKS. I wont stand for being messed with.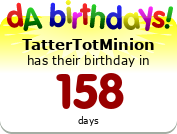 Cuteys!



:



:thumb187841763:




:thumb346757910:





:thumb351860472:




/




If i dont respond to messages...

Lol i did this to be funny. Should have signed up as Pulse though would have made more sense! XD