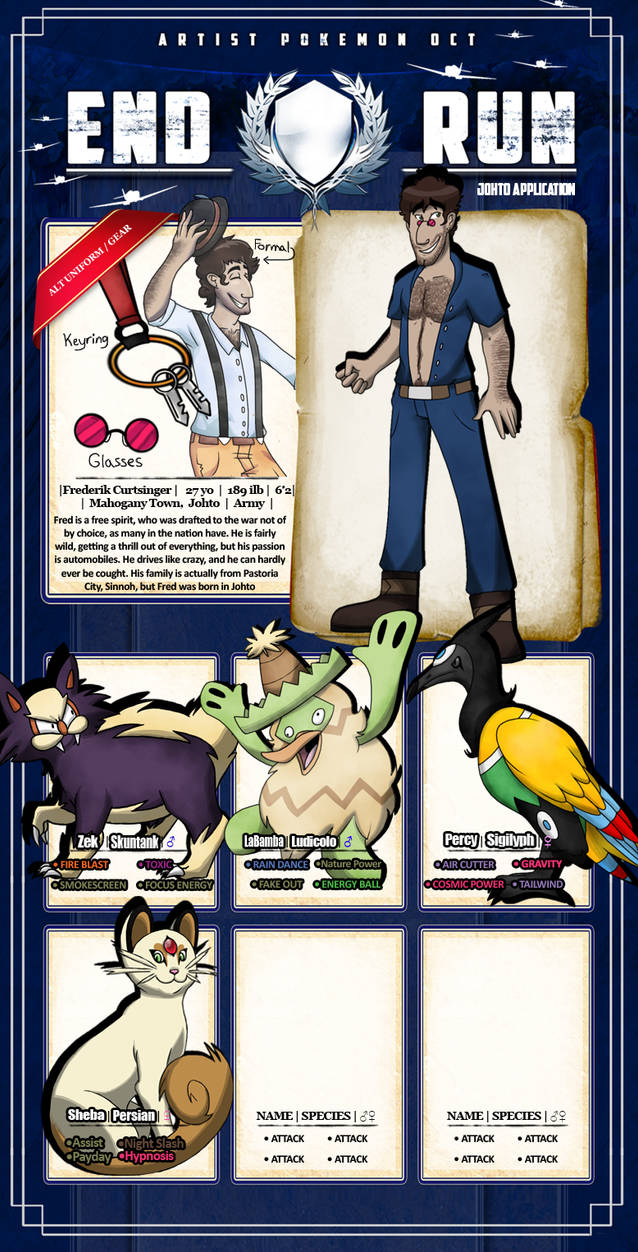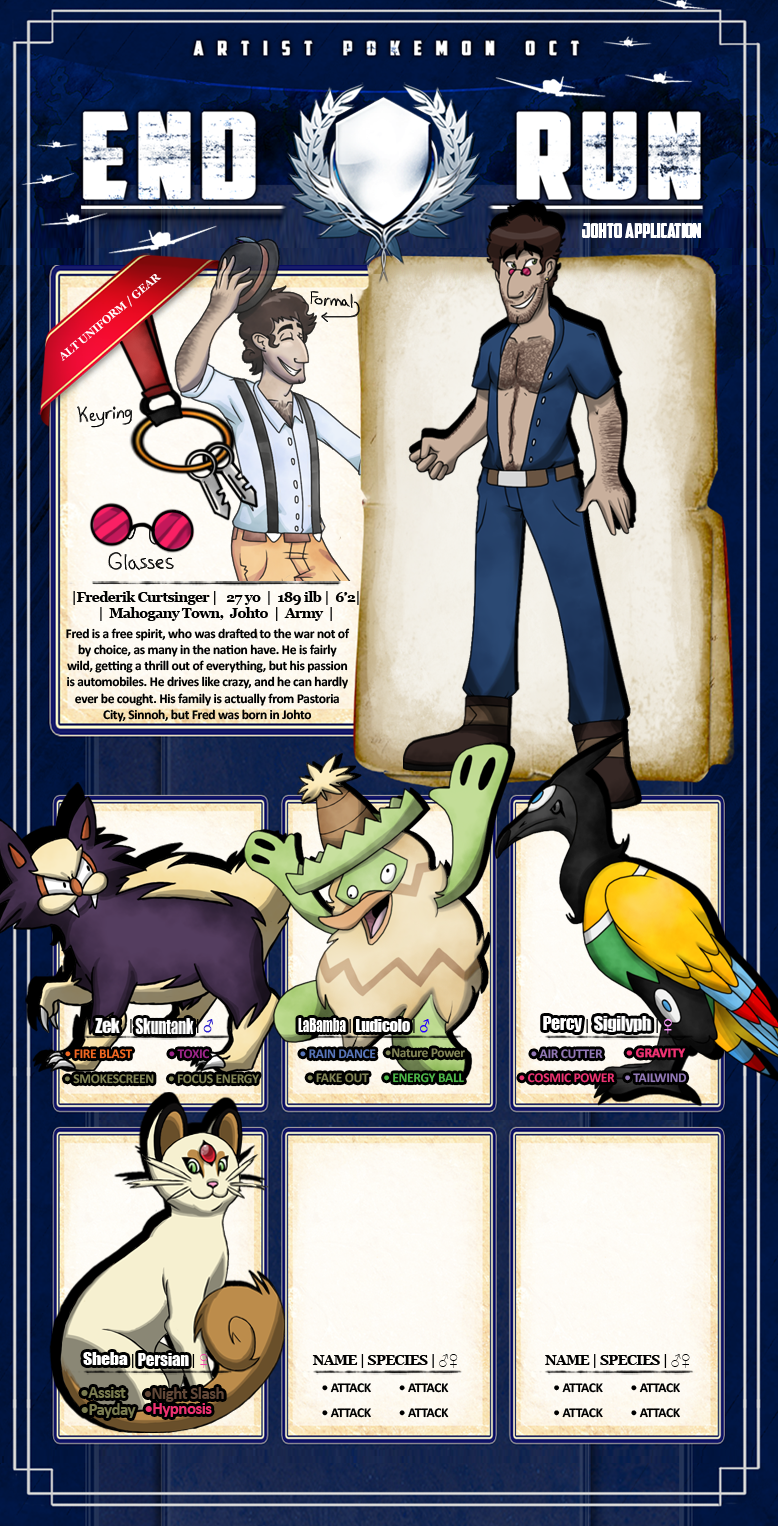 Watch

EDIT:
R3 Passed: Awarded a shiny pokemon on my team at any time. ((Still deciding on that one))
Zek Evolved into Skuntank. ((Lost his tail in R3 events that were not explained in my entry. Will hopefully get to explain that in R4))
Added Sheba the Persian: Assist cat.
--------------------------------------------------------------------------------
*Goes by Fred*
Name:
Frederik Curtsinger
Age:
26
Height/Weight:
6'2" 189LBS
Hometown/Region:
Mahogany Town, Johto
Military Faction:
Army
Extra Items:
Gloves, Canteen, Swiss Army Knife, Gas Mask, and Keys to an unknown automobile
Personality/History:
Fred has a care-free attitude, and probably would have gone AWAL if he didn't think the war was for a good cause. He cares more about the thrill of driving his fellow comrades into and out of danger. He loves automobiles and is a maniac driver, who somehow manages to maneuver at the fastest possible speeds.For the most part he is calm and collected, until adrenaline gets pumping then he's a totally different person.
He is sexy and he knows it. That's why he keeps his shirt wide open... for sex appeal. All the ladies love him, too bad he is openly gay and trying to keep a separation between love and work/war.
His family migrated from Pastoria City, Sinnoh about 30 years ago, and they started up a successful family resteraunt called
Pastoria Cajun Cookin'
. Everyone in his family has a noticeable Cajun accent being from that area in sinnoh.
He grew up in Mahogany Town, not fearing Pokemon but respecting them and all nature. He doesn't like the thought of using them to do human bidding, but he doesn't see much choice since the ammunition stopped working.
He spent some time working in his family's restaurant back home. He has 2 older sisters, and one younger brother and sister, and his parents are still alive and well. Fred and his younger siblings (15 and 10) are the only on's born in johto, so he is the only one out of his family qualified to fight in the war.
PokemonZEKLON | STUNKY | HASTY NATURE | ALERT TO SOUNDS | STENCH ABILITY | MALE
Zeklon was stolen from it's home in the Sinnoh Region by the Johto Army. After a few months of adjusting to the situation the stunky was given to Fred for enlisting.
Zeklon and Fred will have tension between them at first, but they will come to realize that they will be stuck together for quite some time. They share several common traits, but the pokemon is heterosexual and significantly more lazy.
Referred to as "Zek"
LABAMBA | LUDICOLO | QUIRKY NATURE |OFTEN LOST IN THOUGHT| RAIN DISH ABILITY | MALE
LaBamba was issued to Fred after basic training. Fred has no idea what to think of this new creature. It is sentient but he has what seems to be no logic in his decision-making process. Fred often wonders if the pokemon is quite all there.
PERCY | SIGILYPH | SERIOUS NATURE |THOROUGHLY CUNNING| MAGIC GUARD ABILITY | FEMALE
Percy was issued to Fred after the events of R2. He asked specifically for the next available bird pokemon and what he got was not what he expected. She is a bitch of a bird that has her own way. Fred knows how fast she can snap when something is said or done not to her pleasing. Do not acknowledge her existence.
Fairly large compared to official sigilyph design.
[link]
Being turned into an avian big enough to actually fly on.
SHEBA| PERSIAN | JOLLY NATURE | ALERT TO SOUNDS | LIMBER ABILITY | FEMALE
Sheba was issued to Fred after the events of R3. The man said there was a recent discovery that many feline pokemon are excellent assist members to a team. Sheba was not trained for one-on-one battles, but to help other members of the team accomplish their goals.
Design inspired by Narsilion's interpretation:
[link]
--------------------------------------------------------------------------------
REFERENCE LINKSTumblr "Ask me anything!":
[link]
Fred's Jeep and Dog Tags
[link]
--------------------------------------------------------------------------------
Relationships:
(and only the canon ones)
Simon Potter:
Fred's bunk-mate and partner in crime. The man Fred has grown closest to in his time in the military. They bicker and argue but they still enjoy each other's company.
Mathis Montague:
A Close friend who left for the rogue factions on the day of the Ecruteak battle. Fred wishes him safety and to return home someday.
David Strauss:
Another man Fred has grown to love like a brother. They discovered they were the same age and from the same town but never met until the military. They are assigned to work together in the fourth round.
Iris LeMarc
: A lovely woman who has shown interest in Fred's friend Simon. Fred has always enjoyed Iris' company and have really hit it off.
--------------------------------------------------------------------------------
END