A brief guide to coloring in Apophysis. A Chaotica tutorial on the subject coming out soon too

Special thanks to
BoxTail
for reminding me about an important tool the dummy here forgot to add.
(and yeah, all example images shamelessly rendered in chaotica because it is handier).
Last but not least, if you fancy the gradient i used as example here, you can download it from: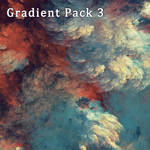 Lets go back to the adjustments window, this time on the render tab.

1 - Gamma

Gamma basically defines how "solid" will your fractal look. Low gamma will result in more translucid, shiny and higher contrast appearence, while higher gamma values will result in more solid and flat stuff.

gamma=1

gamma=2

gamma=4

Tip: if your fractal is made of shiny edges only, try increasing gamma. It may reveal some nice details. If the result looks too flat, compensate it increasing brightness
2 - Brightness

Well, name says it. Controls the brightness of your image. Keep in mind that the brightness effect will depend on gamma settings (and also the other way around).

brightness=10

brightness=100

For lower gamma, brightness will have more impact on the image.
3 - Vibrancy

Well, quite a crazy setting. Lowering vibrancy will let the colors overal lighter and less saturated. Increasing vibrancy, on the other hand, will increase saturation and also make the image darker.
vibrancy=0.5

vibrancy=1.0

vibrancy=1.5

Your colors look a bit too pale? Just set vibrancy a little bit (by lets say 0.1 or 0.2).
4 - Background

Click on the coloured rectangle to change the BG color. In the color window, just select a color and click "OK"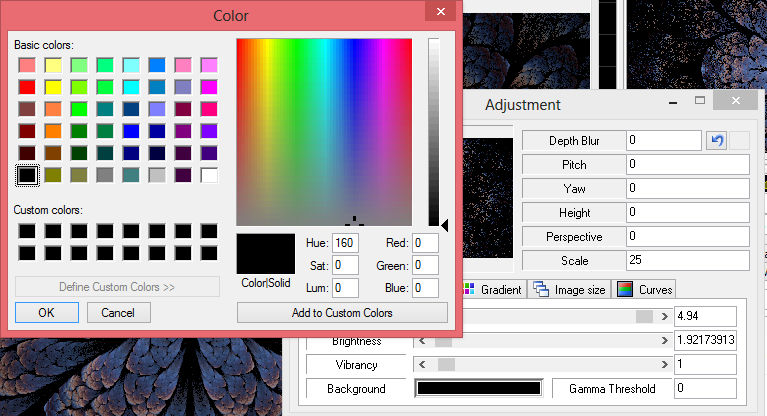 Background color may affect the colors of your fractal too (because some areas are semitransparent).
5 - Gamma Threshold

As the name says, a threshold. Can be used to threshold some less dense areas, removing artifacts or noise.
threshold=0

threshold=0.2

threshold=2

Be careful to not overdo on this one. Most times, it is better to just render a bit longer.