A quick introduction to the animation editor.
You may also want to check out the
Chaotica Editor Basics
tutorial.
Creating a simple animation
As an example, i will create a small animated gif.
We start setting FPS and animation time. Since we are making a gif, we will pick some low FPS value and short animation time (else it will be very huge and take time to load). Here, i used 10 FPS and 30 seconds, which means 300 frames overall.

Now move a bit along the timeline.
Switch to the World Editor and just move/skew/rotate/scale your affines, change the transform variables, edit weights and shaders.
Editor before changes: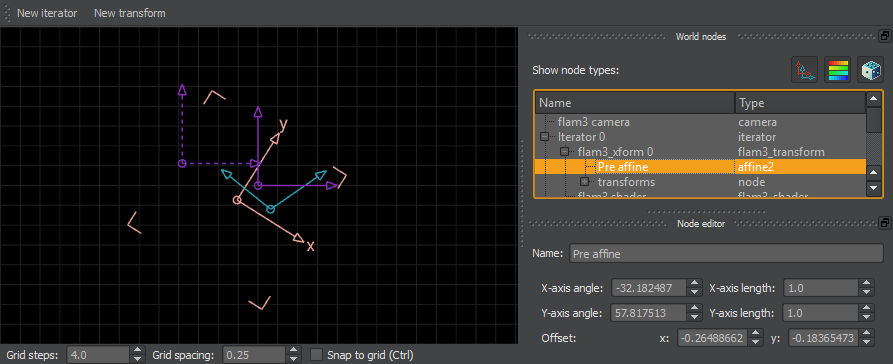 Editor after changes: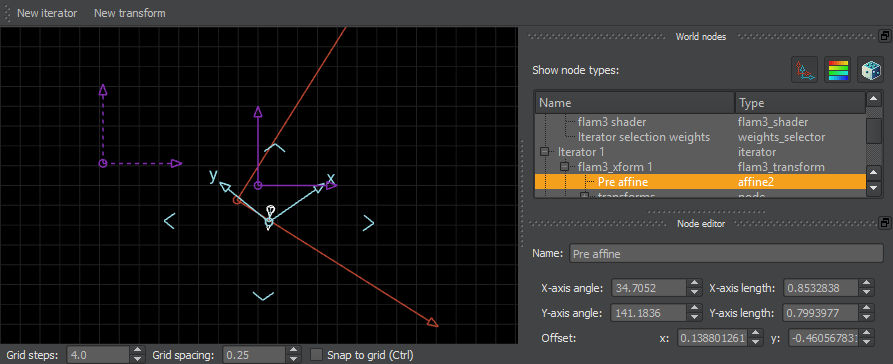 On the "after" picture, you can see also the movement spline of the cyan affine transform. This allows you to visually follow the movement of affines in the editor.
Well, we just created a keyframe

Since this is a gif, we would like it to loop, so i advance the timeline slider to the last frame of the animation:

And, in the editor, change everything back to how it was on the first frame. If you forget a value, you can always just go back to the first frame and check it out.
Finally, our animated gif is ready. In the next part, we will see how to actually transform it into a gif