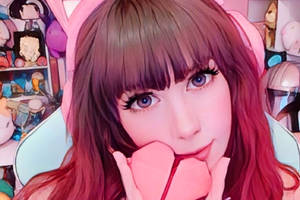 Tip Jar
For those that love what I do and want to give a little extra support each month! Thank you for appreciating my work & helping me create more stress free~
---

How to De-tangle and Re-curl a Heat Resistant Wig
Description
Here is part 2 of 2 for taking care of a heat resistant wig!
This tutorial shows you how to de-tangle and re-curl a heat
resistant wig. This one is for after you wash it. I hope you
enjoy it!
Please check the washing tutorial for washing a wig below!

How to wash a wig:
[link]
This wig along with many others are availabe online at
Animestuffstore's site here: ----> www.animestuffstore.com
Join Animestuffstore.com and Tasty Peach Studios on Facebook <3
Wigs by Purple Plum Inc by AnimeStuffStore.
Tutorial by Ryan Zanfei ( mooglegurl ) Tasty Peach Studios
Image size
800x9000px 4.8 MB