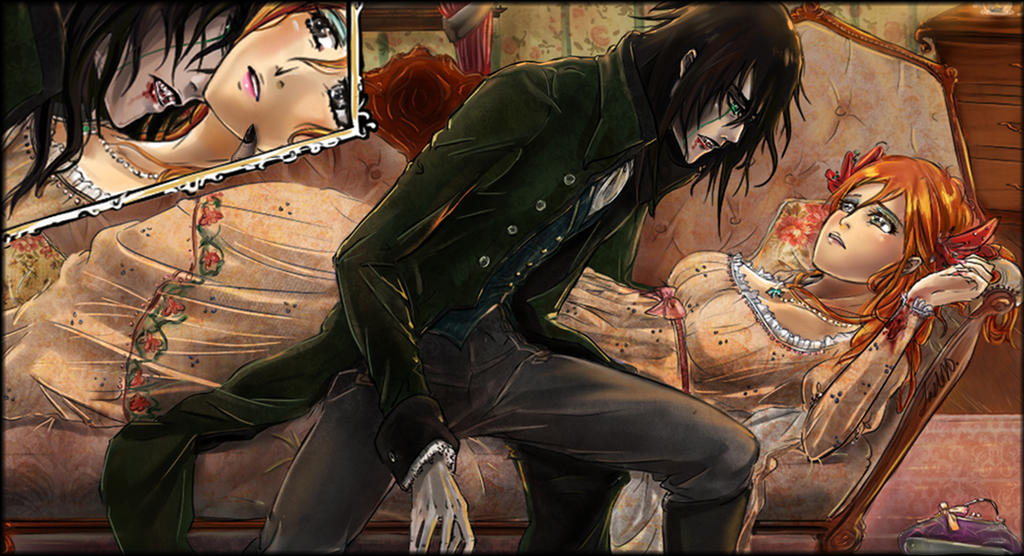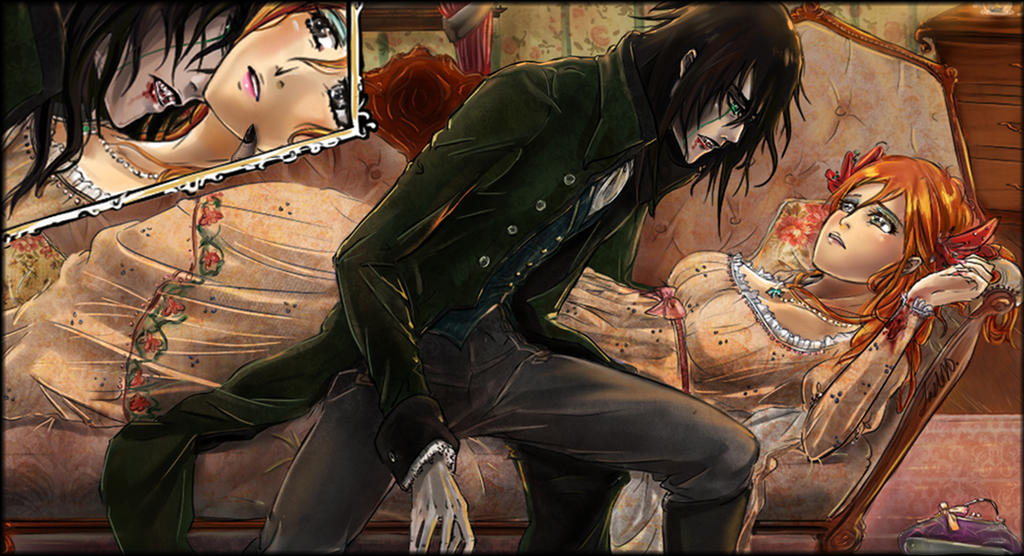 Watch
Starring- Dracu-lorra and Mina-hime

I have yet to see a vampire concept of these two....so I wanted to make one

No...this is not because of Twilight, after all, as far as I know, Twilight has no seductive neck biting...and those twilight vamps are softys! bleh!
I'd compare it more to Vampire Knight :3 Or Anne Rice's "Interview with a Vampire"

Currently I have a somewhat detailed concept of this written down for a potential fanfiction...but I wont begin making it once I think my writing skills are good enough to do it justice.
It's an alternate universe from Bleach, but the plot closely parallels with the actual plot from the series.
Basically: Orihime is something of a priestess/ church maiden whose blood is sacred and used as a medium for healing (similar to her Shun shun rikka). She is soon kidnapped by the mysterious vampire Ulquiorra and brought to a palace of vampires where, Aizen, former vampire reaper leads them; he has plans to Harvest orihime's blood and share it among his army to enhance their strength for the battle between the cult of vampires and reapers. While she is imprisoned, the rules are she cannot be touched...in other words
bitten
. Though she is not worried about losing her life yet, she can still sense the vampires' unpleasant bloodlust which she is forced to endure with.
This is not the case with her captor, however, the one that watches over her, Ulquiorra. He is the only vampire of which she senses not an ounce of blood-lust which puzzles her. The only thing she
can
sense is an extremely dark, powerful sensation that seems to resonate from within him and his sword. As time goes on, she learns from several dangerous confrontations that this peculiar vampire holds a deadly secret that is literally killing him.
Along with that Aizen's plans for starting war between the vamps and reapers are just a small part of what has to take place in order for his true goals to come to fruition, goals that depend on major casualties on both sides.
hehe..yeah...whaddya think? '//_\\'
As it turns out, a doujinshi of this would no doubt be at least 100 pgs... So I suppose I best improve on my writing skills, xD But I would certainly include little pages here and there of what's going on in the story.
While I'm still trying to fill in many of the holes in the story...I hope to get writing....eventually >////< !!! ...I've never written a fanfic before

But I know for sure I don't want it to end up like those embarrassing, mushy gushy fantasies that I often come across

--->
Vampiria
by Moonspell-
[link]
<---