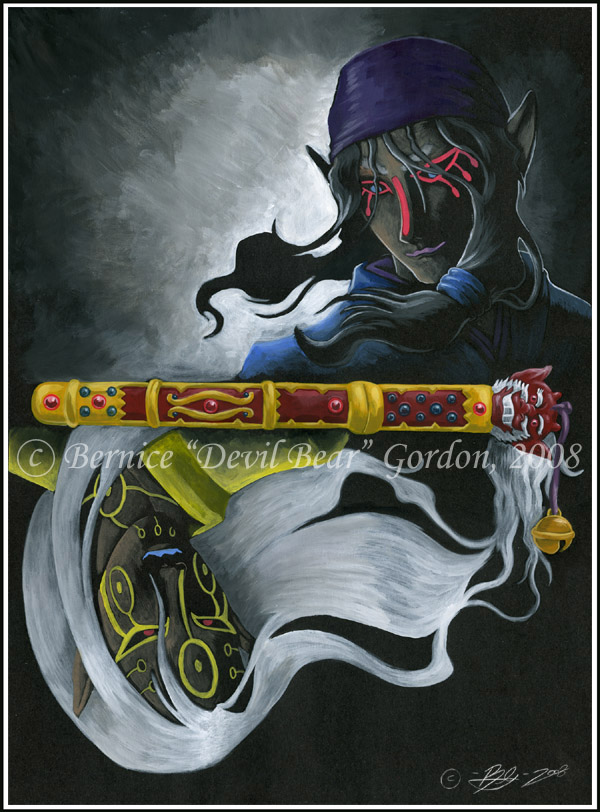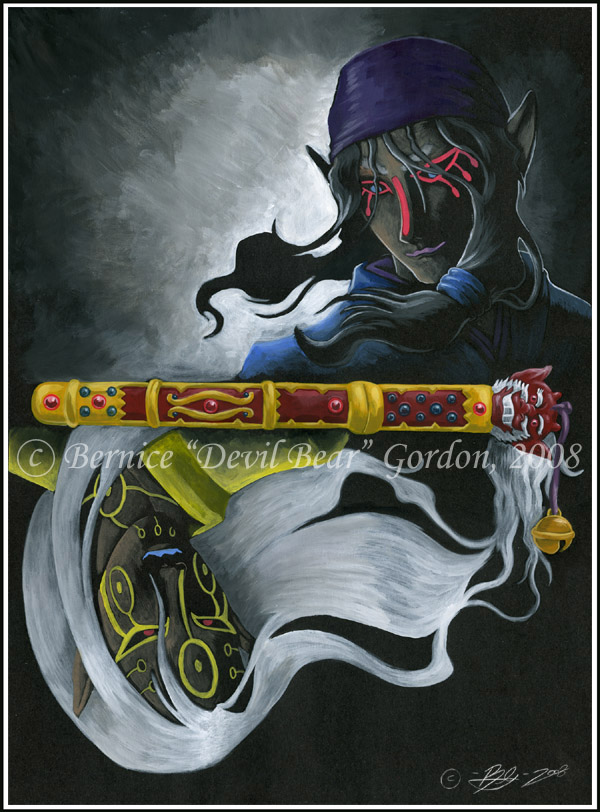 Watch
Image number 5 form 15 I did for Anime North 2008.
Another series I highly recommend people watch is "Mononoke". Style, design, and story, this is an Anime that stands so well concepted and visually luring as is the actual plot. It's deep in symbolism, and you have to be quick with poetic reflection and understanding of scenario- but it's one of those you have to watch for the slew of social criticisms on people, people's behavior, and the reasons for their actions.
Seen here, The Medicine Seller, and the Spirit within the Sword.
A creepy thing happened on the night I painted this image- I had finished painting the image in the basement, and went upstairs to take my shower. The grate in the bathroom goes directly into the basement, so you can hear people talking in the basement via the grate.
Well, as I was showering, I heard 2 men speaking a foreign language, and then both laughing. I stopped the water- trying to figure out where it was coming from- and heard it was coming form the grate. A little freaked out, I was convinced it had to do with the fact that it was 4 am, and I'm over tired and hearing things.
The next day my mother asks me how late was I up until. I said 4 am. She asked if I was watching TV because "I heard voices from downstairs, and laughing… what were you watching?"
The TV is in the living room, one floor above the basement. And I didn't even turn it on once that entire day.
Currently, the original is with my sister in Victoria. My mother and her fought over who would get the image.
I stayed out of that one.

Size:
15" x 20"
Medium:
Acrylic on Mayfair Paper
Original:
Not For Sale
*Prints:
$7
*Prints appear without the water mark.