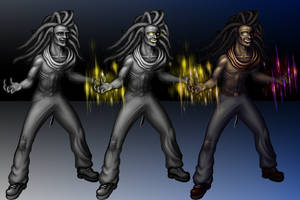 Exclusive Supporter
Help this little artist with a small subscription so he can focus on what is important, art. Instead of in a factory where he doesn't. As a reward, get accesses to exclusive new content, all the old stuff and unreleased old content. I will make sure to have at least one new exclusive piece each month.
---

Description
I promised to finish the final issue of my personal zines in August ... and did. But then I had the bright idea of colouring a new piece of art for the cover, and the effort became so involved that it took me close to a month. But I think the delay was worth it.

Here we see Kiki Fraggle for the first time in her natural colour, a cause to celebrate in itself.

The final issue is 74 pages long, including over 30 of letters of comment.

Forgot to mention that the Candy Crush games are similar to Jewels of Rome in too many ways ,and even requirimg use of your real money ! They, too, got UNinstalled.