◦
[ ARTIST BIO ]
◦


B.A Degree in Literature/Writing
UC San Diego Alumni, Class of Spring 2017


"Peace is what I leave with you; it is my own peace that I give you. I do not give it as the world does. Do not be worried and upset; do not be afraid." John 14:27
Hello, I'm Taralen. You can call me that name, Sunny (my nickname used by WoW friends) or simply Tara. I'm an artist, writer, gamer, and Lolita. I may draw myself as a wood elf but I am
NOT
otherkin. At all.
Writing is my passion and art is my hobby, but I'm still a student in both. I am always striving to improve my skills.

I'm brutally honest about my feelings and thoughts, so it may be a bit hard to deal with me if you can't have a conversation without sugar-coating. Other than that, I am a pretty chill person. I love to make people laugh and feel good. I'm very big on environmentalism and pretty anti-consumerism, but I do have a few material hobbies like collecting dresses and figures. Staying in shape is super important to me, and I try to exercise regularly even though I'm stupidly lazy about it.

I have a history of mental illness, and I am quite open about this. I have anxiety disorder which sometimes makes it hard for me to concentrate and think coherently. It also makes it difficult for me to sleep, but I do what I can to manage it. I used to have depression, but I am proud to say I no longer suffer from it.

:thumb668166068: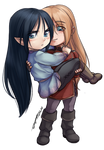 When pride comes, then comes disgrace, but with humility comes wisdom. - Proverbs 11:2
Favourite Visual Artist
Ryusuke Mita, Ayami Kojima, 2D Disney movie art styles (all of them!), Salvador Dali, Tetsuya Nomura, Hirohiko Araki
Favourite Movies
The Sword in the Stone (1963), Howl's Moving Castle, LOTR Trilogy + Hobbit films, Emperor's New Groove
Favourite TV Shows
Gankutsuou, Jojo's Bizarre Adventure, Fullmetal Alchemist (2003 anime), Spongebob, Utena, Queen's Blade, Tengen Toppa Gurren Lagann, Fate/ZERO, GARGOYLES
Favourite Bands / Musical Artists
DEAD OR ALIVE, Gorillaz, Woodkid, Bach, Edvard Grieg, Lady Gaga, Tenacious D, Y.M.O
Favourite Books
The Hobbit, Howl's Moving Castle, Einstein's Dreams, The Magician's Nephew, Interview with the Vampire + a ton of other books
Favourite Writers
J.R.R Tolkien, Oscar Wilde, Shakespeare, Kinoko Nasu, Anne Rice, Gen Urobuchi, Hirohiko Araki
Favourite Games
The Legend of Zelda series, Final Fantasy VII, Yume Nikki, Fable, Okami, .flow, Tales series, Elder Scrolls, World of Warcraft, Runescape & RS Classic, Castlevania: Symphony of the Night, Banjo Kazooie, Onmyoji
Favourite Gaming Platform
PC and Switch
Tools of the Trade
Paint Tool SAI, Photoshop, Iwata and Mr. Hobby Airbrushes (for GKs)
Other Interests
Reading, Writing, History, Politics, Music, Figure Collecting, and (of course) DRAWING!