Hey HEY hey.
things have been a bit quiet here, but I've got something for you guys today!
resently

and I have been co-oping a comic together for a contest.
It's got mystery, wonder, a little girl falling through a world and it's falling with her.
m.webtoons.com/en/challenge/fa…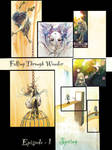 Its just one chapter atm, but if we make it to the next round, you'll get to see the next 2-3 chapter, that much faster.
'Cheers!