So if you've been paying attention to the activity in my past journal entries, I have been reading Isaac Asimov's
I, Robot
. First thing I noted was that the book turned out very different than what I anticipated. The cover art was from the first story of a young girl's relationship with a household robot, and I thought the whole book would be about them. But
I, Robot
wasn't one story, but a collection of short stories. All three based around three rules of robotics:
1. First Law:
A robot may not injure a human being or, through inaction, allow a human being to come to harm.
2. Second Law:
A robot must obey the orders given it by human beings except where such orders would conflict with the First Law.
3. Third Law:
A robot must protect its own existence as long as such protection does not conflict with the First or Second Laws.
The way each story worked was like an enigma; different robots would not behave as planned and scientists had to figure out how the three laws were affecting those robots and what could be done to work around this behavior. The reveal of each story was pretty clever. I especially liked the one where a man running for mayor was suspected of being an advanced cyborg in disguise and he had to prove he was not a robot. I must say however the story and the science felt a bit dated, like the idea of a human colony on Mercury, but at the same time it was neat to see what people from the 50's had anticipated would happen in the future. The last story unfortunately caused me to lose interest, it wasn't as engaging and the twist was not as impressive.
I'd still recommend it for anyone who's into science fiction, and I'm glad I got to read at least one book from this renowned author.
At the same time, I have been collecting Youtube videos on the subject of biology and evolution and compiled them in a playlist I simply called Biology Studies:
www.youtube.com/playlist?list=…
Watching these videos while I drew my Fakemon made me thing about how many of my aliens from my 7 worlds may have flawed designs and I may find myself with the need to redesign some of them. Here are some examples.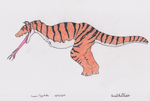 The Tigerdrake has its heavy tongue and all major organs located too close to the front of the body and not a heavy enough tail to balance out this weight. I would need to either move the legs forward or find a way to shift the digestive system closer to the hips.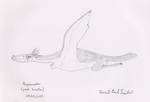 Although Geb does have a slightly thicker atmosphere, I feel like the flying Pteropods in general have too small of a wingspan relative to their bodies.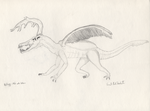 I've learned that the shrink-wrapped dinosaur design is dated, so I should avoid it with my aliens too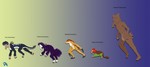 The Imperator Homomimus clashes with the rules of convergence. It would be a lot more effective at catching microscopic prey if it was torpedo shaped like a blue whale (which would increase its speed) and could swallow more prey at once with a giant gaping mouth rather than a narrow trunk.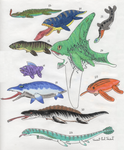 If I ever do an above-view of the Doberman Pisce, I should make sure that its tail is clearly flat like a paddle.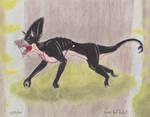 The Skull Cat's rear limps are not well designed for a tree-dwelling creature. They should be thinner with longer metatarsus bones ideal from sprinting after prey or jumping forward. They should also have a different toe arrangement for gripping branches. In this artwork, the legs look too human-like.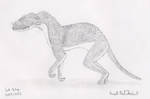 Actually a general problem with Lyell-3 creatures was my decision of ridding them of eyesight and forcing them to find their way around entirely through touch, scent and hearing. This would have been okay for a cave environment with no light available, but these animals live in a giant equatorial forest where there is still some light available especially near the canopy. I even made it clear that the understory layer has different species of plants that create their own bio luminescence. These animals should therefor have some limited eyesight at most to take advantage of the limited amount of light available. I did read something interesting about squids however; their eyes are not connected to the brain like ours, but they developed within the skin itself, which means they lack the blind spot were humans have. Since Lyell-3's lifeforms evolved from leech-like creatures which are also squishy to the touch, maybe I can retcon Lyell-3 so that most animals do in fact have eyes in the skin of their faces, but they are just black and have not been noticed due to laws forbidding dissections of alien fauna. The creatures living on the forest floor however can still be deprived of eyesight since there's too much soot and darkness down there anyway.
Eyesight should especially be important for the above Lyell Flytrap which must catch insects in the air. Otherwise, one wrong leap and it would plummet into the abyss.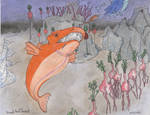 A common error with all my planets is that the plants don't seem to have enough chlorophyll generating surface relative to their volume. I should train myself to have plants with more leaves.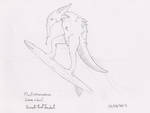 And this thing... probably could use some revision... now I'm wondering if this should just be a hoax created by the Internet on Earth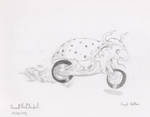 Finally, regarding the whole wheels on Tunjera thing... I'm actually going to keep doing those. I doubt that nature could ever create organic wheels. But this world will focus more on the debate of which creatures are truly organic and which ones are actually cyborgs manufactured by the former inhabitants in an attempt to fill niches in an ecosystem they have nearly destroyed completely. An attempt that was in vain because life can fix itself without intervention from sentient creatures.
Oh yeah and no, the three laws of robotics aren't going to be applied in Tunjera... this place is wild and people are not welcomed here.
Additional feedback is also appreciated.