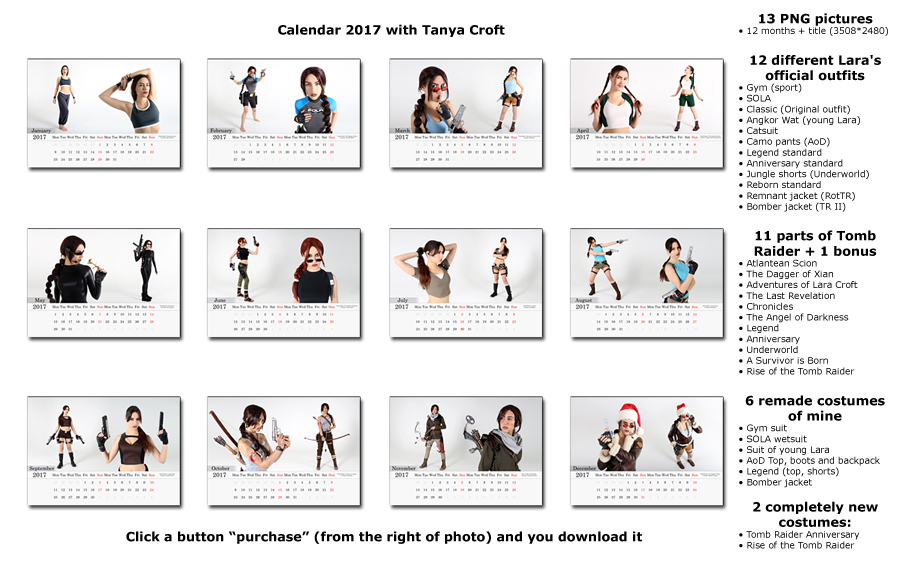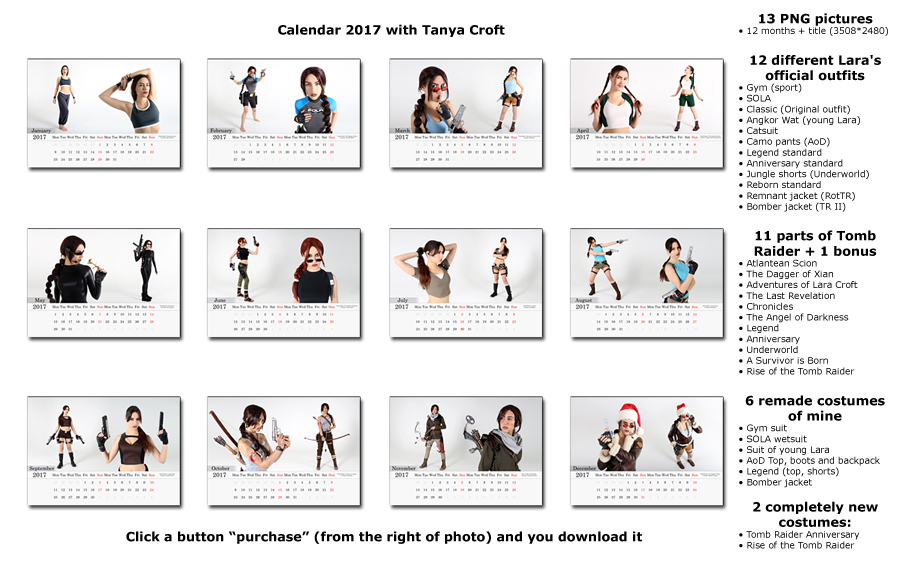 Watch
EXCLUSIVE COSPLAY CONTENT YOU CAN FIND
HERE
____________________________________________________________________________________________________________________
Click "Purchase" to download Calendar 2017 (3508*2480)
____________________________________________________________________________________________________________________


My huge project, which dedicated to 20th anniversary of Tomb Raider

Photographer: Alex Beyket
Costumes by Alex Beyket
Model: Tanya Croft (me)
Location:
Studio "White suitcase", Kiev
Date of shooting: December, 2016
Facebook page
Flickr page
YouTube channel
Tumblr page
Instagram page
Patreon page


LOL! Wow....you make a calendar with a Lara Style Wig....

....and look at that, Legend to be on my month of my birthday of September. The
day i remember when Lara was ReBoot-ReBorn-ReMade with Crystal Dynamics

thats pretty sweet looking idea you started. I could see you doing something like this
and what a cool time to do...so if for the peeps to check out, i guess we could use them picture like wallpaper on computer to see the day of the months or etc. That was the
first thing that came to my mind about this concept you started here. :3 Go Tanya Go!!!!

Tho that be coolbeans to have it that way or if i tweak it that way either to have them as meh wallpapers to see as the months go by with Tanya Croft

. Let me know if
its one big picture or if they 12 single pictures.
Reply

LOL

Of course it's 13 (12 + title) single pictures

And it was written in right upper corner xD
Reply

Was it......

, oh now you tell meh....

woman....hahahaha.

now that awe-some-sauce,

i can use a lil TanyaCroft Calender myself with Tanya-Outfits-Wig and so on....

. Might have to check it out for yah....

.

Good ol Tanya....keep this up, might be looking for some Catsuit Lara Commissions pictures again and classic ones too....

!!!!!!!!!!!!
Like the shirt or bikini top with short version too....

, thanks for the reply back!!!

Reply

i want to hurry and see new cosplayヽ( ・ิ∀・ิ )ノ
Reply

So... perfect ! But so.. little too

Reply

This surely looks promising!

Reply