Commissions slots are open over patreon and here's the current situation.
Patreon commissions are open! I opened one new sketch commission tier slot too! All these come with the other patreon perks, too

Commission rules:
Single full body character
(With simple designs, like most pokemon, I can draw two full body)
Two characters if waist up
No comics, no NSFW, preferably no complex armor/mecha/robot designs (megaman style is fine)

Old Tier 4 commissions can be upgraded to colored commissions in next (or later) month!
My Patreon Link
I also want to remind that I have the "Humble Beginnings" project going over patreon. If I can sell all these commission slots, we'll almost reach the goal! Any other pledges also help a ton!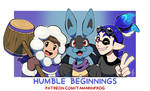 If you have any questions, such as asking if your commission idea is fine before purchasing a slot, you can do it here or over patreon.
Image details
Image size
1150x1361px 1.08 MB