Hi everypony! I'm TalUnion, I'm 19 years old and I like drawing.
I'm French, but don't worry, I can speak and write English.
I like being afraid and I like frightening (because I like horror games), but I dislike bite people (and ponies). So don't be afraid of speaking to me.
Those who make brilliant things:












My idol:

My best friends:


Some info about me and my dA:










:thumb622719667:
Best game of all time:
Commishes info:

Commish info (ohmygodhesdoingcommishesnow)Hi everyone!
Now that I opened commishes, it is now time to present what I can do!


I only accept points ('cause onions are not so expensive

)


Drawings:
Character or OC La emoticon:

10
Character or OC chibi:

10
Character head only:

30
Your OC head only:

50
Character full body flat color:

50
Your OC full body flat color:

80
Character full body shaded: 100
Your OC full body shaded: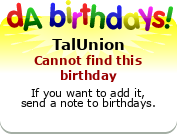 Long live stamps, and lives these characters!
<da:thumb id="130353193"/>

<da:thumb id="276897678"/>




And the best pony is:
Every things I love:
Favourite Visual Artist
Nightfire, Little-dashie, BronyDanceParty and AlicornParty
Favourite TV Shows
MLP FiM, Littlest Pet Shop, Pokemon, Dr Who, Detective Conan, Om Nom Stories, Om Nom Stories Time Travel and Om Nom Stories Unexpected Adventure
Favourite Bands / Musical Artists
MictheMicrophone, MandoPony and Glaze (or WoodenToaster) as brony : Kevin McLeod and Phyrnna as non-brony
Favourite Games
WTF, infuriating and horror games, or still Osu!, Transformice, Splatoon and Epic Battle Fantasy series
Favourite Gaming Platform
My Computer
Tools of the Trade
Pencils and paper, simply