NOTE: COMMISSIONS ARE CURRENTLY CLOSED
You can buy a lot of things from my
Etsy
,
Storenvy
, or request a custom commission for any of the things not there!


If you don't have a DA account contact me via mail taltysbakery*at*gmail*dot*com

Important: I receive payments through Paypal. This means I will not know any of your bank account info, I will not know any personal information except for your shipping info (name and address). I will not keep records of it, distribute it or use it for any other purpose than send your commission. I'm trying to build a reputation and a serious business here, so the least I want is risk it doing anything that makes me loose my buyers trust.

If you're underage please make sure your parents or tutors have no problem that you place a commission with me and send me your address. I repeat, I will not use it for any other thing.
Questions? Ask me!
Yes! I accept custom commission. To be honest, I love them! They inspire me to create something I wouldn't have thought by myself. I can do that specific design you have in mind, your favorite food in the whole world, or that jewelry piece that you've never been able to find, but always wanted. Interested? Please contact me! I'll be happy to help you. If you're still not sure, I wrote some things that may help you make up your mind.
Keep in mind that if you order something, you'll receive a miniature of great quality. I spend a lot of time and love making sure everything I make is top quality and extremely realistic. They're also made to last a long time if they're properly cared.
Content

How to commission me

Stuff I do

Stuff I don't do

Prices overview

Payment

Shipping
How to commission me
Please don't be afraid to ask me for commission details, I don't bite

. There's no compromise in just asking, and there's no penalty if you cancel the commission anytime before paying. However, once you pay I'll start working on your commission and it can't be canceled anymore. I don't want to be left with custom items I can't sell

Steps:
Please send me a note with your idea.


Got anything specific in mind? Send me details of what you have in mind, and as many reference photos as you think I'll need. I strive to make everything just as you pictured it, so don't be afraid to give me too many details about what you want!
If you don't have an exact idea yet, contact me and I can help you with the design so it looks its best! Or you can also let me work on the details, just tell me "pumpkin pie" and I'll make sure to make the best pumpkin pie!
Or... if you want me to recreate something from my gallery, I'll just make it exactly the same XD

I'll give you a price, if you agree you can pay (see payment options below). I ask you to please please pleaaaaaaaase don't try to haggle it down, unless you're willing to leave out some items or details. It's yes or no, I'll give you the absolute lowest price.
Once I confirm the payment I'll start working on your commission. My working time is usually something between a few days and two weeks. If your commission is larger or too complicated it may take me a bit more, I'll let you know in advance.
Let me know if you want photos of the WIP and the finished product. I know some people like to keep it a surprise, and I don't want to spoil it!
Once finished I'll send your package. See more shipping info below.
You'll receive your package in a few weeks. Shipping time is usually 3-6 weeks, so keep that in mind if you need anything for an specific date. Shipping to the US is usually 2-4 weeks.
Stuff I do
I offer polymer clay commissions of many kinds. If you want to get a general idea of what I can do, you can visit my gallery. Keep in mind however that I love challenges, so even if it's something I've never made before, contact me! I'll let you know if I can make it.
Examples of what I do:
Realistic food charms
(for pendants, cellphone straps, charm bracelets, etc).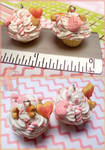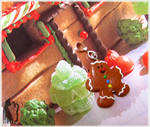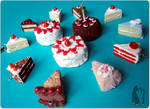 Food jewelry
(for bracelets, earrings, sets, etc).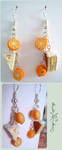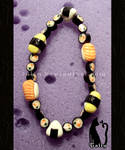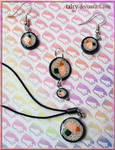 Artistic polymer clay jewelry
(anything NOT foody).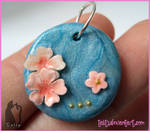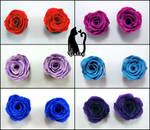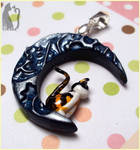 1:12 food miniatures
(dollhouse scale).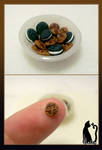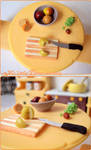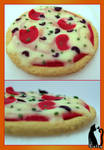 Stuff I don't do
There's some things I can't do, and others I won't do no matter what. I can't do figurines or dolls, I lack the talent. I won't do anything I consider offensive, gore-y or that goes against my principles. This also means that I won't copy someone else's design without their permission! I reserve the right to refuse a commission if it falls under any of these categories.
In the past I made resin pendants. I don't want to make any of those anymore, sorry xD
Prices overview
My list is a good guess, but if your commission needs any extra item, if it's oversized or requires a considerable extra amount of work, I'll have to reflect that on the price. Contact me so I can give you an accurate price! I wrote the price list in a separated page to make it easier to understand:
Payment
Payment in full must be sent before I start working. Payment is not refundable. To pay you can either note me your Paypal account and I'll send you an invoice, or if you prefer it I'll make a reserved Etsy listing. Whatever makes you feel more comfortable or is easier for you!
Mexican costumers: Bank deposit is preferred. Contact me and I'll send you the deposit info.
Shipping
Shipping is $5.50 flat, anywhere in the world for as many things as you want to buy. If you want multiple items I recommend that you order them all at once so you can save on shipping. Shipping includes tracking, the box, padding, bubble wrap and packing materials. Please keep in mind that I will need your address, so if you're underage make sure to ask your parents for permission!
Shipping is usually 3-6 weeks anywhere in the world. Some places are faster, some others are slower. You'll receive a tracking number, you can check it here
www.sepomex.gob.mx/ServiciosLi…
and after it crosses the border, you can track it in your own country's postal service webpage.
Some countries keep track of packages, some others don't. I'll try to keep track of which countries do as I send more packages around the world. So far, I know that the USPS, Canada and Argentina's postal service do!

---
I will try to update this list with more information as I think it's needed. If there's anything I didn't cover here please don't hesitate to send me a question! I'm here to help

Disclaimer: NOT EDIBLE. Please keep miniatures safely from small children and pets!! Polymer clay can be toxic if ingested, so please take all precautions you can to avoid an accident.
Everything will be all right in the end. If it's not all right, then it's not the end.