I hope you are all having as much fun as I am, and enjoying it as much as I do!
Artisan Crafts ABC: A - D | E - H | I - M | N - R | S - V | W - Z
Artisan Crafts ABC II: A - D | E - H | I - M | N - R |
S - V | W - Z
Artisan Crafts ABC III: A - D | E - H | I - M | N - R | S - V | W - Z
S stands for Silk Painting
An art all by its own. Depending on the colors, it can be done by free hand, or filling the contours with one color, with an effect similar to stained glass. It requires special paints and techniques. It can also be decorated with salt patterns. It is a unique painting that can't be reproduced like
serigraphy
, so each piece is unique.
Added by MirachRavaia
.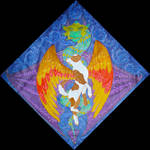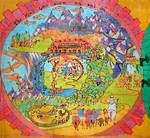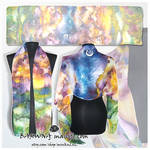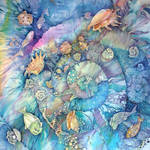 S stands for Sea Glass

Sea glass is created by weathering of small pieces of glass left on seas and beaches. Over time the glass becomes smooth and acquires frosted appearance. Pieces of frosted glass can be found on some beaches and used for jewelry.
Added by GlassBeacher
.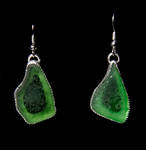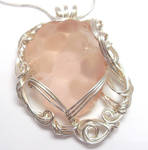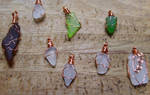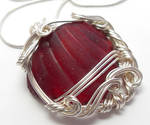 S stands for Sugar Sculpting

Sugar sculpting is the culinary art of making decorative pieces entirly made of sugar and/or sugar derivatives. There are different techniques like Pulled, Blown, Cast, Pressed Sugar, Pastillage and so on. The sculptures can be composed of single pieces, which where coloured beforehand.
Added by digikijo.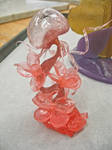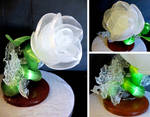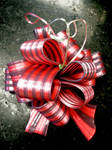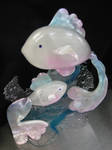 T stands for Tablet Weaving

Also known as card weaving. In this technique tablets or cards with holes are used to lift and separate the yarn, then an extra piece of yard is used to create a weaving pattern. It's possible to create designs with multiple colors but it's limited to thin and mostly long pieces, like bracelets and belts. Different designs can be achieved with different tablets. A tutorial can be found
here
.
Added by MirachRavaia.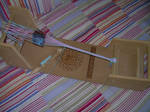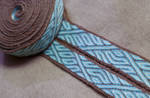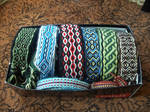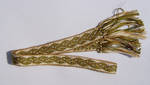 T stands for Tea Bag Folding
Originally performed on tea bags, this folding technique uses square pieces of decorative paper to create geometric and highly symmetrical designs. Most designs are styled after stars, but colors and shapes can be used to create other shapes such as flowers. The resulting pieces can be used for greeting cards, decorations, ornaments, etc.
T stands for Topper
Personalized cake toppers have become more and more popular, and some artists specialize in offering creative and whimsical cake toppers with any design or idea the client has, as crazy as it may be! This wonderful sculptures are usually made out of clay and can be saved as a memento of the wedding. Commissioning a personalized cake topper guarantee that it will be uniquely yours.

U stands for
We still need three crafts witih U to complete the set of three!
Already added: unicorns, underglaze, uterus, upholstsery, umami, urn.
V stands for Volvelle Cards

Volvelles were initially used for scientific purposes but are fun in a card. These cards have a rotating wheel attached by a split pin to the card and can be spun around.
Here's a great tutorial
that teaches you how to use them.
Added by danlayton.
V stands for Violin
This musical instrument has enjoyed a lot of attention from crafters, they have created precise replicas in paper, decorated bottles after them, used miniatures for jewelry, used them to decorate, and more! Some people even MAKE their own violins that actually play

V stands for Vellum
Vellum is a translucent paper, originally made out of animal skin, but now the term refers mostly to the vegetable version. Vellum is translucent, glossy, and with a smooth surface, it was used for calligraphy, scrolls and books, and now is used for blueprints and plans. Crafting with vellum is also very popular, specially for origami and greeting cards.