The quest to make the ultimate artisan crafts encyclopedia continues

this year with the contribution of the community! If you want to add something to the rest of the articles please let us know, we're still trying to fit some letters! Specially those pesky Q, X, Y, and Zs. Every submission will be credited

you can suggest your own thumbs as example too!
Artisan Crafts ABC: A - D | E - H | I - M | N - R | S - V | W - Z
Artisan Crafts ABC II: A - D | E - H | I - M | N - R |
S - V | W - Z
Artisan Crafts ABC III: A - D | E - H | I - M | N - R | S - V | W - Z
N stands for Needlepoint

Wikipedia says: "Needlepoint is a form of counted thread embroidery in which yarn is stitched through a stiff open weave canvas. It comes from the origin point needle in the Latin roots. Most needlepoint designs completely cover the canvas. Due to the inherent stiffness of needlepoint, common uses include wall hangings, pillows, upholstery, holiday ornaments, purses and eyeglass cases".
Cross stitch
is one example of a needlepoint technique, but there's many stitches that can be used.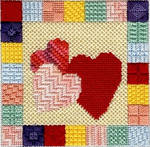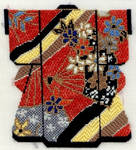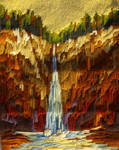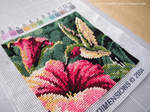 N stands for Netting
Netting is one of the oldest and most widespread bead weaving techniques. Every nation with a tradition of beadwork has a form of netting. This stitch gives soft lacy fabric and can be modified to produce any shape. It can be used alone, embellished or as an embellishment for fuller stitches such as peyote, brick or loom work. Basic variations include vertical and horizontal, circular and tubular netting, with each one of them having different applications. Horizontal has flat edges and is usually used for cuffs and bracelets, vertical is ideal for Egyptian collars, circular gives gorgeous doilies, and tubular is used for lacy ropes. When rapidly increased it gives beautiful curls and then it is known as Oglala butterfly.
Added by Cayca.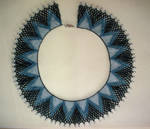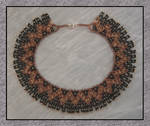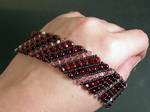 N stands for Nicho
A nicho, also called a retablo, is a Latin American craft that is usually made in a box or something similar, sometimes a door or lid is included to make the nicho easy to transport and storage. "Nicho" can be translated as "hole" in Spanish, so it's important that the nicho is concave. Nichos are decorated with scenes or made as tributes for the deceased, a sort of altar for the Dia de los Muertos. Mixed media is the most popular way to craft them.
:thumb109897087: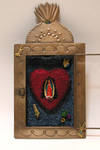 O stands for One-Of-A-Kind (OOAK)

This phrase, commonly used in high-end crafts, refers to an item made as an unique production piece and that by its nature can't be reproduced or the artist decided not to reproduce it to keep it unique. It is often misused to raise the perceived value of crafts produced in small and medium quantities, citing "slight differences" as unique characteristics. Such behavior should be avoided, and is often suspicious. This term is most frequently used in designer dolls.
Added by Linnzy.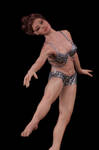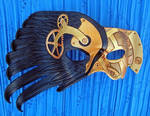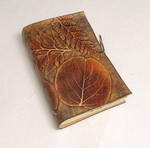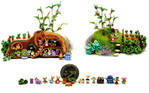 O stands for Obelix

Obelix is one of the main characters from the french comic
Asterix
by René Goscinny and Albert Uderzo. He's very strong due to him falling into the cauldron with the magic potion as a child and usually can be seen carring a menhir on his back and with his pet dog Dogmatix (Idefix in french).
Added by digikijo.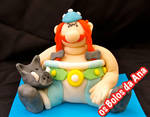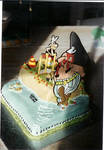 :thumb342359504:

O stands for Orange
You would probably think that an orange is just a fruit and can only be used for edible ends, right? Wrong! Added by lost-angle and AJ333.

P stands for Pencil Carving
Probably one of the most insane carving techniques because it is performed on an extremely fragile material. It consists of creating tiny sculptures on the tip of a pencil, literally, the tip is not removed during the sculpturing or afterwards. The carving can include the rest of the pencil too.
Added by digikijo.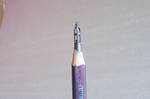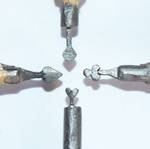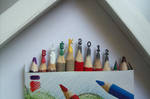 P stands for Pyrography
It originating from pyro - fire and graphy - writing, pyrography was originally used to describe burning writing into a surface, most commonly wood or bone, but more recently the term has come to include images as well as text burned into a surface. It is closely related to xylopyrography, which refers exclusively to burning images on wood. Added by snazzie-designz and Itti.

P stands for Posable Dolls

Most posable dolls have a wire armature rather than a ball joint set up on the inside, unlike Ball Joined Dolls. Posable art dolls tend to have sculpted (or cast based off a sculpture) feet and heads with a soft mount/plush style body. They resemble fully sculpted dolls but with moveable parts for ball joints. Added by Eviecats.

Q stands for Quiche
Quiche is a pielike main dish original from Lorraine, France. It's usually a round unsweetened pastry filled with bacon and cheese, but a lot of variations with different ingredients exist too, like the vegetarian quiche.
Added by digikijo.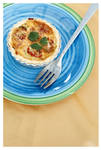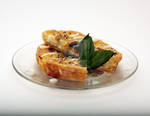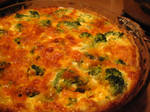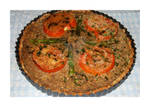 Q stands for Queen of Hearts

Inspiration for crafting after the famous queen in the Lewis Carroll novel "Alice's Adventures in Wonderland."
Added by Brookette.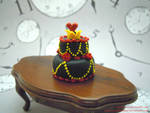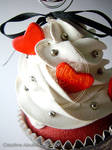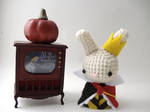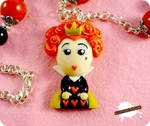 Q stands for

We still need one more Q to fill the set of three! Already added in the past years: quilting, quilling, quartz, qwerty, quiver, quills.
R stands for Rerooting
Also spelled as re-rooting or re-hairing, it is the art of giving dolls new hair. You first have to remove the original hair, then you take a needle and the hair you want your doll to have and pull this new hair strand by strand through the holes in the doll's head. Often used for MLP figures. Added by digikijo and Linnzy.

R stands for Ribbon Embroidery
Instead of yarn, this embroidery technique uses small, mostly silk ribbons to create a 3D embroidery. The thickness and volume of the ribbon can be used to create interesting effects, petals and realistic images. Added by digikijo.
R stands for Right-Angle Weave

Used in beadweaving and also known as RAW, it is a stitch in which, originally, every new bead is added at a right angle to the bead before, but various modifications of the stitch can be made. It gives soft and flexible fabric. It can be done with one needle or two needles (cross-weave, cross-needle weave). This is one of the most versatile stitches. Russian stitch is a variation on RAW in which bugle beads are used and it gives recognizable fan, shell or rick-rack look. Added by Cayca.