Artisan Crafts ABC: A - D | E - H | I - M | N - R | S - V | W - Z
Artisan Crafts ABC II: A - D | E - H | I - M | N - R |
S - V | W - Z
Artisan Crafts ABC III: A - D | E - H | I - M | N - R | S - V | W - Z


The quest to make the ultimate artisan crafts encyclopedia continues

this year with the contribution of the community! If you want to add something to the rest of the articles please let us know, we're still trying to fit some letters! Specially those pesky Q, X, Y, W and Zs. Every submission will be credited

you can suggest your own thumbs as example too!
A stands for Artisan Crafts

An artisan craft is a physical object made by an artisan completely by hand and usually in small quantities. Being an artisan, or a crafter, is being an artist that excels in the techniques of producing anything from a delicious meal to a deadly sword, from a cozy scarf to an adorable embroidery, from an elegant dress to a complete living room, from a cute plushie to a perfectly accurate doll, and so on.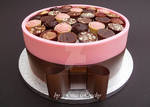 :thumb349504387: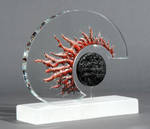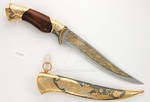 A stands for Architectural Models

Equal parts art and genius, architectural models are often overlooked. Architectural models are scaled down representations of buildings, houses, and sometimes even full cities, built with great attention to detail and proportion. They are used to plan constructions, for decoration, promotion, or some even for table role playing.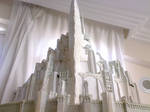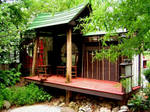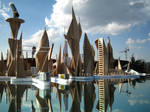 A stands for Amulet Bag

Refers to a small pouch that is used to carry charms or protective amulets. Nowadays people wear them usually as a piece of jewellery, but some still use them to keep their talismans, crystals or medicine close.
Added by Cayca.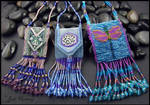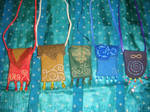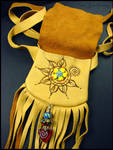 :thumb293374982:
B stands for Beadweaving
Beadweaving is making objects by stitching beads together. These objects can be soft, textile like and used for clothes, jewelry and accessories or they can be very stiff and sculptural. The choice of beads used ranges from tiny seeds and bugles to large glass, acrylic, paper, gemstone or whatever you like beads using many different stitches.
Added by Cayca.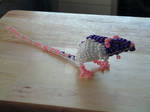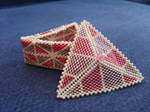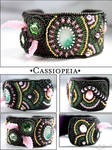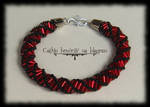 B stands for Bookbinding
The traditional way of making books covered in leather or cloth without the use of modern machines. Many techniques exist, such as
coptic
and french binding. Many deviants have uploaded tutorials explaining everything from picking the paper, printing your own books and putting them together in the most beautiful and sturdy way!
Added by BlueShadowM.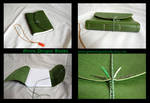 :thumb267747552: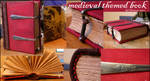 B stands for Bib Necklace

Bib necklace is probably the piece of jewelry with the most unappealling name. In shape it can remind baby bib. These are short necklaces that are thin at the back and bigger in front, covering the décolletage. They can be bigger and look more like bib aprons, or they can be smaller and more discreet.
Added by Cayca.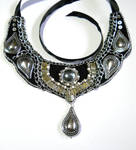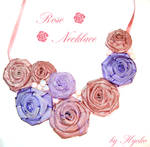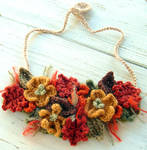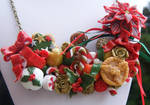 C stands for Clay
Probably one of the first art mediums used by human kind, on its most basic form clay consists of dirt and water. Over the years many formulas have been created for different uses: pottery, sculpture, jewelry, construction, and more. Not to be confused with
polymer clay
, which technically is not a form of clay since it doesn't contain any dirt, but it is called clay because it has similar properties.
:thumb55112324::thumb296531139: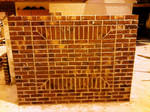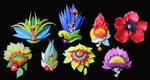 C stands for Chip carving

Chip Carving
is a carving technique, where the artist removes little pieces (chips) of the material from a surface with a knife or a chisel.
Added by digikijo
.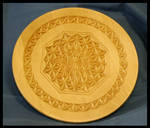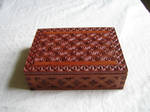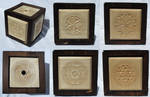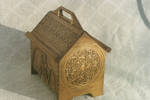 C stands for Caning
A technique borrowed from
millefiori
, caning refers to making a pattern in polymer clay and then stretching it while at the same time reducing the pattern. The image is elongated and reproduced through the whole length of the cane.
Added by Debra-Marie
.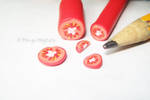 D stands for Dorodango

Dorodango is the japanese art of shaping a sphere of dirt and water and after it hardens, polishing it to give it a shiny surface. The process of shaping and polishing is made completely by hand without the use of tools or with just very basic tools. Added by digikijo
D stands for Dice
Unproven facts: 90% of people didn't know how many things can be made with dices. 10% of them will be surprised. I got those numbers rolling a couple of D10.

D stands for Dessert
Dessert is a dish served after a meal, usually sweet and rich in flavor. Desserts hold an important place in culinary arts because of the sentimental and regional attachment to some desserts and the creative options desserts offer. Desserts are commonly used to create complicated decorations and beautiful food art. Depending on the area and person desserts can be anything from fruits, cakes, cookies, pies, tarts, mouse, biscuits, etc.