Last year
MyntKat
did an excellent work putting together an Artisan Crafts ABC for
projecteducate
, however the Artisan Crafts are so extensive, diverse and ever-growing that there's still much to cover. In this new Artisan Crafts Week we will explore some different crafts, techniques, materials and popular themes to expand your knowledge of this addictive world.
This list is still not complete
, and we invite you to share with us your knowledge.
Artisan Crafts ABC: A - D | E - H | I - M | N - R | S - V | W - Z
Artisan Crafts ABC II: A - D | E - H | I - M | N - R | |
S - V | W - Z
A stands for Assemblage
Assemblage, mixed media, found objects are all different names for the activity of putting together apparently random objects in an harmonious and aesthetic setting. It can be made with either new or thrifted objects for different effects. This is a very wide category, and the final products can be decoration, jewelry, clothes, furniture or pretty much anything. For some the thrill of finding useful stuff is close to a treasure hunt.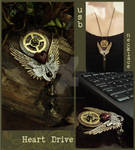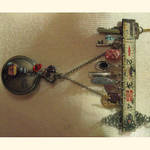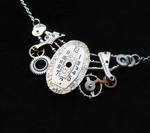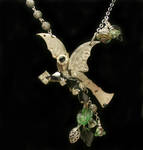 A stands for Appliqué
In the sewing world, an appliqué consists of a smaller piece of fabric that is placed over a bigger and sewn around its borders to fix it permanently, but it can also be sewn invisibly or glued. Appliqués can consist of complicated patterns, fun characters or elegant decorations, and they are frequently used in quilted pieces with very striking results. Modern sewing machines have simplified the needlework required and made appliqués much faster to sew. Tutorials available
here
and
here.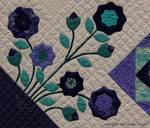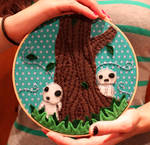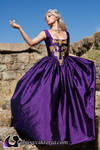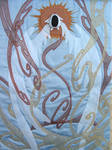 A stands for Amoeba
When we say that crafters can get inspiration from anything, we mean it! Look at this artwork inspired by amoebas, even cakes are dedicated to them.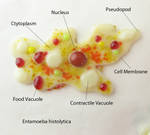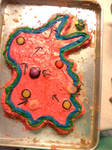 :thumb157165074: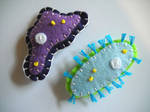 B stands for Bento
Bento is a traditional Japanese meal box that is carefully planned to be both healthy and beautiful. Japanese mothers take great pride in their bento-crafting abilities, some of them spending hours every morning preparing and decorating bento for their kids. Bento is prepared, transported and eaten in a sturdy box with different compartments for food, some also include a clip for portable chopsticks. Bento is prepared with the rule of thumb "4 parts rice, 3 parts protein, 2 parts vegetable, 1 part sweet" and traditionally, the sweet portion consists of pickled vegetables! I know some people that would feel cheated by that dessert...
Corselia
has a very complete tutorial for
basic bento construction
and
Mechanical2127
has a tutorial about
bento decorations
.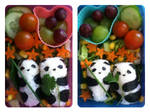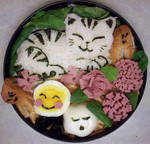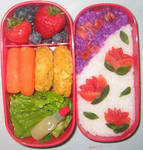 B stands for Bird houses
Some people can't settle for regular bird houses, and they have to take them to the crafty level! Building houses out of different materials, painting them with incredible talent or decorating them to look after something completely different are some of the most popular activities involving bird houses.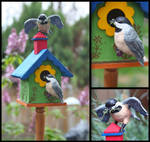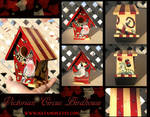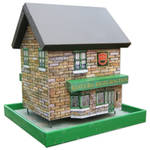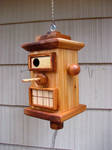 B stands for Balloons

Ad-Kins once told me "Don't let anyone tell you clowning isn't an art". I had to find out by myself, and it turns out that there's a lot of artists creating incredible balloon art! Anything from characters, to tools, to cosplay, to balloon furniture. An incredibly useful tutorial was written by mrballoonatic.

C stands for Carving
Carving is the activity of cutting or chiseling a material with the objective of creating a raised image or a complete three dimensional object. Carving can be practiced in many surfaces, most commonly fruits, ice, wood or pumpkins, but some artists make exceptional carvings out of incredible things, like pencils. A
wood carving walkthrough
was made available by
piratecaptain
.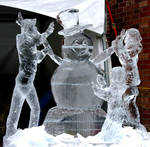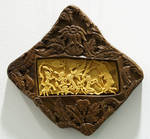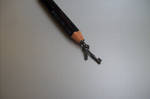 C stands for Chainmaille
Chainmaille refers to the art of interlacing metal rings in patterns to form meshes, ropes or objects; It originated in chain mails used in ancient times to protect the wearer against swords, but today it's used mostly for decorative purposes. Beginner tutorials are available
here
and
here
.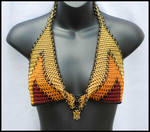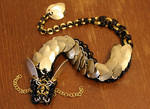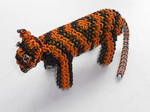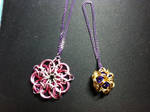 C stands for Clock
I guess clocks fascinate more than a few. There's a plethora of beautifully decorated clocks with any technique imaginable, and many talented people are still making their own clocks down to the mechanism. Here's a sample of all the beauty available.

D stands for Decoupage
Decoupaging is the activity of decorating an object by gluing pieces of paper or fabric to the surface, later several layers or glue or varnish are added until a seamless finish is achieved and the images look painted. Decoupage is usually accompanied by other crafting techniques, like stamping, gold leaf, crackling paints or antiquing. This easy
decoupage bookmark tutorial
by
InkKiller
is a great start.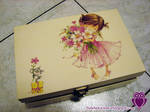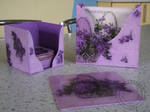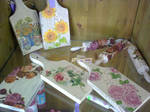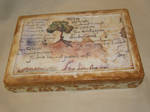 D stands for Drawn thread
laurelin77
describes it as: "
Drawn Thread Work is traditionally white on white and is created by snipping individual threads and un-weaving them from the surrounding fabric, then securing the ends with stitching. Once this is done a pattern can be created by gathering together and twisting the remaining threads of the fabric
." Drawn thread work can be used for beautiful tablecloths or fresh summer garments, and it's adorable for baby clothes. It's a relatively unknown craft so it's perfect for anyone looking for a new hobby; there's no tutorials available on deviantART but
this one
does a great job explaining the basics.
D stands for Damascening
Damascening is a metal work that consists of inlaying a metal into another, commonly gold into oxidized steel for contrast. The surface of the metal is prepared by making several shallow cuts and a gold thread is forced in the cuts by hammering it; as a result the gold is encrusted with the desired design. The technique has been used for centuries to decorate armors, weapons, tsubas, jewelry, wall ornaments, and many etceteras.
Images borrowed from Wikipedia en.wikipedia.org/wiki/Damascen…