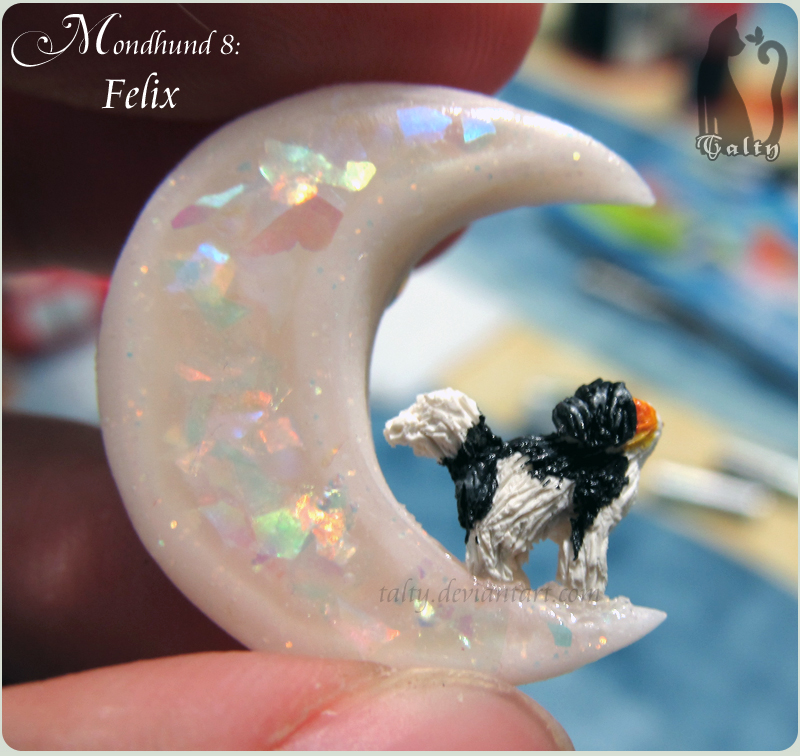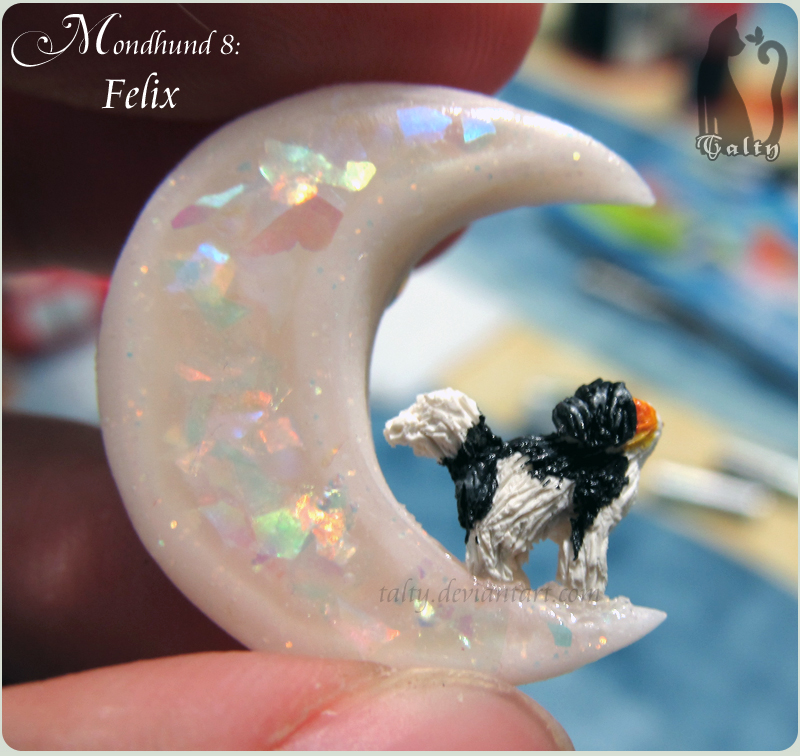 Watch
RIP Felix

Mondkatze = Mooncat, Mondhund = Moondog
This was a commission for ~
PharaohBec
. This is the first time I do a dog, so far I've only made cats, but when she told me Felix's history and that she wanted something to remember him, I knew I had to try it. I'm really happy with how it turned out, he was adorable and fluffy with a beauty mark (

his beauty mark) that I made sure to paint, ~
PharaohBec
already received it and she said she liked it and that it really looks like him. I'm so honored that she let me be part of this, I know it's difficult to loose a dear friend

I didn't get a chance to take a good photo, so this is the best I could do xP at least I took several WIP photos so I'll upload those too. Oh and I made the moon to look like moonstone

my mom says it looks a bit like opal too...
Esta fue una comisión para ~PharaohBec. Esta es la primera vez qu ehago un perro, hasta ahora siempre había hecho gatos, pero cuando ella me contó la historia de Felix y me dijo que quería algo para poder recordarlo, supe que tenía que intentarlo. Estoy muy conforme con el resultado, él era un adorable y peludito perro con un lunarcito junto a la nariz

~PharaohBec ya lo recibió y me dijo que le gustó mucho y que se parece a Felix. Me honra mucho que me haya dejado ser parte de esto, sé lo difícil que es perder a un amado amigo



No tuve oportunidad de tomar una buena foto, esto fue lo mejor que pude hacer xP al menos tomé varias fotos del progreso, así que subiré esas tambien. Oh y la luna la hice para parecer piedra de la luna

mi mamá dice que también parece ópalo.
Would you like to commission a Mondkatze or Mondhund?
I'm accepting commissions for this, I can customize the moon with any combination of colors you want, or make it flat instead of textured, round, shiny, anything! If you send me reference photos I will also make an exact miniature copy of your own cat or any cat you want. You can read
my commission info here
and my
pricelist here
.
---
My boyfriend and I have made up tons of cute stories about us living in the Moon and creating our ideal world. Since we both love cats and identify a lot with them, eventually the term "Mondkatze" (Mooncat) surged - it's in German because we both study German and we like to speak in German between us to practice.