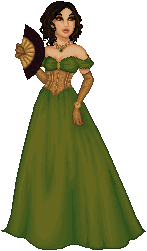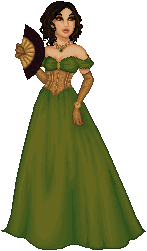 Watch
Another Steamhawke doll -- this one is Ana, and she's...not a nice person. At all. I originally started this because I wanted a visual for a piece I wrote in which she featured, but that purpose was defeated as I finished the piece loooooooooooong before I did the doll.
I'm still not good at these poofy skirts (another reason it's taken so long to finish, but I think I'm getting there. Hopefully.
base:


Yes, she looks the part

And beautiful.
Reply

I think you're wonderful at poof skirts! Better than me, at least. XD She's gorgeous.

Reply

Loooooove that green and that smooth shading. So pretty!
Reply

Not good at poofy skirts? You're crazy, that skirt is amazing! The whole doll is amazing!
Reply

Aww, thank you! It's something I've been trying to work on (and fancy dresses, in general) for pageant season!
Reply

I'm all for Ana joining the crew... She'd take over command within weeks! I love the colour of her dress. The hand holding the fan is also very good. I know that can be tricky (well, it was for me).
Reply

Ooh, another one! You're a busy lady these days!

Reply