5 Favourites
0 Comments
111 Views
Original Patreon Post: www.patreon.com/posts/31172105

Hey peeps, we got a slew of art ready for you to thumb through! October has been a pretty hectic month and I'm announcing some small changes to my patreon uploading. Thanks to all the helpful feedback in the poll, I've decided to begin uploading individual artworks to patreon. Including the monthly art pack zip! By being able to upload individual works, I can take more time for myself and write a little bit about either the characters in the art or how it was made. What it made me feel like. Just really getting back down to roots of logging and blogging.
I am still not comfortable logging into the CloverCoin deviantart at this time and taking a break from it for the time being. We are currently still looking for a solution to manager handling the SFW uploading and social media that ties into it. But trust me that's a whole can of worms that will take a bit of time on our part.
I am uploading to my personal account Tailsideup but it is rated 18+ NSFW space. If you need to speak with me urgently about any matter, please message me on Tailsideup or on discord A2J#0800 I will do my best to assist.


---
Life Updates from the Clover Coin Crew
OCTOBER, WOW. I kinda feel like we just... got run over. And I still feel flat and stuck to the pavement, just oofm. Consider me undead just in time for halloween. Grrr.
★ We got our flu shots, reminder to all of you to get yours ASAP. ★
Exciting news. We found a puppy who needed rehoming in our neighborhood. We took our oldest dog, Ollie, to go meet up with her down at the park and... We were surprised to see them getting along. She ran up and leapt into Prov's arms, excitedly tinkling alllllll over him. Prov was so thrilled he didn't care. I personally laughed. I didn't think we would be getting a new pup so soon, my plan was for next summer. But things just happen.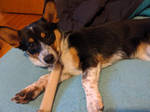 Her name is now Daisy
, (Miss Daisy or Daisy Mae). She's a 6 month old female cowboy corgi. I guess that means she's a mix of corgi and australian shepard? I'm still sorting that out, I didn't realize it wasn't just a coat-color name for corgis.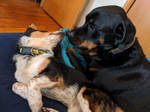 She came with pretty much everything a puppy needs. Some toys, crate, food, accessories, so that was a huge load off our chests. She still needs a vet check up shortly but overall fine! Miss Daisy sadly isn't quite potty trained yet and so we're just going through a lot of the motions IRL keeping her on a sched and making a solid routine for her to follow. She really has been loving all over Junior since she met him and does an amazing job copying him when we ask him to do things. She's been accident free for 2-3 days so far!
Projects I'm currently working on;
Inktober! Just because october is over means I'm giving up on the prompt list. Just like I said in the summaries on them, I plan to do the entire prompt list on my own time and fun. c: So I'll be sharing more inktober experimentals soon I hope! (Miss Daisy needs a LOT of supervision which makes it very difficult to relax and draw. V●ᴥ●V )
Pillowing-Pile Give Away Event! Sadly we missed ToT season. Just didn't have the hands on deck we needed at this time but that's alright. Luckily the theme itself doesn't have to require being ON halloween. So prov and I have decided to just continue working on it and get it out when it's ready. We'll provide updates as they're ready!
Bases and Base Adoptables! I want to make my adoptables a lot cheaper. The reason most are priced so high is because of how extremely limited my time is. If I maybe try cutting my work time on them, I'm hoping to offer adopts at $20-$30 instead of the usual 60. I'm not sure if anyone is looking forward to this, but it's something I've really wanted to do more of and I gotta try.
Patreon Merch Reward Tier! The plan is to open the shop back up again with Cinnri's help packing and running mail. I have already ordered plenty of post card prints and some test stickers. Of course the pattern recycled bags as well! We have some sparkly bookmarks on the way as well, I can't begin to tell you all how excited I am to finally be getting merch back out there. We do however need to figure out where to put the printer AND if our printer... uhm... still works after 3 years in storage. Eeep. So that might be a big expense we need to plan for, good to know... So this one is on the back burner, slow and steady wins the race. We don't want to open up when we're not ready.
Writing! I just want to write more. I'm scared and I don't know why the wall is blocking me. I'm just... gonna do it badly and that's that.
---
Hey I'm AJ, a disabled creative. Don't be a hostile jerk or else get blocked. THIS IS A NSFW ACCOUNT. Prefer to keep this a minor free zone/21+ space for my mental sanity.
Most active on
NSFW Twitter
,
ToyHouse
for character logging and collecting, and
CloverCoin Patreon
Discord for my artwork wips, creative writing, and photography.
Want only SFW artowrk and minor friendly content? Follow the brand
CloverCoin
!
If you like my work and want me to keep going, consider checking out my ko-fi for tips! ❤
I'm in medical debt forever thanks to USA. Tips are never expected, but desperately appreciated. Plus I will draw a shit ton of magikarps.
Image details
Image size
800x456px 251.89 KB