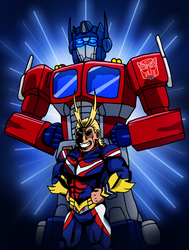 Symbols of Peace! All Might and Optimus Prime

edCOM02
218
22
The Mighty Hero and Captain

Kashiopea94
136
28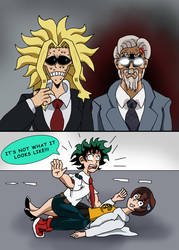 MHA:AOU - It's not what it looks like!!!

edCOM02
173
49
: CookieChibiComm: Batch of OCs :

bakawomans
131
13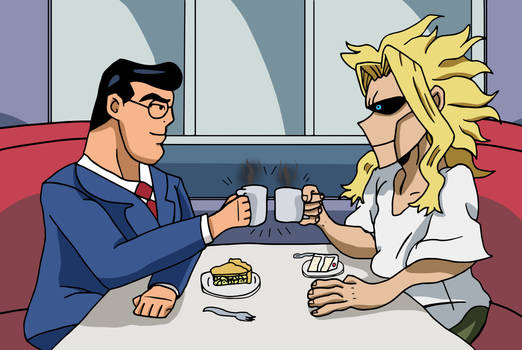 DC x MHA - Yagi and Kent

edCOM02
289
38
Not Fine (Young! All Might x Reader) part 2
Here's a link to part 1 if you haven't read it. https://www.deviantart.com/lordsister/art/Not-Fine-Young-All-Might-x-Reader-751491533
"I love you, (y/n)." Toshinori could see the happy tears in your eyes as he spoke the words that he'd been longing to tell you since childhood. When you smiled, he thought his heart stopped.
"I love you too, Toshinori. So much." He leaned down and kissed your lips once more, his smile pressing against yours. You giggled, eyes sparkling, and said, "I'm really not fine when your not around." Holding you closer, he pressed his forehead to yours, taking in your radiance lovingly.
"I'm the same way, (y/n). I'm not fine when I'm not with you."
"To..." Toshinori grasped desperately at the dream, at the memory of love and warmth.
"...shinori." No, he didn't want to return to cold reality, but the hand on his shoulder was persistent.
"Toshinori!" He jolted awake, dreams of you falling away despite his best efforts. Rubbing his eyes, he saw the sky lighteni

LordSister

LordSister
134
23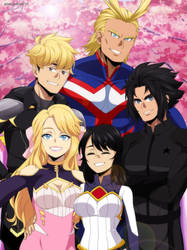 Commission 45

Aneko-tyan
152
22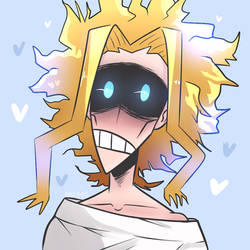 Toshinori icon

Fatalitom
216
11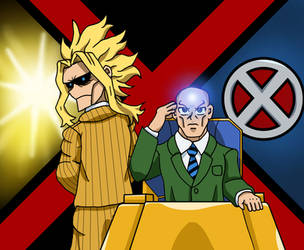 MHA/X-Men - All Might and Professor X

edCOM02
161
14
Next...Its your turn

AllyPhills
203
8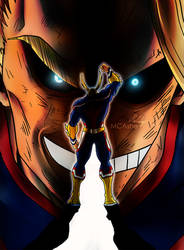 Number one hero
MCAshe
284
18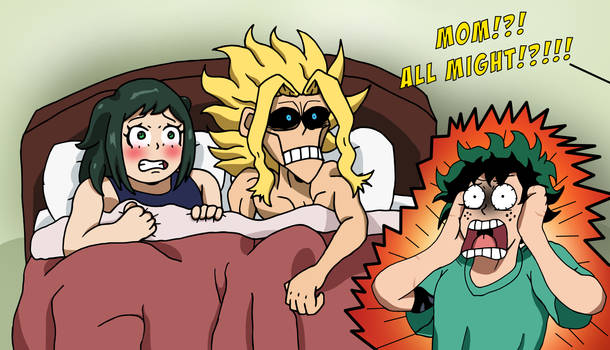 All Might x Inko - MAMA NO!!!!

edCOM02
191
111
Mirio Togata
MCAshe
194
21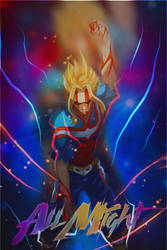 Toshinori Yagi All Might

Maxell97
70
2
Moments With You (All Might x Reader)
He met you at the Kamino Ward incident.
A gathering of top pros chosen to carry out the delicate rescue operation, you were one such hero. An underground hero, he'd only briefly heard of you before, your skills said to be on par, if not greater, than those of Eraserhead's.
He'd never really been one to pay much thought to rumors, but the moment Toshinori saw you he knew everything he'd heard was true, more or less.
You were a warrior, a huntress, in every sense of the word. From the confident set of your shoulders to your silent footsteps, everything about you screamed hero by night, the gleam of underlying power in your eye sending a shiver down his spine.
Even though he should've been calm and composed in the hours before the plan was put into motion, Toshinori couldn't help the excitement that buzzed through his veins at the thought of seeing you in action.
When everything was over, his true condition exposed to the world, you were the first to approach him. Though you were bruised

LordSister

LordSister
83
36
COM| Toshinori and Hikari

Yuhichu
100
20
The Sunflower and Forget me Not

Poohnie
95
26
Shoji Fantasy AU - commission

Peach-8D
106
16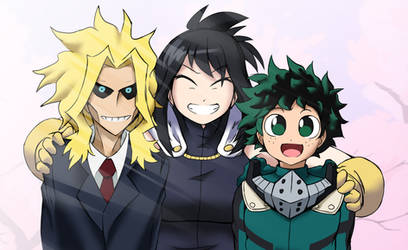 One For All

KreativeKyle
102
3
All Might appreciation week - Day 7

Peach-8D
102
9
Not Fine (Young!All Might x Reader) Part 3
Part 1
Part 2
When Toshinori said he was going to tell you everything that had been going on with him for the past year, he wasn't lying.
He told you everything.
Sitting on your bed, his back to your headboard, your back to his chest, he told you everything, his arms wrapped around your waist as you listened silently. The quiet stretched long after he had finished, your mind steadily processing everything he had told you piece by piece. The reasons behind why he seemed so close to Shimura Nana, why he disappeared so often, where his quirk had miraculously come from; it all made sense now.
As the minutes continued without any response, you didn't even realize when Toshinori started to shift nervously behind you, his brow furrowing in worry as he began to assume the worst.
"(Y/n)?" Yo

LordSister

LordSister
78
22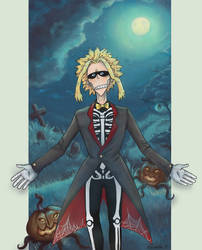 Allmight Halloween

Kamel21
104
10