Donate widget customizing tutorial

UszatyArbuz
4,017
1,756
How to: Make thumbs big in features?
I get this asked a lot!
Back when they introduced sta.sh, I didn't really use it. Because it seemed hard to get used to. I always wrote my articles in the old way.
Then I toyed with it a little and noticed that is is something really awesome!
Not to mention that the only way to make articles and journals is through Sta.sh Writer.
So I assume not so many if you know that there is a way to make thumbs big!
That is actually pretty easy. All you have to do is add
big
in front of a thumb code!
For example:
: thumb159252268 :
This is the "regular" size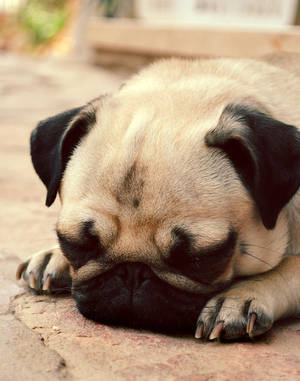 : bigthumb159252268 :
This is the big size
Of course:
without the spaces between the colon (
:
)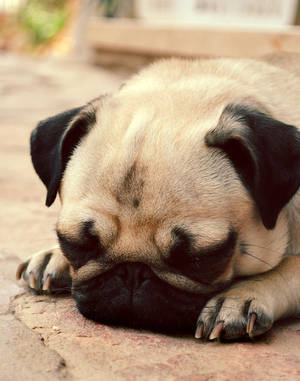 But this is not what I wanted to show

Fancy Features with sta.sh Writer
Go to your
Sta.sh
!
After that, hit the

adumvgh

adumvgh
591
216
Did You Know - Thumbs Code
Thumbs Code
Whenever you do a feature or maybe want to link to a certain deviation the thumbs code is a very handy feature. It allows your viewers to see a smaller version of what you are referring to directly.
But did you know that there are several ways to make thumbs appear?
The most common way is to grab the thumbs code from the sidebar of a deviation.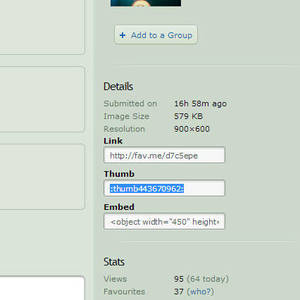 That way you will get a little preview no bigger than 150x150px.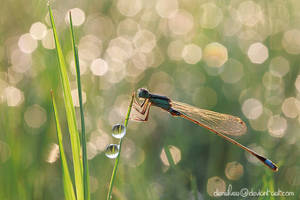 Another thing you can do is to create a big thumb. For that you just need to add 'big' to the thumbcode, like :bigthumb###:
For our example it will look like this.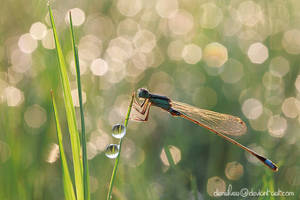 Big thumbs will get no bigger than 300x300px.
Alongside those and thanks to AddMedia and Sta.sh you also vary the size on your own.
Either choose deviations from the AddMedia sidebar and make use of the transformation corners or use this code
<b>

ginkgografix

ginkgografix
258
113
Female Hand Poses Pack

aipstock
1,518
78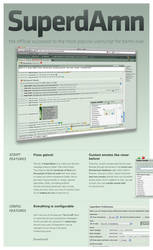 SuperdAmn

electricnet
2,061
1,385

Tutorial - NON-Core journal 'skin' with background

UszatyArbuz
648
124
Virtuoso Journal Skin

SimplySilent
1,186
90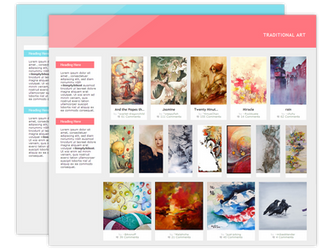 Vivacious Gallery CSS

SimplySilent
806
196
Updated Gallery Favs Layout

U
p
d
a
t
e
d
G
a
l
l
e
r
y
/
f
a
v
s
G
r
i
d
L
a
y
o
u
t

Ikue
Thunderstorm Einsilbig
January 11, 2017
As I'm sure you're all aware of by now, there have been some updates to the way gallery/fav look and operate. I'd hope that it's not too much of a shock to most of you, as this layout was announced all the way back in June of 2015 and launched to everyone for the main browse pages in May of 2016. We've been slowly adding this Torpedo grid everywhere deviations are displayed and this is just the next step in that process.
That being said. It can take some getting used to and some things have changed. I've noticed some questions circling and thought I'd take a stab at answering them.
Why can't I

Ikue

Ikue
157
283
Surreal Journal CSS v3

SimplySilent
763
143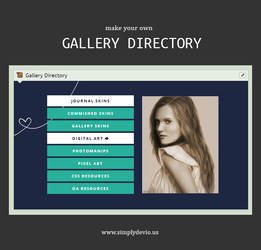 Make a Gallery Directory v.2

SimplySilent
976
166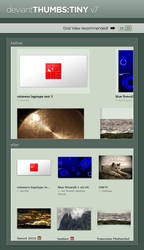 deviantTHUMBS:TINY v7

rotane
467
504
Simplicity Journal Skin CSS

SimplySilent
1,325
72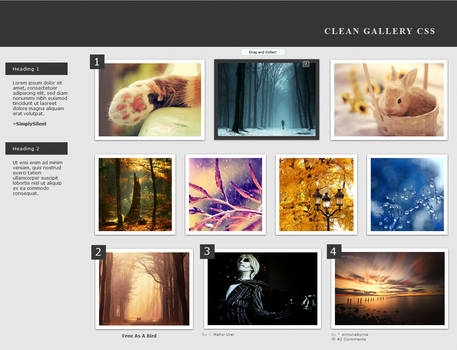 Clean Gallery CSS v.3

SimplySilent
609
208
Mini Thumb Gallery Code Snippet

SimplySilent
611
68
Social Media Icons

KimMaida
101
22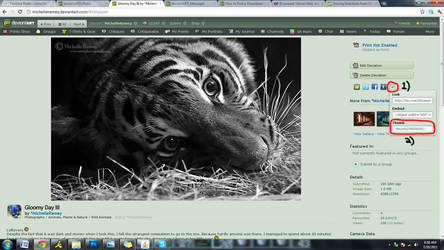 How to Post a Thumbnail -- Big and Small

MichelleRamey
75
169
Forgotten Memories Journal CSS

SimplySilent
1,533
227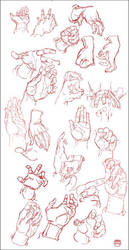 Hand Study

CoranKizerStone
2,385
71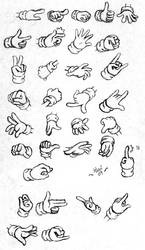 Hand Poses

KaiThePhaux
1,895
149
Winter Taste Skin

SimplySilent
646
39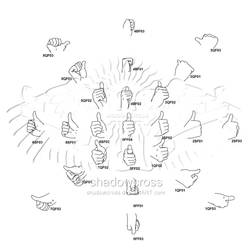 Hand Study Angle Chart 6

Shadowcross
443
3