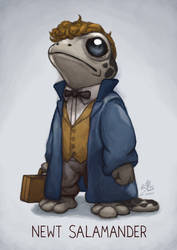 Newt Salamander

Ry-Spirit
1,114
38
Attention and Affection [Newt Scamander x Reader]
Every since you had met the soft spoken wizard, you had been fascinated by him. There was just something about his gentle eyes and shy smile that drew you to him. Maybe it was just that you found shy and clumsy to be attractive, or Newt Scamander was just that special.
But when he had first showed you what he hid in his plain old case, you were mesmerized. This man, with such an shy and careful personality was carrying a whole new world in his case, several different creatures living with him. And to be able to see him take care of his beasts just made you fall for him harder.
Soon enough the two of you fell into a routine; as you travelled around the world looking for more beasts, you'd both take care of his little babies. When Newt's was busy with writing his book, you'd feed and care for the adorable creatures. And if some beast required care 24/7, you'd take turns, while one rested the other one tended to the creature.
But there was one creature in particular that had taken a likin

nixdex

nixdex
347
21
Newt

Amelia-Wilde
274
21
Newt and Niffler

Natello
2,360
130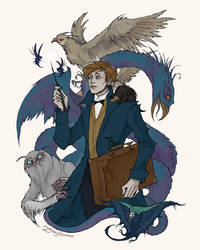 Fantastic Beasts

IrenHorrors
1,853
38
School times

Fennethianell
501
21
Dance with me

Fennethianell
565
21
Inside the suitcase

Fennethianell
326
10
Tender moment

Fennethianell
655
44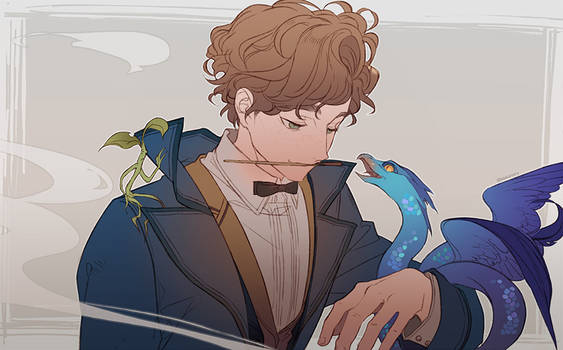 There are no strange creatures

kawacy
5,425
98
The Many Faces of Cinema: Fantastic Beasts and W..

Hyung86
625
10
Elegant [Prof!Newt Scamander x Prof!Reader]
AU where Newt Scamander is a teacher at Hogwarts during the Golden Trio area.
Newt really did surprise himself by accepting the job as a professor at Hogwarts. After finishing his book he had planned on continuing his adventures and find more creatures, but as it turns out, his book was a massive hit, and not only were they going to use his book in schools all over the world, but Albus Dumbledore himself had personally come to ask the Magizoologist to take up the new teachers position.
As Dumbledore had said "Why settle for a good professor when we could have the best?"
Newt was flattered and accepted, probably more so because he didn't know how to turn the old man down than wanting to teach children. The ginger man did however make it clear that he would keep his suitcase with him, and refused to leave his creatures behind. Dumbledore had agreed, but only if he would be allowed to pet some of the beasts within the case. Newt often found the old man to be very

nixdex

nixdex
281
33
Fantastic beasts and where to find them

Icaru-Owl
322
19
Fbawtft Sktch Dump1

Fennethianell
255
11
Magizoologist and his Niffler

Fennethianell
669
35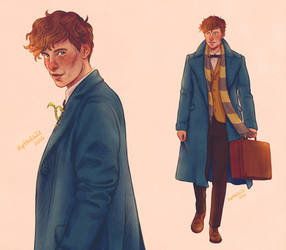 Newt Scamander

upthehillart
1,042
62
Happiness on the loose

Fennethianell
486
17
Fbawtft Sktch Dump2

Fennethianell
394
27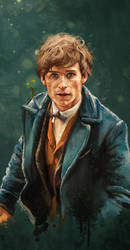 Fantastic Beasts: Newt and Pickett

Silvaticus
390
35
I trust you know how to waltz?

Fennethianell
282
4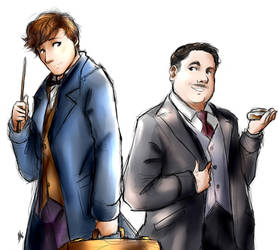 Newt Scamander and Jacob Kowalski

Smudgeandfrank
1,137
101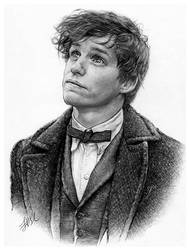 Newt Scamander

FinAngel
1,199
198