[BNHA] Wonder Duo

Margo-sama
244
22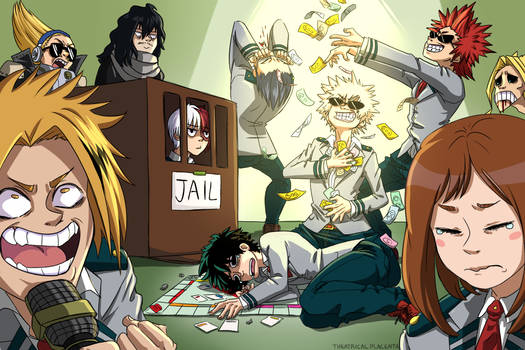 GET REKT DEKU!!!

TheatricalPlacenta
1,787
91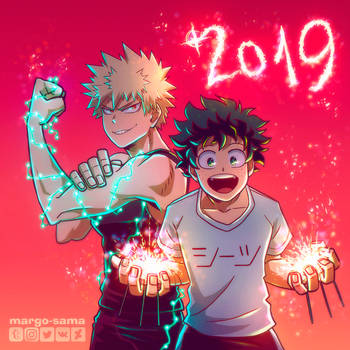 [BNHA] Happy 2019!

Margo-sama
432
24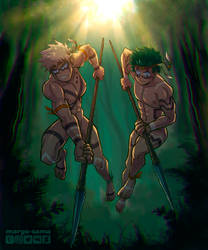 [Commission][BNHA] Tribal Hunters

Margo-sama
192
25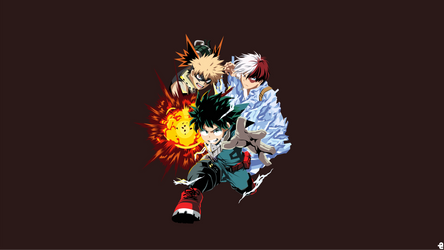 Bakugo - Midoriya - Todoroki|Boku no Hero Academia

noerulb
443
16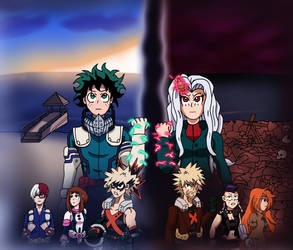 MHA:DOFP - Hope for the Future

edCOM02
191
18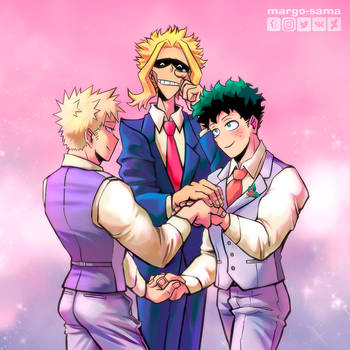 [BNHA] Wedding Day

Margo-sama
139
23
Tell Me Everything (Bakugou Katsuki x Reader)
Warning: Some strong language because it's Bakugou.
Reader's Quirk: Shadow Being (the ability to manipulate darkness and see in the dark)
Something felt...off.
For the past week, you'd felt as if someone was watching you, observing and calculating your every move, but when you turned around no one was there. Even when you peered into the surrounding shadows there wasn't a trace that anyone had been there, yet the prickling on the back of your neck refused to subside, warning bells going off in your head.
You weren't scared. Not at all. You were a pro hero and had fought all sorts of villains, but as the week continued and the feeling of being watched refused to leave, your concern grew. Who was watching you? What did they want?
Briefly, you thought of telling Katsuki, but your husband had the tendency to...explode in literal terms. Confiding in him would probably only cause more trouble, and so, you decided to take care of...whatever it was, on your own.
It was supposed t

LordSister

LordSister
202
49
MHA:DOFP - It's Your Turn Now, Eri...

edCOM02
97
16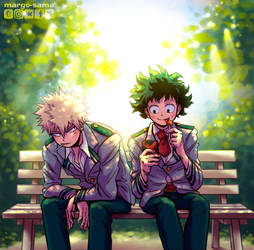 [BNHA] During The Break

Margo-sama
489
34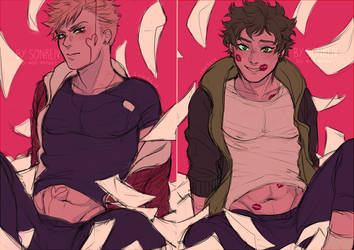 valentine's pro heroes

sonreiv
185
3
[BNHA] Trumpet Meme

Margo-sama
338
18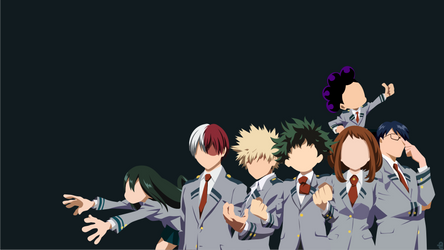 Boku no Hero Academia - My Hero Academia

noerulb
543
20
mafia AU?

hashagi
354
22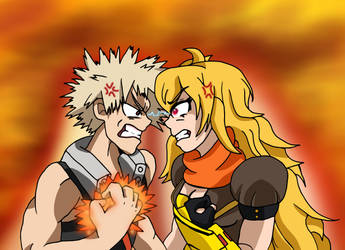 MHA x RWBY - Exploding Hot-Heads

edCOM02
306
137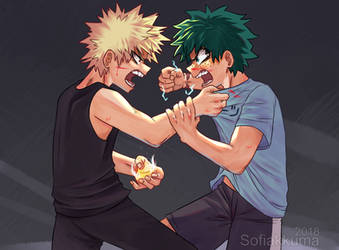 deku vs kacchan

Sofiakkuma
380
17
My Hero Academia: Age of Ultron

edCOM02
294
27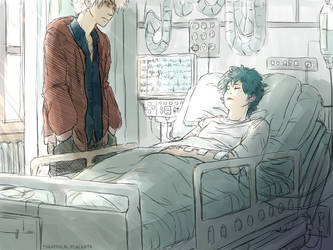 Someone Worth Remembering...

TheatricalPlacenta
505
17
Unusual Errands (Bakugou Katsuki x Reader)
Warning: Strong language because it is Bakugou after all.
"Huh? Idiot! I'm not fucking doing that," Bakugou yelled at you through his phone, getting a few offended looks from passersby.
"Please, Katsuki! It's really important! I don't know what I'll do if you don't," you whined back, a pained groan following your pleading words. Bakugou could hear the rustle of blankets through the phone as you re-adjusted your nest. "It'll only be this one time! Please! This is my time of need! And you're my boyfriend!"
"And? That doesn't mean I have to get you shit when you're on your period. Can't you do that yourself?" Bad move, he realized a second too late.
"...Huh??? Katsuki, do you want to die? I ask you to do one little favor as a good boyfriend and that's your answer? Hmm?" Your voice had gone low, angry, and Bakugou ran a hand through his hair for forgetting how sensitive you were during your period. Before he could say something to soothe you, your sniffles reac

LordSister

LordSister
213
27
Wizard's chess (BNHA x HP crossover)

hashagi
447
22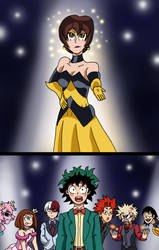 MHA:AOU - May I have this dance, Izu-kun?

edCOM02
195
23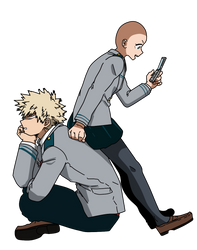 Bakugou x base

Basemakerofdarkness
222
9