I'll cut right to the chase! This news article will be about tutorials and resources related to space and space art. In an attempt to bring order in this chaos we call life, art and news articles I'll try my best to classify the resources and the tutorials into categories - knowing all too well that those classifications are arbitrary. Enough of that though, let us begin.
Space art can be divided in a number of sub genres, in this article I'll talk about two such categories (again knowing all too well a lot of space art falls in neither of these categories);
classic space art
and
terraspace
. Your typical space scene usually consists of one or several space elements and celestial bodies, such as planets, nebulas and stars. In terraspace another dimension is added. The "camera" or point of view is not located in outer space, but on the ground. The space elements are then put in the sky. To achieve this, the artist often have a stock photo of an up-close environment in the foreground (traditionally rendered in the software program terragen, hence the name).
Some classic space scenes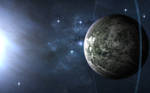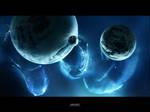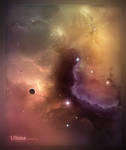 Terraspace scenes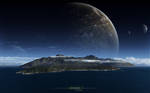 Art that fits neither category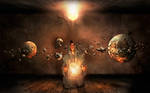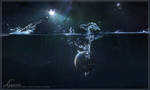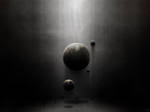 Aside from the tutorials I will, as previously mentioned, also provide links to a number of free-to-use resources. Make sure to read the description on these resources for limits and regulations related to the stock. Also, try to avoid using unmodified resources in your work. You won't learn anything by doing so. Instead try to modify, over-paint and in other ways change to stock to make it partially your own creation. Stocks should really only be used for learning purposes – they're great while your learn how to get things right, but once you know how to do it yourself you should try and create as much of your scenes yourself as possible.
Composition
The composition is one of the fundamentals in art creation, with a crappy composition even the most awesome piece turns into a mediocre one.
Superiorgamer
explains this and more in these tutorials.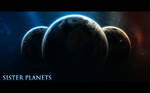 Stars and star scapes
The foundation upon which almost every space piece rests is star scapes. Star fields are easily neglected and not very thought over by a lot of artists though. Here's a head start on creating complex and interesting stars and star scapes.
Tutorials
alyn
explains the basic and very commonly used technique of using the noise filter to create star scapes, and though this rarely is enough to get a satisfying star field, it's a good way to start

sirgerg
gives us a much more refined way of creating complex star fields. The foundation is still the noise filter in photoshop, but with a lot of manual work
gallery.artofgregmartin.com/tu…
ladyrapid
goes one step further and scrap the noise layer for fully painted star fields to great effect in his tutorial.

Finally
Ov3RMinD
gives us an explanation on how to create those extra detailed stars with diffraction spikes.

Resources
This star resource by :devmoonchild-stock: is very simple, but with some manipulation using the clone tool and/or the cloud filter in photoshop for instance, it could turn into a really beautiful starry sky. This is probably the best stock for learning how to manipulate and create your own interesting star scapes.
:thumb151628678:
These starfields by
Hameed
are both of high resolution and outstanding quality. They're intended to be used by non-space artists or beginners to space art and can very well stand without too much manipulation. That's, however, a bad idea – since the point of this whole tutorial is to experiment, create and to learn!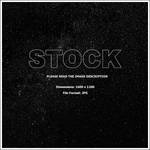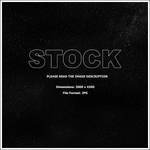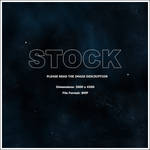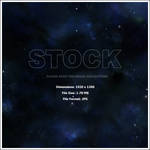 These are another couple of high quality star scapes by
buchvecny
,
Smattila
and
Mr-Frenzy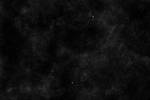 Planets
Planets are probably, and perhaps naturally, the most common element (aside from stars) in both classic space art and terraspace. The most commonly used way to create planets are by manipulating textures in Photoshop. 3d rendering programs such as 3d studio max can also be used with great results.
Tutorials
alyn
s Advanced planet tutorial mixes the creational process with scientific facts on what you need and should know about planets before creating them, this tutorial has been a starting point for many space artists. It also includes a lot of extras, such as city lights and planet rings etc.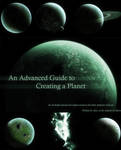 DemosthenesVoice
is an excellent tutorial on another method in which to create planets. Also includes a lot of extras and alternative ways in which to create things like city lights.

dinyctis
tutorial on planet creation using only one texture is probably one of the oldest and most classic tutorials out there. It dates back to 2003 and is probably the simplest of the tutorials, still gives great results though

A little less common planet type in space art is the gas-giant, but ofcourse there's tutorials on this subject as well! Take a look for instance on
lord-k
s tutorial on gas giants. A special tutorial in the sense that it explains how to get a tilt on the planet you usually don't using the common methods of gas giant creations.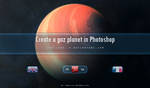 hoevelkamp
makes some of the most extraordinary planets using 3d studio max and has been kind enough to reveal his secrets to the community in this tutorial (check his gallery for more 3d studio max tutorials on rings and textures etc).

One thing many new artist have troubles with, is lightning the planet correctly, this tutorial by
bloknayrb
explains how to do it, and how not to.
Lastly
Mr-Frenzy
explains a way to create planet textures.

Resources
As there's an overabundance of planet resources here on deviantart I won't present you with an introduction to all of them – as I've done to most of the other resources, instead I've categorized them into categories with no additional information. I've still tried to only select high quality resources though. The pre-made textures are what will give you the most freedom when creating planet, and the highest level of educational experience when used.
Green, oceanic, stone and barren planets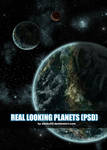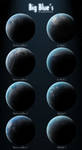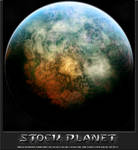 :thumb138720955: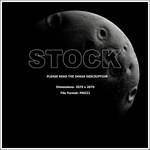 Gas giants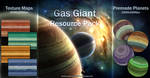 Artificial planet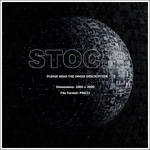 Packs of assorted types of planets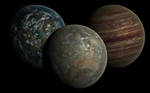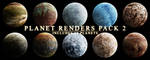 Pre-made planetary textures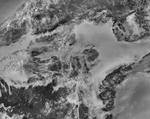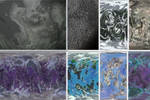 :thumb155021541: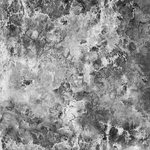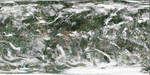 Nebulas
Nebulas are another very common element in space art. Again I will try to categories them, not by how they look though, but how they are created. The three basic ways in which to create nebulas are by manipulating cloud stock, using fractals generated by programs such as apophysis or by painting them on free hand. There's obviously other ways and middle ways, but these three would be the most common.
Tutorials
First of it's good to know what a nebula is, and how they're commonly displayed in space art.
alyn
gives us this and more (including a classification based on creation as mentioned above) in his in-depth nebula study including dozens of examples on various nebulas.
MacRebisz
show us a very easy and straightforward way of creating nebulas using manipulated cloud stock

Another tutorial which incorporates some basic painting together with the cloud manipulation is
Superiorgamer
s

One of the most distinguished fractal based nebula creators
synax444
has given us a tutorial including some stock explaining how to create nebulas based on fractals from the software apophysis

ColdFlame1987
has made an excellent tutorial on how to create nebulas from scratch using nothing but your tablet or mouse.
Another tutorial on painted nebulas, that's actually more of a walkthrough, is
Andr-Sar
s trifid nebula walkthough.

Then there's three other noteworthy tutorials that deploy special techniques and variations of different techniques worth showcasing here. Namly
cchomikk
,
Pr3t3nd3r
and
nisht
s.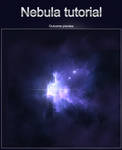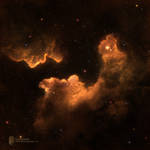 Resources
ErikShoemaker
has released a pack that might not contain the most realistic ones, but still a handful of very beautiful nebulas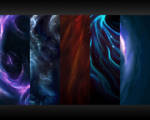 Hameed
who's got his gallery full of amazing stock obviously has a few nebulas as well, here's one of them.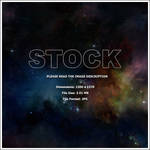 Moonchilde-Stock
has a wide variety of all kinds of different nebula stock. Some of them can be used as they are without any manipulation, while some of them would provide an excellent base for further development by over-painting or other means. Here's a selection of the gallery.
Other objects
Aside from stars, planets and nebulas there's an endless variety of objects in space, here's a few and how to create them:
Tutorials
Asteroids can be painted or, more commonly, created in a 3d software, here's how to do both: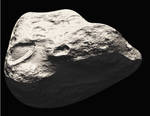 scifisrc
and
cheshireflare
explains two ways in which to easily create suns.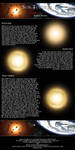 :thumb24690943:
Baro
shows us how to create craters in moons and planets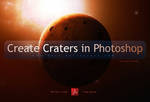 gucken
show us how to create trails - for space ships and comets for instance.

Resources
Asteroids and asteroid fields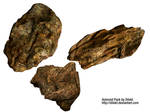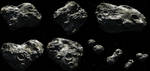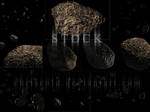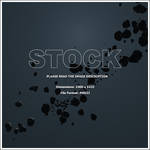 Sun
Terraspace
Now it's time for some terraspace. As mentioned earlier terraspace is space art with a terrain in the foreground. The terrain can either be a stock picture you've taken yourself or gotten for free online, or a terrain created using a terrain software. I won't go into details about how to create the terrains or how to choose the best kind of photo, instead I'll just present you with one single terraspace tutorial that explains some of the basics, namely
zebravissimo
s terraspace tutorial.
:thumb30210110:
More in-depth resources & progression examples
There are a few resources here on deviantart that has been created specifically for learning purposes & some people have even uploaded deviations showing the progression of their pieces. These kind of resources can often give more insight into art creation than tutorials or basic resources.
GlennClovis
has uploaded a huge 2500x2500 .psd file containing ground and cloud textures as well as several different shadow and atmosphere layers for planet creation. An excellent file to see the intricate workings of PS and of planetary creation.

aRchAng3lZz
has provided us with progression views on two of his space pieces


And so have
MacRebisz
&
jamajurabaev


Superiorgamer
went so far as to create a +20min video tutorial on the making of one of his pieces:
Brushes
Though the original brushes of Photoshop usually is enough, some people create their own brushes to use when painting stars and nebulas (and even planets, though these won't be presented here). Some of these brushes enables you to create whole nebulas and even galaxies with a simple click. Since that's not creating anything by yourself, those kind of brushes won't be included here. And though you'll often get a nicer result from making your own brushes or simply learning techniques so that the default brushes of Photoshop are more than enough for you, I'll present a few excellent and high quality brush sets that gives great results, but also requires quite a bit of work from the artist himself/herself.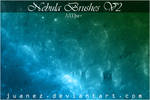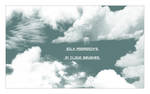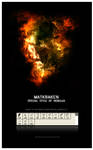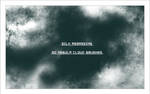 The community
One of the best ways to learn how to create space art is by interaction with other space artists. Deviantart is a great place to meet artists from all over the world. Comment on other artists works and ask for inputs yourself. Join space themed clubs and join the official space art channel
chat.deviantart.com/chat/space…
here on deviantart.
Clubs
Here's a list of space themed clubs to join.





Credits and thanks…
…goes out to all the wonderful artists who's written these tutorials and created these resources - big kudos to all of you.
This article was first submitted in the recurring space themed blog
Deep SPACE blog
star-trekking.deviantart.com/b…
the group
Star-Trekking
Signed:
tadp0l3