Link:

Contest 62 - All Aged Down - WINNERS!Sorry about the delay--inktober has us busy!
AND THE WINNERS ARE...


In the Judge's Section:


FIRST PLACE


What the judges were saying: The judges loved this detailed work for Zeus from Hercules.
We were very impressed by the amount of detail and imagery from classic Greek Mythology. The
additional imagining of his mother was a great choice and brings the image even more life than it
already has. Congratulations on first place!



SECOND PLACE


What the judges were saying: We were taken by this amazing image from Quasi's childhood;
though he may not have it great, he has Gargoyles to keep him company along with birds and a
great view from the church. We loved the idea of an additional gargoyle, and it makes us
wonder what happened to the fellow before the events of the movie. :0
My entry artwork at the "All Aged Down" contest held by the group

won #2 at the "Judge's section".
And I am happy about it

This is the entry: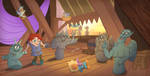 Thanks for your attention, hihi