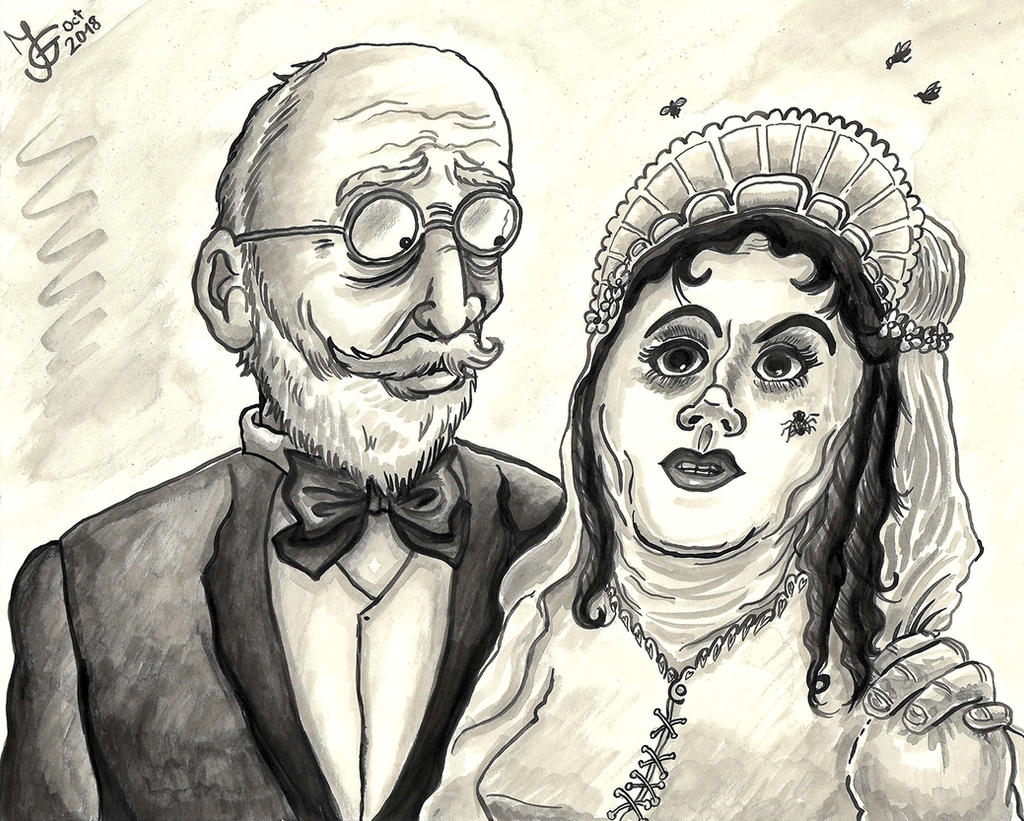 My first big Indian ink painting after a couple of years.
And it was done in the spirit of Halloween.
It shows Carl Tänzler a.k.a. Count Carl von Cosel and Elena Hoyos, a bizarre couple that really existed.
For more background info, please check out the following great links (but only if you can take such content):
en.wikipedia.org/wiki/Carl_Tan…
www.cracked.com/article_16624_…
www.youtube.com/watch?v=vQh9rA…
www.youtube.com/watch?v=USfS_X…
In my own words:
Von Cosel, an older man and German immigrant in Florida who worked as a doctor in the 1920's met a young patient named Elena Hoyos who suffered from tuberculosis and just hoped that he could save her life. Later she died and he, still deeply in love with her, arranged a mausoleum for her. Two years after her death, he stole her corpse in the middle of the night and from then on lived with his dead "bride" for over seven years. During all this he tried to stop the decomposition process (or at least alleviate them), "restored" her body with different materials, lived with her like she was alive (he claimed that she resp. her spirit was talking to him) and it has been even assumed that he slept with the corpse.
After seven years the hidden body was discovered by her sister and the bizarre "romance" became public. Von Cosel and Elena got separated and after an autopsy and even a short exposition to the public she was reburried again. Von Cosel died 12 years later.
Here is a chance to put my two cents in to that story:
I find it heavily fascinating, to be honest.
However, I consider this as a one-way romance.
There is no evidence on wether Elena Hoyos showed any serious affection to Von Cosel before her death. Only he himself claimed that in his diary (but then again, he also claimed that the corpse spoke to him romantically).
Von Cosel really seemed to be a big romantic, for sure. Personally I'm convinced that he wasn't only into sexual relations or that he was a necrophile. I believe he preferred that Elena's life was saved, however, he never accepted her death and instead tried to restore the body with much love and care while he felt her spirital presence.
And as for Elena, I feel more sorry for her. As a dead woman, she couldn't say No anymore. And it is also respectless against the family when an admirer secretly claims the corpse to himself, I think.
I read a copy of his published diary entries around the time he met (and kept) Elena Hoyos. So at least I know his sight to a certain degree. Which was fascinating to read (but before you have false thoughts, no, there are no lines on his sexual actions on her). Still, always keep in mind: He had the power over a person who couldn't defend herself or speak against that anymore.
About my artwork: you can see that the "bride" doesn't look that favourable but this was intended. Here she is already in her "puppet" state which doesn't stop Carl von Cosel from admiring her. If there was a portrait photo of the couple, maybe it would be like this.
Done with Indian ink.