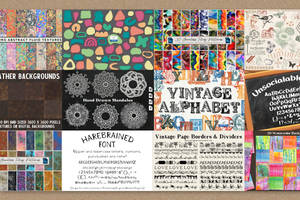 HG Designs Subscriber Area
Lots of high resolution goodies for graphic design including textures, photoshop brushes, seamless patterns and more.
---

Description
13 brushes made by using dot brush. Shapes, lines and more.
Deifferent sizes.
More brushes like that, but not only dotted, you can find in another set brushes of mine:
CRAZY LINES
ABOUT

If you like my resources- check out my gallery! There are more of them

If you downloaded and like them, please

them.
I spent some of my time making them and it'll make my work worthed!

Pics, in which my brushes were used:

WP 021 Miriam Pielhau
by es32