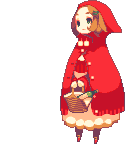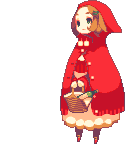 Watch
Grandma, please look at my everything...
Daily Deviation
Given 2011-04-01
Suggester said:
"This pixel-animation is really a work of art. The beautiful details and fluent movement of this piece took me by surprise. This artist truly has a gift when it comes to pixel art!"
TipsyTeacup said:
"Syosa's style of shading, soft colours and smooth animation all contrast very nicely. The effect is pleasing and entertaining. One can't help but to wonder what Little red is thinking as she falls so flawlessly into her alternate form.." Also suggested by Winged-Seahorse, jazzlamb and many others.
Little red riding hood
by ~
syosa
(
Suggested by Fantasy-luver and Featured by vanmall
)