Welcome to this week's volume of so we heard you liek emotes. This is the 6th volume in a weekly series aimed towards promoting emote and emoticonists from the dA community. It features emotes posted within the past week from both well known and new emoticonists, as well as featuring some other great emote projects and contests.

Featured Emoticons:
</u>

1 :thumb103634163:
There is something about

et rock: by
alder-sketch
that made me immediately fall in love with it. The shading of the emote is excellent, the animation is simple but very smooth, the idea is very original and to top it off the expression on the emotes face is perfect, making it an cute and excellent emote all round
2.

Tanuki by
baroquebarque
is this week's 2nd featured emotion. This is a great animal based emote for the
Animal emote project
. Again the animation is nicely done and the animal is well represented in emote form. The bushes are also nicely pixeled creating an alround excellent emote from a relatively new emoticonist
3.
icemote by
Droneguard
is the next featured emote this week. Although summer seems long ago for many people, this captures the essence of summer in one simple emote. It is nicely created and shaded with a great sense of humour in it creating an amusing little emote
4. :thumb103300386:
It's not often that you find emotes with backgrounds now a days, but it's the background in atomic explosion by
mazka
that really drew me into have a closer look. The background is excellently pixeled and the shading on the emoticon is very smooth to. The animation is very nicely done creating an emote that can be watched over and over again
5.

You may not understand the joke behind You have to be blue by
WayaYoshitaka
until your realise it is for the Blue emoticon project. This is a nice static emote entry for the project in which all the emoticons must be blue. I especially like the expressions on the emotes faces, making it this weeks 5th featured emote

Other great emoticons posted recently
</u>

:thumb103484933: :thumb103671139: :thumb103187242:

:thumb103466149: :thumb103688208:

Featured tutorials
</u>

Animation tutorial -
by
MenInASuitcase

1st Featured emote project
</u>

After a lull in emoticon projects, we seem to have had quite a few suddenly burst onto the scene. Therefore this week I decided to advertise 2 projects. Projects are great places to start making emoticons, or to link up with other emoticonists, so if you are interested in entering any of them, just look at the details below
The idea behind the blue project might be very simple, but it opens us a large window of opportunity. All you need to do is create a blue emoticon to add to the base. It has quite a few entries already, but there is space for many more, so even if you only have time to make one entry, its well worth entering
organised by
Supersaiyanbatman
base by
MenInASuitcase

2nd Featured emote project
</u>

The 'Let's turn it up project' is a relatively unknown emote project on DA. The background has been created and needs to be filled with emotes, but so far it is lacking in entries. The background is very well pixelled and creates a nice scene for the emotes to be in, and any emoticonist, new or old is encouraged to go check it out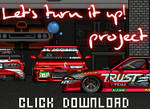 organised by
madb0y


Previous volumes

Volume 1
Volume 2
Volume 3
Volume 4
Volume 5