39 Favourites
51 Comments
556 Views

Intro
</u>

Welcome to August's edition of So i herd u liek interviews??. This is the 14th volume in a series of interviews aimed at finding out about emoticonists from the deviantART community.
This series links with the weekly volumes of 'so i herd u liek emotes??' which have now been running since October.

The emoticonist
</u>

This editions featured emoticonist is
madb0y
. Despite being in the community just under a year Madb0y has already made a name for himself with a display of perfectly pixelled backgrounds and fun but unique ideas such as
Tard Rocket
and
Car Thingy
. I managed to grab some time with him for this interview

The interview
</u>


How and when did you get into making emoticons?
Well.. My first emoticon made in 2008, November. At the beginning
CookiemagiK
,
LeoLeonardo
,
Bad-Blood
and so much other great emoticonists were my inspiration.
When you first started making emotes, did you use any tutorials?
Yes I did! I also used a pack
for them to help myself at the start

Are there any particular tutorials you have found/created since that you would like to suggest?
I found

and

very useful. But there are lot more great tutorials all around here in dA. If someone new at emoticons I always say him/her to check out
Emotication
Because there is a collection of tutorials for every program.
I also wanted to create my own, so many people asked about it, but I am always too lazy..
Where do you get your inspiration / ideas from?
Sometimes just random ideas get in my mind.. I also do a lot of thing about War in a humours way. I am not really good with coming up ideas. For example about contest.. There is a theme for each, and I just rarely get a good idea to make my entry.

Ohh.. And I also like to revamp things

Whether its from my own gallery or from the Emoticon legend isn't important

Do you try to stick to one particular style and technique, or do you prefer to experiment?
Work on brand new backgrounds, shading styles and new form of animations is always good and make me feel happy if others like it... I have worked really hard on my current emote shading and I am really proud of it. So I will stick to that one..
But for other things, I like to experiment all the time

Are there any particular qualities that you feel can make an emote stand out from any other?
Animation, shadeing and backgrounds are some of the qualities that can turn a emote into something amazing. Also Ideas, if you have a great idea no one can beat it

Which programs have you used to create your emoticons? Are there any you can suggest?
I use GIMP, I always used it. It's free and knows all the things what Photoshop can do, just easier for me. So I would like to suggest this. But I think, every program can do the work. So everybody just have to find the one which is the most good for her/his own taste

Roughly how long does it take you to go from concept to finished emoticon?
Well.. sometimes I start something, do it for like half hour than stop it and start something different. Thats why I have a lot of folder with unused concepts so it can take for ages

But if I really make an emoticon it can be from half hour to 12+ hours.. The average time is 3-4 hours

What methods have you used for shading? Do you have a preference?
As I mentioned before, I made my own shading, and have a colourful pack of it in my main Emoticon Folder.. So I can get them at anytime

But at the beginning, I have looked at other people's shading to try and get some ideas for my own

Are there any particular effects you've found difficult, or have been unable to create?
Sure. It was really hard to creat a rocket launcher's shooting or a gun's shooting.. even an explosion.. Now I can make the shooting things, but that explosion is still hard for me, I have not came up with any good explosions yet... I will try to work on that effect later

Which are 3 of your favourite emotes from your personal gallery?

I just love these Tanks.. This one is my favourite. I think, that's my longest animation too. Has 128 frames and 7,5 hours of work so there's no question about this is my favourite one.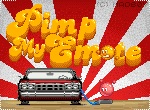 This one is also one of my favourite emoticons made by me. When I was younger child I loved the 'Pimp my Ride' show, so I felt like that I must do a fan art of that.

This is my first emoticon whit so much effects in it. Also the one which I was always like to look at

Is there a particular emote in your gallery you would you like to see get more attention. If so, why?

I was working really hard on it and it just did not get that much attention it should have get. So simply fave it, or die

Are there any particular emoticonists you would like to see get more exposure?
stevanov
is a nice person and have some talent at makeing emoticons. I also would like to suggest
ExFaceCake
as he is also good, just he neither get the attention that he deserved..

How did you come up with your emoticon character?
Well.. My emoticon character is the dA king. He was made for a contest about Tards. He was the Tard King at the beginning, but now he become the king of the whole dA

I don't use him too much, usually only for my avatars

Do you feel like the emoticon gallery has progressed during your time as an emoticonist?
That's for sure! So many new emoticonist came and everybody is improving their art.. So much new tutorial, hints and clubs are able to used for everybody who wants to try it. And its good. So my answer is a very strong yes

Where would you like to see emotes go in the future?
I would like to see more effects, backgrounds.. I also like to see at emotes with perspective, they are so rare

Are there any trends or styles you'd like to see less of in the gallery?
Uhm.. No.. There's always be a trend which get overused, like the :shake: was.. There was the middle-sized emoticons made by
MixedMilkChOcOlate
and
MenInASuitcase
and now the Huge emotes.. They are trends, and there's no problem about it

Is there any advice you would like to give to new emoticonists?
Don't be shy! Never fear to ask something from others because this community is awesome and full of helpful peoples.
Is there anything else you would like to say?

Beware, the dA king has an army

Also want to thank to everyone who read this

If

and

were part of a computer game, what would it be about and what would happen??
It's name would be llamarider.. The :blank: would ride the

and he could buy armor for himself and for his llama, he could earn money and they would travel the whole world for missions


Features
</u>


There's something mesmerising about the effect used in Wizzard enjoyes his spells which is really appealing and eye catching. The other animation is smooth and creates a great all round emote.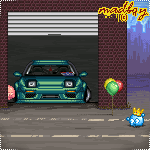 Garage combines a nicely pixelled car with some simple animation to make a fun little piece of animation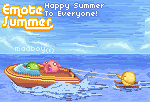 Water effects always captivate me and Water ski does just this. The top notch wave animation works brilliantly with the sunning background to produce another awesome emote.

Previous volumes
</u>

So I herd u liek emotes??
Volumes 1-35
Volume 36
- 15th June
Volume 37
- 21st June
Volume 38
- 28th June
Volume 39
- 4th July
Volume 40
- 2nd August
<a href="
synfull.deviantart.com/journal…
>Volume 40 - added features
Volume 41
- 9th August
Volume 42
- 14th August
Volume 43
- 23rd August
So I herd u liek interviews??
Interview 1
-
CookiemagiK
- 15th January
Interview 2
-
Cmotes
- 30th January
Interview 3
-
MenInASuitcase
- 12th February
Interview 4
-
Red-Bananas
- 27th February
Interview 5
-
LeoLeonardo
- 12th March
Interview 6
-
MixedMilkChOcOlate
- 28th March
Interview 7
-
blunaowl
- 14th April
Interview 8
-
Droneguard
- 28th April
Interview 9
-
Krissi001
- 14th May
Interview 10
-
Waluigi-Prower
- 28th May
Interview 11
-
Kermodog
- 12th June
Interview 12
-
Mr-Jaunty
- 24th June
Interview 13
-
de-Mote
- 12th Aug