37 Favourites
20 Comments
712 Views

Intro
</u>

Welcome to the latest edition of So i herd u liek interviews??. This is the 20th volume in a series of interviews aimed at finding out about emoticonists from the deviantART community.
This series links with the weekly volumes of 'so i herd u liek emotes??' which have now been running since October 2008

The emoticonist
</u>

This volume's featured emoticonist is
Gomotes
.
Gomotes
has been a member of the emoticon community for a good number of years now and during his time here has created a great range of emotes. His unique shading and eye style is easily recognisable and his gallery is filled with a brilliant range of expressions and predominantly chat based emotes. I managed to catch up with him and arrange this interview.

The interview
</u>


How and when did you get into making emoticons?
The first time when I surf through the internet, I found these little smilies. It was like love at first sight. I collect as many as I can found, but one day I had something in mind but this emoticon does not exist. So I try to do it myself, it must be 6 years ago. Soon after I found dA I tried to focus to create my very own style, with the feedback, comments and love you spread over my work I reached my goal. I'm glad, that I found the best place in the world wide web for emoticon lovers.
When you first started making emotes, did you use any tutorials?
I don't use any tutorials, I just experiment with the smilies I had.
Are there any particular tutorials you have found/created since that you would like to suggest?
I read some nice tutorials over the years, but I forget them because I never used them, but we've
Emotication
where you found all of them!
Where do you get your inspiration / ideas from?
Everywhere daily life, movies, news, dreams, pictures, but I liked the most the ones I catched from conversations with friends or other people.
Do you try to stick to one particular style and technique, or do you prefer to experiment?
I experiment a lot, over the years. At last I try to concentrate to do a particular style. But it can allways happend that I try something new, just like the mood I've at this moment.
Are there any particular qualities that you feel can make an emote stand out from any other?
There are different things that catch my eyes, sometimes it's a funny idea, a smooth animation, a nice shading or just a simple expression where I thought: wow this one is other then the other emotes I saw.
Which programs have you used to create your emoticons? Are there any you can suggest?
I first started with Paint it was on my PC and it had a pencil tool, but I recognize fast that I had problems with transparency. So I switched fo Macromedia Fireworks and used Ulead Gif Animator to animate my emoticons. After some PC crashes and the loose of all my work. I tested some day Image Ready and till today it worked fine for me.
There're so many tools out there just take the one where you can work with!
Roughly how long does it take you to go from concept to finished emoticon?
From minutes over hours to months and I believe some concepts would never finished.
What methods have you used for shading? Do you have a preference?
I only used pixels for my shading. I tried gradients, too, but I don't like it. So I stay by my pixel technique, so every emoticon base can be something new.
Are there any particular effects you've found difficult, or have been unable to create?
The hardest effect is to give a emoticon life. If you've not the right timing you can ruin the whole work.
Which are 3 of your favourite emotes from your personal gallery?
Mmmh only 3... I like all my emoticons!



Is there a particular emote in your gallery you would you like to see get more attention. If so, why?
:llamafake

Everyone should know that this is blasphemy, this llama is no emoticon only a damn clipart!

Are there any particular emoticonists you would like to see get more exposure?
If I had one wish I wanted
camelhijackation
back, the godfather of emoticon shading.
How did you come up with your emoticon character?
Over the time I noticed that a lot of people have one, with my lack of ideas I just sit down and get my red eye emoticon and I gave him a friend, a little skull, so that he is not alone.
Do you feel like the emoticon gallery has progressed during your time as an emoticonist?
Yes our lovely gallery get a lot of progressions during the years. From emoticon storys over emoticons with background to super big Massive emoticons. And don't forget the little trends like thrust. That was for sure a great time. But more and more the last years we get more and more spam and I hate this if I browse through the emoticon gallery and found not really new emoticons, that sucks. And in my eyes this is a big loose of quality for our beloved gallery.
Where would you like to see emotes go in the future?
I like classic emoticons, just simple graphics you can use perfectly for conversations.
Are there any trends or styles you'd like to see less of in the gallery?
One thing Miscatz! On the other site I hope that the people finally would recognize static emoticons! To show the right expression in only one frame is pure epic.
Is there any advice you would like to give to new emoticonists?
Have fun guys.
Is there anything else you would like to say?
Thank you for take the time to read the complete interview!
If

and

went to a beach party, what would happen and what would they get up to?

would

bury into sand, the whole evening

dance around

. Both of them have a lot of fun this night.


Features
</u>

:pirateattack: is a great lil emote which is packed with amazing detail and overally brilliant character design

:netlove: is a brilliant display of animation with a cute and adorable idea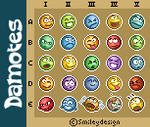 :damotes: is an absolutely epic pack filled with 25 brilliantly designed emotes and an awesome range of expressions

Previous volumes
</u>

So I herd u liek emotes??
Volumes 1-45
Volume 46
- 13th September
Volume 47
- 20th September
Volume 48
- 27th September
Volume 49
- 4th October
Volume 50
- 12th October
Volume 51
- 18th October
Volume 52
- 25th October
Volume 53
- 2nd November
Volume 54
- 9th November
So I herd u liek interviews??
Interviews 1-15
Interview 16
-
Sinister-Starfeesh
- 16th September
Interview 17
-
Marc-pHX
- 30th September
Interview 18
-
BlissfullySarcastic
- 16th October
Interview 19
-
nillemotes
/
zachriel
- 29th October